« Looking back: What the Pros say about Good Tone | Main | Susie Brown and a JBovier electric mandolin »

May 18, 2011 | Ted Falcon "Jambrosia"
Good tunes bear harmonic sophistication, but carry with them a strong melody that is portable, easily transported infectiously in the head for hours, if not days. Such is the case with the fresh new instrumental material on Ted Falcon's latest incarnation, his Brazil based ensemble, Jambrosia which features a delicious combination of instruments and talented indigenous personnel, B3 Organ, electric and acoustic guitars, percussion, and of course Falcon on violin and bandolim. The self-titled album is strong with an almost earworm linearity, spiced with a sparkling juxtaposition of traditional acoustic textures and progressive rock energies.
We first hooked up with the artist in the Los Angeles Choro Ensemble after the violinist's rapid mastery and adaptation of the bandolim. Not too long after, he recorded "Memories of Brazil" an homage to a rich tradition of Choro past which featured the classic compositions of Brazilian masters Ernesto Nazereth, Waldir Azevedo, Nelson Aves, Pixinguinha, and of course the legendary Jacob do Bandolim. Spreading his wings musically, he teamed up with harmonica wizard, Pablo Fagundes and injected a soulful, bluesier edge to the South American sound with a follow-up project, "Transcontinental Music Express." Jambrosia is a step further in to a progressive jazz/rock journey, yet he remains true to his keen sense of melody and form.
The opening track "Across the Red Sky" is his most overt bandolim statement, more percussively chordal than the rest of the songs, partly because of the plectral nature instrument itself, but more because he's just so stellar lyrically with the violin on the other tracks. He possesses a wind instrumentalist's sense of line, breathing and phrasing sentences into his smart but expressive compositions. The haunting rhapsodical quality of the final track, "Fallen Towers" is a personal favorite. This is a CD you'll want to have in your library, one you'll want to come back to even years from now and enjoy.
Highly recommended!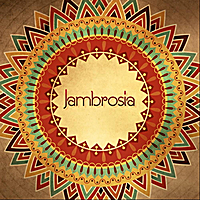 Purchase CD: Jambrosia
Tracks:
Across the Red Sky
Brooklyn Blues
Tsu Gua
White Sands
Got off Easy
Horizons
Maksum Breakdown
Sarava, Saravah!
Go on with your Bad Self
Fallen Towers
Ted Falcon e Jambrosia - MiniDoc - 061UHA from UHAvideo on Vimeo.
Previous Reviews:
Ted & Pablo, Transcontinental Music Express
Memórias do Brasil

Posted by Ted at May 18, 2011 5:00 AM