« Guides and Gravity | Main | AirTurn BT-105 Wireless Page Turner for iPad »

May 9, 2012 | The Joe Craven Trio; All Four One
Joe Craven is a man so talented he could make licking an envelope a musical experience. We've mentioned the West Coast multi-instrumentalist phenom before, reaping praise on his past projects such as Camptown and Django Latino . Arguably best known for his stint with acoustic legend David Grisman, he is equally adept at percussion, fiddle, mandolin, as well as an in-demand clinician, rounded ethnomusicologist, and sideman for Jerry Garcia and Alison Brown. He's wowed the world with his solo career as well, but it's his latest "trio" project that we can't get enough of. Traditional American Folk, Blues, New Orleans, Swing, Funk, as well as the music of Brazil, Haiti, Ireland, Cuba and Puerto Rico, this CD has it all, and at a level of energy and polished execution that can't help but draw you in.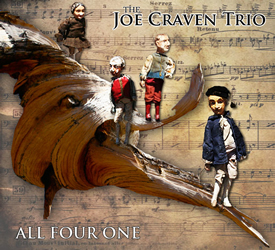 Joined by drummer Kendrick Freeman and keyboardist John Burr who also holds a high pedigree on the international stage (Maria Muldaur, Paul Chambers, Robben Ford, Paul Brady), the trio crank out what will likely prove one of the best folk/jazz albums of the year, "All Four One." Also playing a strong guest role is bassist/accordian, Rich Kuhns. The musicians play with spry precision and anoetic spontaneity, each song an engaging tour, a plethora of ethinic styles with a very distinctly jazz vocabulary. Craven's fiddling is great. His mandolinning will blow you away.
This is one of those genre breaking CDs we insist you add to your permanent collection.
Purchase CD: The Joe Craven Trio; All Four One
Tracks:
Up with the Crackadons
Forrocious
Get Off It
Lil Pixie's
Monkey Biz
Sofrito
Sloppy D
The Bucket of Stones
The Secret Moon
The Crooked Men
Artist Website: Joe Craven
View promotional link:

Posted by Ted at May 9, 2012 5:43 AM