« Sorensen eye-candy | Main | The Joe Craven Trio; All Four One »

May 7, 2012 | Guides and Gravity
We have a wealth of free downloadable exercises on the site. Some are a sneak peak of the "Getting Into Jazz Mandolin" book, a snapshot of more advanced concepts developed further there. At very minimum, these drills are stand alone concepts that work the fingers into better facility, at best they put you down the path to a deeper, more profound intellectual understanding of music theory.
On of our earlier entries was introduced in an April 2004 Mandolin Sessions on the topic of "Gravity" notes. The idea is to break from drilling scales in consecutive melodic steps and approach the scale from a harmonic perspective. Notes lead to important, defining chord tones, the accompanying exercise is not only good for the fingers, it's great for the ears and brain. Exploiting the best of the FFcP strategy, it tours the player through all twelve keys. It's a great flexibility builder for the 3rd and 4th fingers, too.
Read archive article: Critical Decisions in Improvising; 'Gravity' Notes
Download one page PDF: Guides and Gravity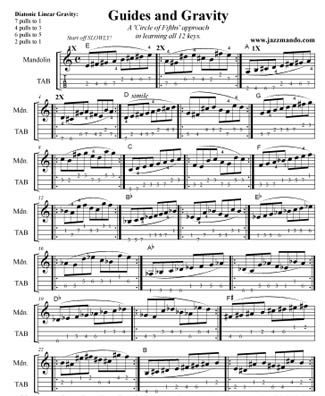 More Free Downloads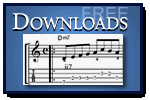 .
Posted by Ted at May 7, 2012 5:50 AM