« Astor Piazzolla - Escualo | Main | Johny Gimble vid »

May 29, 2012 | Cafe Classified enhancements. Multiple pictures!
We mentioned last week the incredible changes in the Classifieds sections over at MandolinCafe.com. We have an ad prototype demonstrating the multiple picture capability. This should greatly enhance communication between buyer and seller.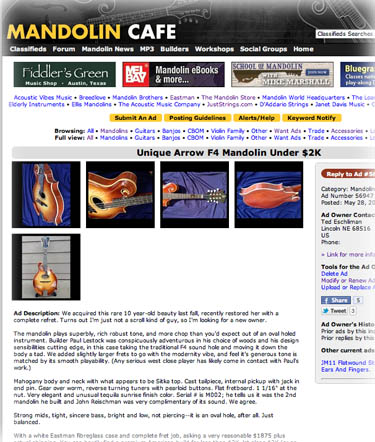 We encourage you to take the picture opportunity seriously when you post a sale. There's little that helps increase the sale price of a good instrument better than a well lighted and sharply focused picture. It also gives the seller the opportunity to point out any flaws upfront--prior to the sale squelching potential buyer remorse when these are pointed out prior to cash exchanging hands.
Also, we want to mention this ad was posted earlier with a higher price on the Arrow F4, originally with a Bobelock case. The package can now be purchased for $120 cheaper with a quality used Eastman fiberglass case for only $1875. Hard to find an American made F4 of this caliber at this price.
View link: Unique Arrow F4 Mandolin Under $2K

Posted by Ted at May 29, 2012 5:59 AM