« Changes coming to Classifieds at Mandolin Cafe | Main | Cafe Classified enhancements. Multiple pictures! »

May 27, 2012 | Astor Piazzolla - Escualo
The beauty of well written instrumental music performed well. The embedded video from Italy really needs no translation, although it doesn't hurt to know the title "Escualo" means shark.
Excerpt from the DVD 'Live in Rome' recorded live at the 'Oratory of the Banner's Quintet Plectrum' Giuseppe Anedda 'Escualo performs Astor Piazzolla
Sit back and enjoy:
Video LInk: A.Piazzolla - Escualo

From the Piazzolla on Video commentary: "The performance by Quintetto Anedda is more precise and controlled than those of Piazzolla but captures perfectly the rhythmic drive of the work which makes it so interesting. The arrangement is respectful of the original but takes full advantage of the staccato, percussive effect of their plectrum created music. These are classically trained musicians and their music has a conservatory feel to it but the jazz roots of Escualo can still be heard. The performance is a good example of the way Piazzolla's music flows easily between the jazz and classical idioms."
More information here: Piazzolla on Video>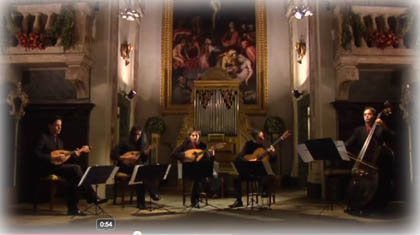 Posted by Ted at May 27, 2012 6:43 AM