« Arrow F4 mandolin for sale | Main | Ethan Ballinger - Tributaries »

May 21, 2012 | Tame your electric mandolin
The mandolin's soprano register can add a delicious new sonic layer to just about any ensemble. The E string is an octave higher than on an uncapoed guitar, and this puts it in a range that can nicely complement most acoustic stringed instrument. It can also be penetratingly bright. Some might even argue obnoxiously so.
Make the mandolin a solid body and put an electric pickup on it, you increase the level of aural piercing. Of course you can dial the tone controls back on the electric mandolin, pull back the highs and beef of the lows and mids, but it's great when you can start with something arguably warmer, and that's why we are big on flatwound strings for both acoustic and electric mandolin. Granted, in an acoustic ensemble, the mandolin needs all the punch it can muster, but with the added advantage of electrify, this becomes moot.
We introduced the ball-end version of the JazzMando JM11 flatwound string four years ago, and these JM10B strings have been quite a hit. Their smooth comfort and feel help tame the widely popular but out of mass production Mandobirds and Mandocasters, and continue to be highly regarded by customers of contemporary premium builders such as Jonathan Mann, JL Smith, JBovier, and many other current popular cottage craftsman.
If you want a little more tone and a little less rabid bite, give them a try. Sill $16.95 a set (8-string) or better, $29.95 for two. Fresh batch just in last week!
Purchase information: JM10B JAZZMANDO STRINGS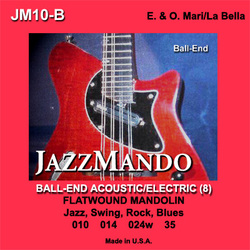 How Great Thou Art (Mandobird Demo)


Posted by Ted at May 21, 2012 5:36 AM