« JM11 Strings now available in bulk pricing | Main | Sorensen eye-candy »

May 3, 2012 | Bob McCarthy; Wounded, Mercy and Sudden Light
If your preference for jazz is on the lighter side--acoustic string folk, intimate and atmospheric without being cloying, clever but not not smugly so, you'll love the music of New Hampshire multi-instrumentalist Bob McCarthy. We first introduced you to the fretted stylings of one of New England's closest kept mandolin/guitar secrets in May of 2010 with the release of self-produced "Where I Live"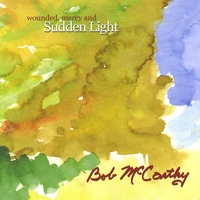 In addition to his mandolin/guitar picking prowess, Bob has a knack for grouping nontraditional instrumental timbres, cello with bass and drums, bluesy resonator guitar, and light world percussion, with his environmentally sound compositional skills. Room to breathe freely, fellow bandmates trade solos like sharing stories over a warm campfire.
The songs are melodic and catchy, and though sometimes the texture borderline dense with busy countermelody, there's an underlying unity that ties each song together and makes the entire CD whole. The personality in the instrumentation is consistently charming, and something you'd enjoy listening to over a glass of fine wine and good conversation.
It's always refreshing to catch up with Bob's latest.
Video Link: Wounded; 2011 Bob McCarthy

Purchase CD: Wounded, Mercy and Sudden Light
Artist website: Bob McCarthy
Facebook fan page: Bob McCarthy Musician
Posted by Ted at May 3, 2012 6:04 AM