New from Jazz innovator Michael Lampert, Blue Gardenia.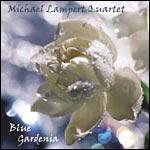 Breakthrough electric mandolin artist, Lampert permanently resides in that magnificent musical intersection where intellect and intuition meet. His music is both passionate and precise, a soothing, primal "groove" that satisfies the soul, yet never abandons his well-trained pedigree.
Lampert's latest offering, "Blue Gardenia," delights us in the more traditional jazz quartet setting (piano/bass/drums) with a selection of "standards" in this cohesive, well-crafted undertaking. His music is tight, yet without pretense. His playing is soulful, yet never betrays an underlying, intense calculation. What other great musicians might say in ten notes, he is capable of delivering in three.
The second of his solo recordings (following up "Jacaranda"), he masterfully mixes line with nuance, tackling familiar tunes with fresh seasonings. Here, his first release with a piano, the two sonorities judiciously round and refresh. Exquisite rhythmic interaction with bass and drums, he brings a new voice to the quartet with his signature Schwab electric mandolin, and its inescapable tonal purity.
This is a recording for all, pleasant enough for the subconscious sensibility of the "smooth" jazz fan, yet clever enough for the ardent jazz "purist." Job well done.