« Available: Mann SEM-5 solid body single cutaway | Main | Chris Thile in London Interview »

February 4, 2012 | Digital text format to dominate the future
We've personally found the iPad to be extremely useful for performance and practicing. The iReal b for practicing with jazz "Standards" accompaniments, the unreal Book for stage performance, let alone a myriad of untapped games, history, and web browsing make the tablet format a valuable resource for both learning and pleasure. Apple's recent announcement to join the presidential administration to move education from the traditional textbook to ebook format by 2017 has us predicting everyone will start using this soon, not just early adapter hobbyists.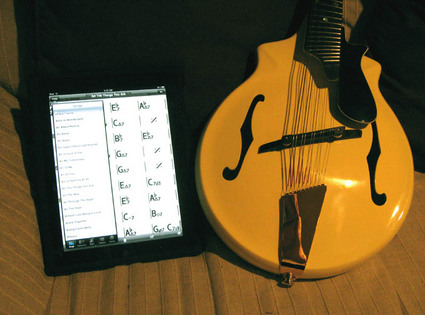 Apple unveiled a pivotal tool in last month's summit, its free to the public ibooks Author, allowing virtually anyone to author their own books, and promote it through emerging nontraditional publishing channels. This will have a resounding impact on the way method books are consumed, distributed, and of course, created. With children and students making these commonplace in schools, you'll see an even larger impact on culture.

Considering the cost of school textbooks typically runs $60-100, college books often $200, the iPad is an economic alternative hard not to justify, and of course, the additional media options of sound and video, an exponentially more effective teaching tool. A leap similar from moving from classroom chalk and slate boars of the early 20th century to full color printing; this will be a whole new revelation in education.
Will it be isolated to kids? Hardly. Even Mel Bay Publishing has recently shifted an emphasis on print to the ebook format.
We're on the verge of an educational revolution.
Read articles:
Apple leads pack in America's five year race to deploy digital textbooks
Bryndon Bay: The Future of Print
Purchase eBook: Getting Into Jazz Mandolin
Mandolin Cafe Discussion: Do you plan to own or buy an iPad?
Posted by Ted at February 4, 2012 5:01 AM