« 2012 JazzMando news in review | Main | The Pete Martin Interview »

December 29, 2012 | Viral mandolin graphic of the year
We had some fun with the pie chart below last February. It became our all-time viral Facebook post on the JazzMando Page. We couldn't finish the year out without one last reprise: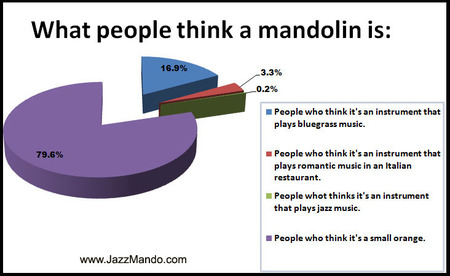 The point can't be lost in the humor though, that our funny little instrument hasn't followed the same popularity path as the piano or guitar. Even the ukulele seems to be going mainstream faster than its older 8-string sister.
The arguable sonic limitations of the mandolin are probably why, it's narrow alto/soprano range doesn't make it the greatest accompaniment instrument, but there's still a ton of aural potential left in the world for more mandolin that goes beyond bluegrass, sappy movie soundtracks, and classical solo and ensemble literature.
We remain dedicate to greater mandolin exposure, and this website is dedicated to its expansion. Our challenge is to put the sound of the mandolin further into the ear of the public through advanced playing techniques and new ways to approach tone.
By the way, if you'd like a 3x5" rectangular sticker of your own, feel free to pick one up at our CafePress store. Meager profits from these and the rest of the merchandise on the site help cover the costs and mainetenance of the JazzMando site.
Purchase:
Mandolin Perspective Sticker (Rectangle) 3" x 5"
$4.99
More items: JazzMando CafePress store

Posted by Ted at December 29, 2012 5:29 AM