« Viral mandolin graphic of the year | Main | Minnesota Video Vault: Jethro And Friends »

December 31, 2012 | The Pete Martin Interview
We had the unique privilege to publish an interview with Seattle mandolin/fiddler Pete Martin on the Mandolin Cafe website. We've introduced some of his materials on the JazzMando Tips and Tricks section, and have been a huge fan of his writing (and playing) for years, including a regular column at Mandolin Magazine. Take the time to read through some of his personal thoughts on the mandolin and its place on the world, approaches to playing, and philosophies on the importance of music theory and effective playing.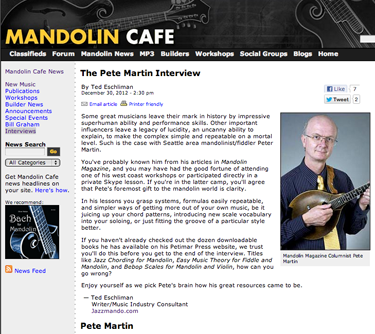 "I look at theory this way: music theory takes sounds we hear and places terms to describe that sound. When this is done, it lets us study these sounds and apply them to other places. It can allow us to discuss these sounds with others and exchange ideas.
I also think theory knowledge by itself does not make a player great. However, theory knowledge CAN allow a player to have more confidence in what they are doing, and that confidence almost always comes across in your sound. A confident player sounds better, more assured. I tell students if you fall into this category, then theory study will help you."
Read article: The Pete Martin Interview
Petimar Press Books and Materials
Posted by Ted at December 31, 2012 5:24 AM