« Overtones for dummies | Main | In a bind(ing) at Weber. »

October 18, 2012 | Fingers, Ears, Brain.
We mentioned we've been doing some internal housekeeping around the site. Besides sprucing up the menu categories and submenu arrays, we put a little order to our "Finger Ears Brain" pages. So much of the site is topical and not necessarily methodic, it's a bit like herding cats to put them in some kind of sequence. We did our best to grab 9 years of highlight titles and line them up in an "Animal, Vegetable, Mineral" strategy.
The philosophy of Fingers to Ears to Brain was the cornerstone of the "Getting Into Jazz Mandolin" book, and we tried to be consistent with that separating archived articles into titles under these distinctions, although there is obvious crossover.
1.) develop your fingers to find the correct notes, 2.) develop your ear to hear the notes your fingers play, 3.) develop your brain to comprehend the musical style and theory.
Archives have been laid out this way:
Fingers
Ears
Brain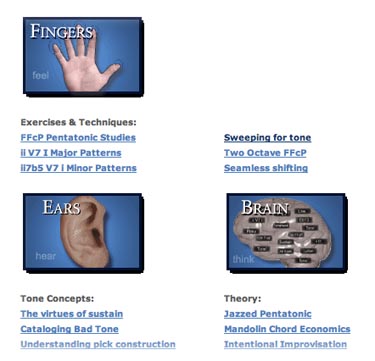 By the way, if Chrome is your internet browser of choice, these changes may be yielding some white blanks between the menus at the top of the site because of the way Google store image files. This can be remedied by clearing your cache (Top left icon, Tools

Posted by Ted at October 18, 2012 8:00 AM







Disclaimer: In the 'Information Age' of the 21st Century, any fool with a computer, a modem, and an idea can become a self-professed 'expert." This site does not come equipped with 'discernment.'