« Sweet chords. A look back. | Main | JBovier 2011 Models »

January 19, 2011 | Now available in ebook: Getting into Jazz Mandolin
With the growing popularity of ebook readers, recent massive sales of Nooks, Kindles, iPads, and many other second tier options this last Christmas season, there remains little doubt the electronic reader has arrived. You can't deny its ability to store, reload, manipulate text, and in many devices, surf the web and play music. We were amazed at the recent NAMM show how many iPads were used for business and communication, only to be switched with the swipe of an icon into multimedia entertainment. The row of our plane trip out to California was thick with travelers viewing movies on the three hour flight.
We had the opportunity to speak with Collin Bay, Artist Relations/Product Development, the third generation of the publishing family leadership at the Mel Bay Publications NAMM booth. The astute 20-something was deeply in touch with the impact of this technology on a publishing consumption that had evolved remarkably little, even from the invention of the printing press almost five centuries ago.
Bay was optimistic about their ability to adapt to these changes. Though barely a decade ago they had already invested heavily ramping up their physical press capabilities, the niche print music industry pioneers had already been bracing for the next generation of electronic distribution. "We'll always want the classic texts in print, but I remember in college buying only ebooks, simply because of the limitations of space in my cramped New York apartment," confessed the multi-talented writer, musician, and industry captain. "We're already preparing for the next change."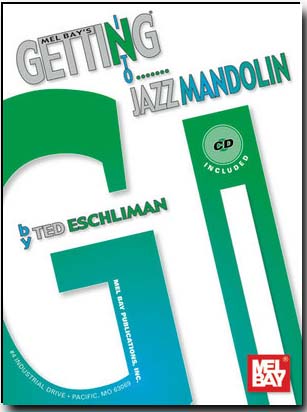 We're excited to see "Getting Into Jazz Mandolin" included in the Mel Bay ebook catalog. Already own a hard copy? Why not pick up an ebook version you can store in your eReader, too?
Convenience is always a commodity worth paying for.

Purchase: Getting Into Jazz Mandolin eBook/CD Set
by Ted Eschliman
Posted by Ted at January 19, 2011 5:31 AM