« News from NAMM; update | Main | Now available in ebook: Getting into Jazz Mandolin »

January 17, 2011 | Sweet chords. A look back.
Our main mission on the JazzMando website is to introduce you to some alternative ways to express yourself on the mandolin fretboard. Sometimes it's just a simple matter of learning some cool chord voicings. We did just that in a February 2008 archived Mandolin Sessions article, tabbing out some aural treats for you.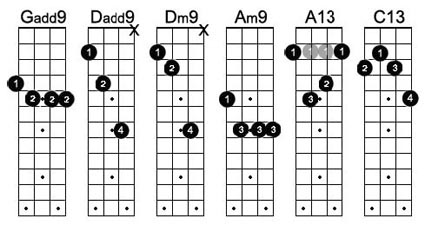 Doesn't take much, sometimes just a simple Add9 or 6. Sometimes it's just as simple as opening the voices a little bit. We also don't need to get trapped in the every-string-every-note rut. Two- and three-note chords work amazingly well in many contexts, too.
We presented a series on "Lizard Ear" chords in the Mandolin Sessions archives, but the earliest glance was the aforementioned "Sweet" Chords; Fresh chord voicings and their context." Get out your ax and savor some harmonic goodness.
Review article: Mandolin Sessions, Feb 2008
Check out the more than seven years of articles listed in our archive table of contents:

Posted by Ted at January 17, 2011 4:50 AM