« Winter NAMM 2011 | Main | Sweet chords. A look back. »

January 15, 2011 | News from NAMM; update
Stiff and sore from two completed days and "trade show feet," we've made the rounds through some of the highlights at the 2011 Winter NAMM show. The frustrating aural din of the environment makes it nearly impossible to effectively pick and audition instruments, but we found a lot of exciting things to report and managed to snap a few amateur pics along the way.
Our biggest news is the return of Michael Kelley mandolins. The premier mid-line instruments had been conspicuously absent the last several NAMM shows, and talks with the product development and marketing team revealed problems with some of their sourcing. Not content to put out inferior product, they made the hard choice of completely pulling the mandolins until they could return with consistent quality control and manufacturing confidence. No longer absent, we saw several respectable models, and reports are the warehouses are shipping soon and filling many dealer back orders. We think their already loyal customer base, as well as new fans will be enthusiastic.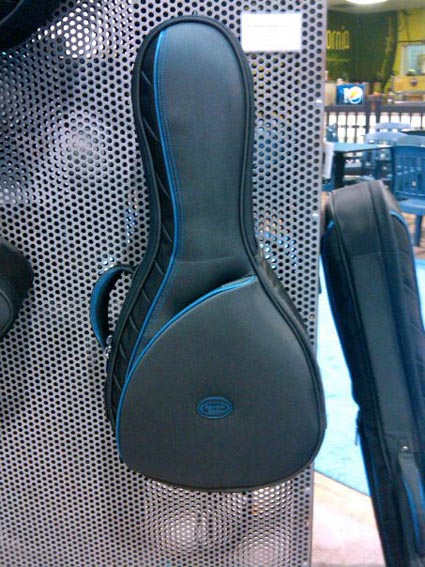 We saw several instrument cases of interest, the Reunion Blues RB Continental bag (you know, the one in the YouTube vid where they drop the guitar off the roof?) is now available in mandolin. Lightweight in design, ergonomic straps, and maximum protection, they should do well with these. We hope to have a hands-on review soon. We also checked in with the Concord case folks about their adjustable interior mandolin case. This one is an extension of their world renown violin/viola case family.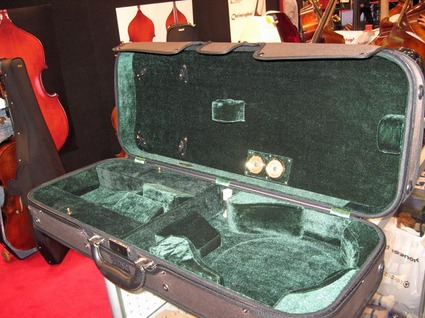 Hidden at the back of the TKL booth was this fabulous Cabellas-like design case. Great for taking your ax to the Great Outdoors. Except you might not find it again.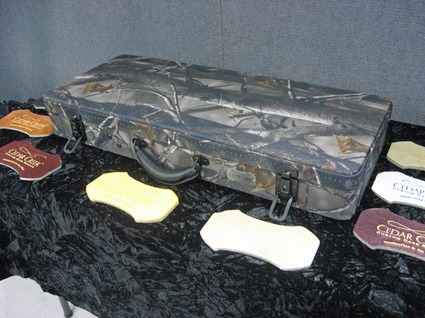 We always have to snap some shots of the Breedlove instruments, and their recent merger with Beadell Guitars displayed some more of the line in a separate hall, in addition to the traditional "underdog" Hall E. It will be interesting to see how the two companies affect each other's mission.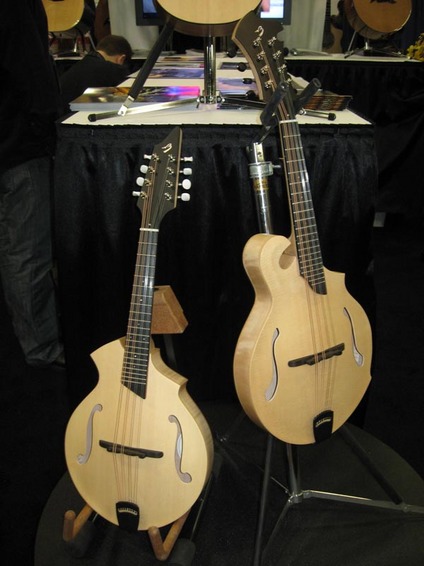 We had to stop by our favorite print music publisher's booth and check out the progress of our favorite best-selling Mel Bay book: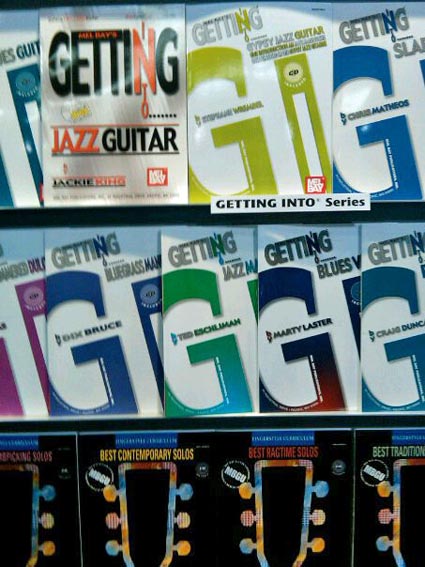 Other favorite stops included the Gold Tone booth, and some cool new iPad stands over at German based K&M:
An intriguing finish was the burl in the grain of this Morgan Monroe intermediate instrument. Understand, the flash disrupts a true visual representation in the photo; the grain of the wood makes it apear to swirl. It really is a sunburst. .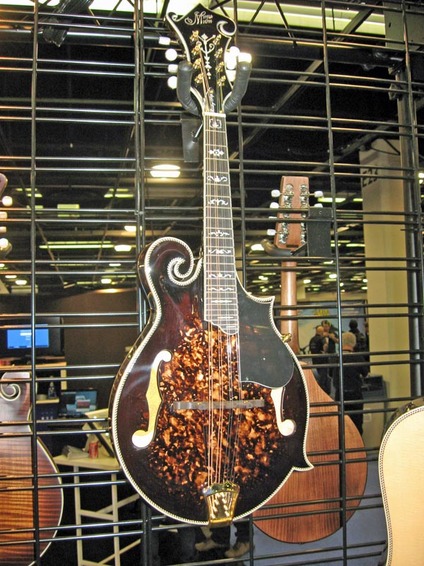 We also enjoyed seing the completed trio of the initial David Grisman "DG" series instruments at Eastman Strings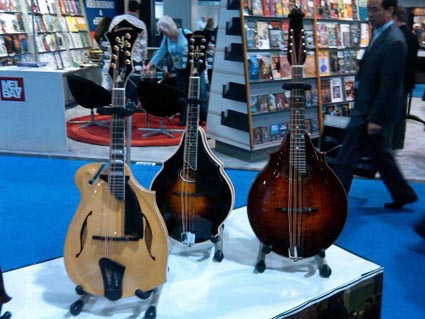 We do have a few more pictures in a Facebook Photo Album if you're inclined, including a quick shot of the James Condino 10-string fanned fret mandola. That's one we hope to steal some quieter moments to experience.

Posted by Ted at January 15, 2011 6:25 AM