« Now available in ebook: Getting into Jazz Mandolin | Main | Stjepan Hauser and Luka Sulic - Smooth Criminal »

January 21, 2011 | JBovier 2011 Models
Specific details were thin on the new 2011 JBovier acoustic mandolin models at the recent winter NAMM show, although we did have a chance to snap a photo in the booth.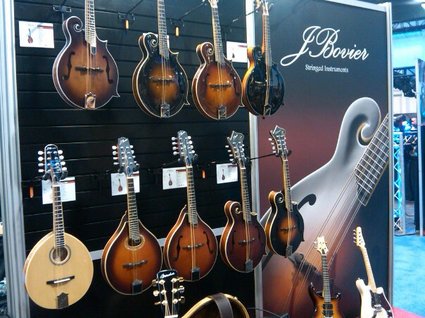 Company founder Jeff Cowherd, who was unable to attend this year's festivities explained, "I had shipped the new 2011 models (Army-Navy, F5-Studio, F5-Special) direct to NAMM from my shop, so Musiquip had not even laid eyes on them until they unpacked them to hang on the wall." In addition, the innovator reports a new 2011 version of the F5 Dorado that is not pictured. We hope to have more information on this and pricing of the new stuff soon. The market is wide open for a modern incarnation of the Army/Navy pancake mandolin.
If you'll recall, JBovier introduced a line of hearty new vintage instrument inspired electric mandolins in 2009, the EMC and EMC-5, and ELS and ELS-5.
Keep 'em coming, Jeff!
Website: JBovier Stringed Instruments
Read archive reviews:
JBovier F5Z
JBovier EMC and EMC-5 electric mandolins

Posted by Ted at January 21, 2011 5:51 AM