JBovier
F5Z African Zebrawood Mandolin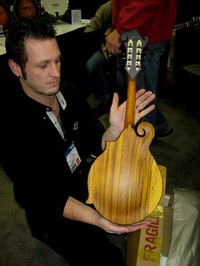 We first met the company founder, Jeff Cowherd at a Summer NAMM show six or seven years ago. (Son, Matt Cowherd pictured left with a satin prototype at the 2008 Winter NAMM.) At the time, he was a fellow Rigel dealer, among other interesting mandolin lines, he had been working closely with Jiri Lebeda in introducing the Czech builder's product to the US market. Jeff had a great aptitude for recognizing up and coming building talent, so it was no surprise to us when he later had hooked up with some Korean builders that he would quickly establish a recipe for success, not only in the product itself, but something useful, affordable, and unprecedented.
At the time (roughly 2005), other Pacific Rim import company brands were hitting their stride, now familiar names like Michael Kelly, Paris Swing, Loar, a reinvigorated Kentucky line, Morgan Monroe, and of course the fledgling Eastman mandolin. There was certainly a wealth of building talent as well as earnest intent across the ocean, what was consistently missing was the final bridge between a discriminating player's needs, and a ready-to-serve, generations-old Asian instrument making production capacity. Instruments coming east lacked the finesse of the intermediate, "working professional" mandolinist. We aren't talking the cheap mass, stamped-out factory products with flaws of finish, poor frets, and substandard ebay renegades, but the fruits of the smaller cottage industries of competent builders, ready and willing to make a product worthy of a discerning market. In addition to higher cosmetic standards, there remained a need for larger frets and quality tuners largely unavailable in Asian metal industries, nitro finishes that could breathe, and a cosmetic panache folksy and familiar, but could still dazzle within established convention and taste of the US domestic "Americana" culture.
Basically, what the American market needed was an "interpreter," and we're happy to say Jeff fit the ambassadorial role perfectly. Having taken early retirement from a rapidly changing communications company (thirty-three years at Cincinnati Bell Telephone), Cowherd had already established his sideline interest/passion in mandolins his internet-based company, Mandolins and More, already selling Rigel instruments, Lebeda, and other accessory needs sought by an underserved mandolin local and regional market. A serendipitous encounter with a group of Korean builders afforded him the opportunity to coordinate a finely crafted, initial batch of "generic" instruments capable of serving a refined community of price-conscious clientele. The results: an entire line of mid-priced mandolins, later to be known as "JBovier," a French derivative of the founder's name. In his words, "After I received my first samples later in 2005, I realized that there was great potential with this factory. So I began requesting specific carving, structural, and cosmetic changes (sometimes meeting reluctance) to attempt to create a mandolin (for poor players, like me) that tonally out performs others available in its price range... and even over its price range. The factory also saw the potential in a mandolin brand that was actually designed by a mandolin player (instead of a corporate decision maker). Fortunately, the factory also allowed me to order very small batches (10-30 at a time) for consistency, and so I could "tweak" the next batch to be better.
The fruits of these labors yielded the five distinct lines of current JBovier inventory, two A styles (A4, A5), and three familiar Florentine F5 styles (Tradition, Vine, & Dorado). Jeff elaborates, "All models offered the same solid carved Engleman spruce tops, solid carved maple backs & necks, and solid maple sides. I also wanted them all to have radiused Ebony fretboards with larger .080 frets, Ebony radiused bridges, and Grover tuners. Then in 2007, a prototype F5 was built with the back & sides made from African Zebrawood. This was initially supposed to be 'eye candy', but the combination of the Engleman top and the African Zebrawood body was so TONALLY wonderful that the 'F5Z' was added as the 'Top of the Line' mandolin model."
A strongly familiar Rigel influence is quite obvious in the F5Z's playability, the larger frets, rounded neck, and radiused fretboard, as well as the ergonomic balance allows optimal player comfort. The F5Z plays well up and down the fretboard and consistently across the strings, with a very balanced, even sound. While it lacks the crunching lows or piercing piano-tine highs of an instrument four times its $1500 +/- street price, it certainly fares better than many of its competitors of the same or lesser price.
Inserting the obligatory "for the price," the cosmetic work is quite expert. The scroll detailing is as good as you are going to get in anything new for under $2K US, and may well surpass the cosmetic standards of competitive product manufactured by domestic companies fetching a higher tag.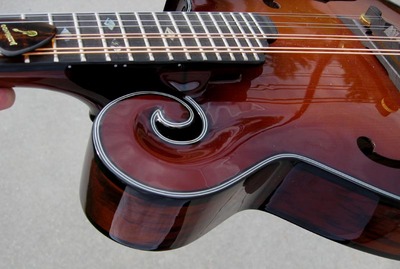 We were disappointed to find that recent changes in the in the tailpiece opted for the more Spartan traditional tailpiece (over the Allen), although that is most certainly available to the customer as an aftermarket upgrade. We were told this is a cost-control decision, function and price winning a higher priority in production philosophy.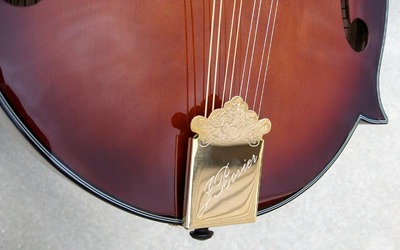 The JBovier line has its own signature look in headstock detail, if you look close, you'll notice the inlay design was a result of a Picasso-esque outline of a Longhorn cow skull, a collaborative art effort with Jeff's son, Matt. There is also a change to the abbreviated fretboard extension from the initial batch of prototypes; we're always happy to see this departure from the pick-clicking "Florida" extensions of cheaper, poorly made imports. This cosmetic distancing is ultimately a wise marketing move.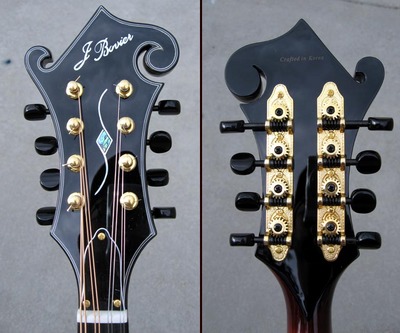 The F5Z wields all the bells and whistles of a professional workhorse, Grover tuners, radiused ebony (traditional) bridge, larger .080 frets, adjustable trussrod, Graph Tech Tusq Nut, Dovetail neck joint, and a thorough professional set-up, the latter all too-often lacking in most competitve import models. No doubt the rest of the line packs similar attention and discrimination, making the JBovier line worthy of acquisition for any serious hobbyist or gigging professional mandolinist as a legitimate back up travel instrument.
The striking optical elan of the African Zebrawood back and sides was what caught our eye on a crowded NAMM showroom floor. It's our understanding that this wood over time tends to open more fully, maturing even than maple. This one was still in its tonal infancy, but offered a very constistent, predictable set of harmonics. It will be interesting to see what it sounds like after several months of playing. For now, one can enjoy its stellar visual impact.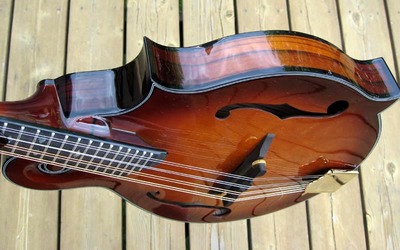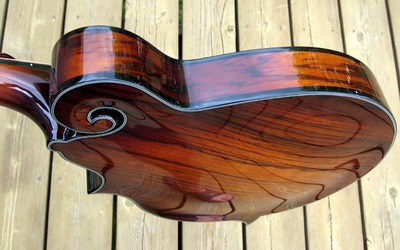 The F5Z is available in three colors, including Amber, Merlot, or an optional Black Top.

---

Builder's Website: JBovier Mandolins
JBovier: MySpace Page
Developer's personal website: Mandolins and More

Read up on other world class mandolin builders: