JBovier Emando
EMC, EMC-5 Mandolins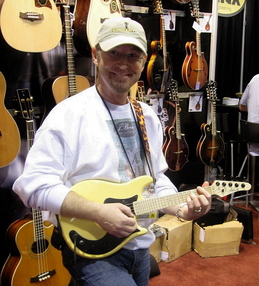 We've known Jeff Cowherd for a good five years; it wasn't until last spring (2009) we had the chance to get better acquainted after our glowing review of his acoustic Zebrawood F5. It wasn't long after, we were informally enlisted for help in some of the marketing strategies, as well as consulting on the final stages of his e-mando product development. We'll confess we consider the progenitor of the entire line of JBovier mandolins a very good ally in the battle for increasing the availability and exposure of premium mid-line instruments. Jeff is someone we consider of great talent, vision, integrity, and now, a good friend.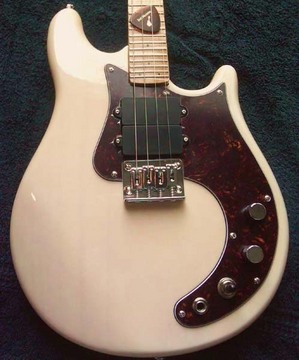 Anyone who has had their hands on one of the original Fender Mandocasters retains a warm, sentimental fondness for those classics, along with the sticker-shock frustration over their ludicrous price tag, not to mention, the baggage of costly vintage refurbishing and upkeep. (Those bakelite tuners were a basket case...) These original beauties dangle well around the shoulders, the natural Stratocaster contour ergonomically embracing the body and the firm fingerboard extending true joy to the fingers. Even the Fender Corporation itself has ben remiss in re-capturing the vibe of these retro-treasures, outside of a stratospheric custom-build price tag, upwards of three grand.
Though these aren't an exact Fender copy, they still capture a heaping helping of the aura, and at minimum, the aforementioned ergonomic sensibilities of these musical wonders. Jeff has even gone behind the scenes and taken some of the schematics of some popular celebrity (i.e. Sam bush) pickup upgrades of the originals and wired them into his own proprietary "JB-53" pickups (standard as pairs with the EMC and EMC-5, and the sister ELS models). This sonic capability has to be the most impressive feature of the JBovier emando line, the rich, robust tone.
Make no mistake, there are cheaper entry level brand electric mandolins currently available. The unmodified Epiphone Mandobird, Kentucky and Blue Star instruments are generally less expensive for someone wanting to dabble in emando land. However, most serious musicians eventually want to upgrade the primitive electronics (let alone major fret work), or more likely, enlist the premier services of some amazing domestic builders such as Jonathon Mann, JL Smith, Kevin Schwab, or Michael Stevens. These are terrific options, and we highly recommend purchasing the best you can. Until now, there had not been a mass-market option available in a mid-line electric; that's where the JBovier product fills the gap.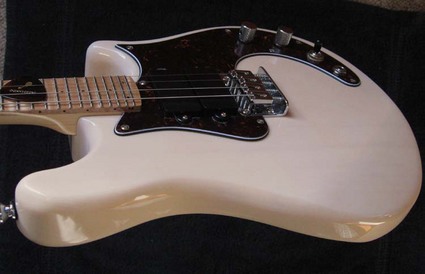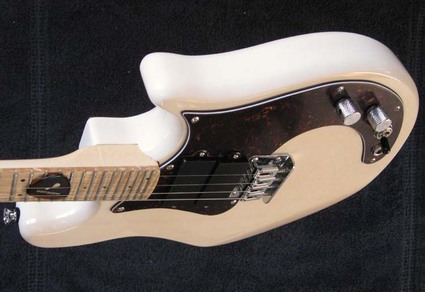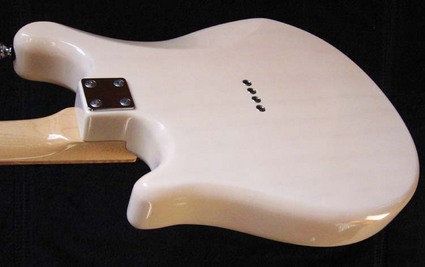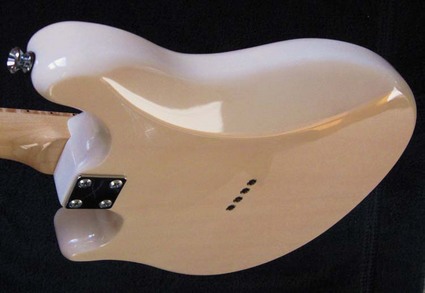 Built in well-established offshore manufacturing facilities, like their acoustic counterparts, these instruments still have a huge dose of personal hands-on touch before and after production. A discriminating customer wanting custom color or alternate pickup configurations can even deal directly with Jeff Cowherd's Custom Shop at his "Mandolins and More" showroom. Even the ones available through the current line of reputable dealers are bound to fare a better-than-average amount of attention and set-up finesse prior to purchase.
We stress tone, but playabilty is also a huge bonus with these. First plus is the large .080 frets that make fingering and chording a breeze, not something typical of import electrics. The maple fretboard on the bolt-on neck of the EMC series, in addition to being cosmetically stunning on the models we've seen have been finished expertly--none of the annoying sharp edges so common of import fretted instruments. The Wilkinson tuners are solid and trustworthy. Jeff experimented with some black buttons on the 4-string he sent us; our personal preference is for the more weighty chrome buttons, but in either case tuning is stable and secure.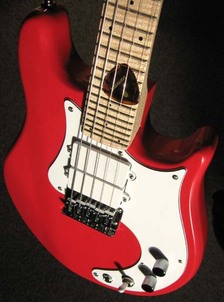 We mentioned ergonomics, and it's easy to understand why the contour of this design is so popular. Like the instrument of homage, the backside bevel fits so naturally into the players rib cage, making it easy to become "one with the instrument." We personally preferred the wider neck of the 5-string, but the 4- is still easy to play, both with a gentle radius. One initial concern was the location of the pick-up so close to the picking area. The p/u is readily adjustable up and down; one may have to find the maximum height for optimizing tone without getting into the picking area, but we're told there is a lot of screw length leeway. Acoustic musicians might be challenged to adjust their downstroke technique; understand an electric mandolin really takes a different approach anyway, both for right and left hands.
The EMC-5 5-string has a generous headstock back-angle design allowing a healthy pull on the C-string. This is an issue with many poor 5-string designs, the infamous C-string flop, but that's hardly the case here. On the prototype, we did find it necessary to add a few extra string wraps on the D tuner to pull it down. The E and A strings include a string retain that pull them down, but the D will take some extra attention. One suggestion we'll make is to cut the bone nut on the outside E & C strings a couple millimeters closer toward the inside so as to assure string security. We never had a problem with the C string slipping out of the slot here, but that might help avoid this common problem in other 5-strings.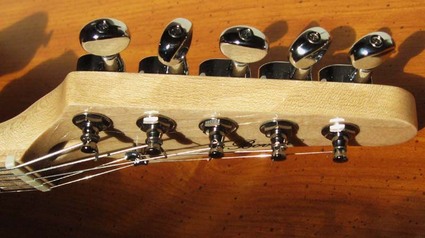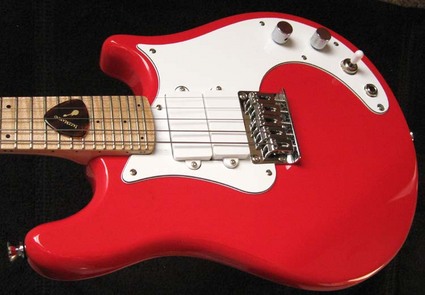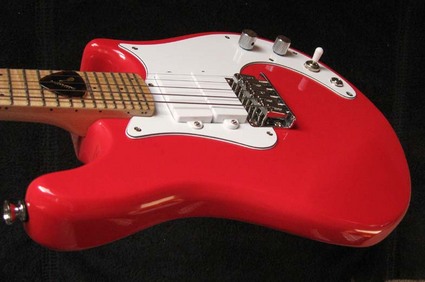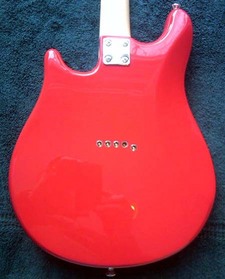 On the red EMC-5 prototype 5-string, the C string receiver in the body had been offset to increase the scale slightly. We've been told future models will continue this offset, but the middle three slots may be angled similarly, more for cosmetics than function. (The 5th string was still very easily intonated.)
We already mentioned the pickups. Jeff had the opportunity to gather sage advice from Sam Bush's instrument tech. The stock JB-53 pickups are tremendous but with great forethought, their placement has been pre-engineered with a wide enough cavity under the pickguard to accept a variety of aftermarket pickups, and no additional wood routing. The three-way switch gives a healthy array of standard tone choices, though. We'd be hard pressed to desire any more, but there are lots of tinkerers who will appreciate the option of their own personal hot-rodding.
Standard finishes are Vintage Cream (fave) and Classic Sunburst, but as you can see from the pictures of the 5-string other options are available through the JBovier Custom Shop, including ones like the reviewed red one.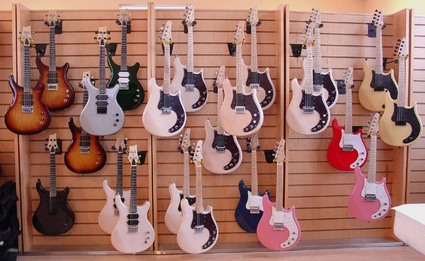 Click pictures for closeup
EMC Specs:
* Wilkinson "J-805" Tuners
* Dual "JB-53" Custom Pickups = (+/-) 6K each
* (1) Volume & Control = 500K
* 3-way Switch = Neck PU - Both (hum cancelling) - Bridge PU
* Chrome Bridge & Saddles, Control Knobs, Strap Buttons, and neck (back) plate
* Bone Nut = 28mm (4-string) 31.25mm (5-string)
* Solid Basswood Body
* Solid Maple Bolt-On Neck and fretboard
* Radiused Fretboard
* .080" Frets
* Strings (factory) = .010 - .015 - .025 - .039 (4-string)
.010 - .015 - .025 - .039 - .050 (5-string)
* Colors:"Vintage Cream," "Classic Sunburst"
* Tortoise pick-guard with 3-way switch, Tone, & Volume controls attached
* Body cavity "routed" out under pick-guard for aftermarket pickup customization
* Output jack mounted on pick-guard
* Slender headstock shape with 4-to-a-side tuners (5-to-a-side on "EMC-5" model)
* Maple Fretboard

4-String List $849, Street Price $679
5-String List $949, Street Price $779
Outfit comes complete with heavily padded deluxe gig bag.
Also available in ELS and ELS-5 (Electric "Leo Smith") models. See pictures.
Builder's Website: JBovier Mandolins
JBovier: MySpace Page
Developer's personal email: jeff@JBovier.net
Previous JBovier Review: Zebrawood F5
Read up on other world class mandolin builders: