« JL Smith. Kind of Blue. | Main | Getting Into Jazz Mandolin. Success! »

December 5, 2012 | The Real Christmas Book; now in Kindle and iBook
Want to bang out a few Yuletide favorites on the mandolin? We mentioned this a year ago (paper edition actually four years old), if you're good with chords and can read a little traditional notation, we highly recommend checking out the Hal Leonard "Real Christmas Book." According to publisher, Hal Leonard, "This unique fake book features 150 custom arrangements of carols and contemporary holiday songs featuring sophisticated jazz chord changes in the popular, user-friendly, contemporary Real Book format (melody, chords, lyrics). Players will enjoy putting the cool back into these Christmas classics."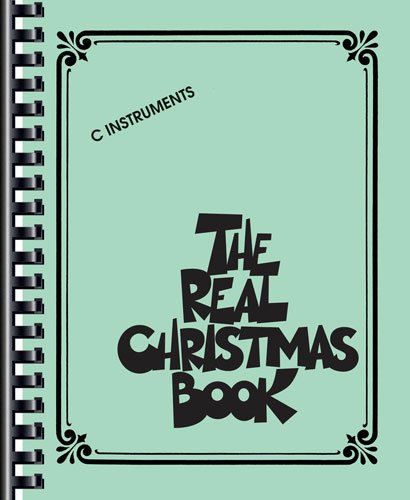 We'd pull back on describing it sophisticated, really these are more of an American Songbook approach to melody and chords, and not all that esoteric or outside. It would be great literature to add to your library and each year, add a dozen or so songs to your arsenal of pop and traditional favorites.
You can preview some of the contents here: The Real Christmas Book
Amazon Purchase information link
Need it electronically? This year, it's finally available in electronic format:
Purchase Kindle $23.75
Purchase iBook $25.99
Another hint, if you have the iReal B app on your iPhone, iPad, Droid or Mac, you can use some of the Holiday playlists from the User forum and get MIDI accompaniments that are relatively close. We've found most of the keys to be the same (and you can transpose on the app).

HL #00240306 Song List:
* All I Want For Christmas Is You
* Almost Day
* Angels From The Realms Of Glory
* Angels We Have Heard On High
* As Long As There's Christmas
* Auld Lang Syne
* Away In A Manger
* Baby, It's Cold Outside
* Because It's Christmas (For All The Children)
* Blue Christmas
* The Boar's Head Carol
* Brazilian Sleigh Bells
* Bring A Torch, Jeannette, Isabella
* Burgundian Carol
* Carol Of The Bells
* A Caroling We Go
* Caroling, Caroling
* The Chipmunk Song
* Christ Was Born On Christmas Day
* C-H-R-I-S-T-M-A-S
* Christmas Is
* Christmas Is A-Comin' (May God Bless You)
* Christmas Is The Time To Say I Love You
* The Christmas Song (Chestnuts Roasting On An Open Fire)
* Christmas Time Is Here
* The Christmas Waltz
* Cold December Nights
* Coventry Carol
* Dance Of The Sugar Plum Fairy
* Deck The Hall
* Ding Dong! Merrily On High!
* Do They Know It's Christmas?
* Do You Hear What I Hear
* Feliz Navidad
* The First Noel
* The Friendly Beasts
* From Heaven Above To Earth I Come
* Frosty The Snow Man
* Fum, Fum, Fum
* Gesu Bambino (The Infant Jesus)
* The Gift
* Go, Tell It On The Mountain
* God Rest Ye Merry, Gentlemen
* Good Christian Men, Rejoice
* Good King Wenceslas
* Grandma Got Run Over By A Reindeer
* Grandma's Killer Fruitcake
* The Greatest Gift Of All
* Greenwillow Christmas
* Grown-Up Christmas List
* Hallelujah Chorus
* Happy Christmas, Little Friend
* Happy Hanukkah, My Friend (The Hanukkah Song)
* Happy Holiday
* Happy Xmas (War Is Over)
* Hard Candy Christmas
* Hark! The Herald Angels Sing
* He
* Here Comes Santa Claus (Right Down Santa Claus Lane)
* Here We Come A-Wassailing
* The Holly And The Ivy
* A Holly Jolly Christmas
* (There's No Place Like) Home For The Holidays
* I Heard The Bells On Christmas Day
* I Saw Mommy Kissing Santa Claus
* I Wonder As I Wander
* I'll Be Home For Christmas
* I've Got My Love To Keep Me Warm
* It Came Upon The Midnight Clear
* It Must Have Been The Mistletoe (Our First Christmas)
* It's A Big Wide Wonderful World
* It's Beginning To Look Like Christmas
* It's Christmas In New York
* It's Christmas Time All Over The World
* It's Just Another New Year's Eve
* Jesu, Joy Of Man's Desiring
* Jingle-Bell Rock
* Jingle Bells
* Jingle, Jingle, Jingle
* Joy To The World
* June In January
* Last Christmas
* The Last Month Of The Year (What Month Was Jesus Born In?)
* Let It Snow! Let It Snow! Let It Snow!
* Let's Have An Old Fashioned Christmas
* Little Saint Nick
* Lost In The Stars
* March Of The Toys
* A Marshmallow World
* Mele Kalikimaka
* Merry Christmas, Baby
* Merry Christmas, Darling
* The Merry Christmas Polka
* Merry, Merry Christmas, Baby
* A Merry, Merry Christmas To You
* Mister Santa
* Mistletoe And Holly
* The Most Wonderful Day Of The Year
* My Favorite Things
* My Only Wish This Year
* The Night Before Christmas Song
* Noel! Noel!
* Nuttin' For Christmas
* O Christmas Tree
* O Come, All Ye Faithful (Adeste Fideles)
* O Come, O Come Immanuel
* O Holy Night
* O Little Town Of Bethlehem
* Old Toy Trains
* Parade Of The Wooden Soldiers
* Pretty Paper
* Rockin' Around The Christmas Tree
* Rudolph The Red-Nosed Reindeer
* Santa Baby
* Santa, Bring My Baby Back (To Me)
* Santa Claus Is Comin' To Town
* Shake Me I Rattle (Squeeze Me I Cry)
* Silent Night
* Silver And Gold
* Silver Bells
* Sing We Now Of Christmas
* Snowfall
* Someday At Christmas
* Somewhere In My Memory
* The Star Carol
* Still, Still, Still
* Suzy Snowflake
* Tennessee Christmas
* That Christmas Feeling
* The Most Wonderful Time Of The Year
* This Christmas
* This One's For The Children
* Toyland
* 'Twas The Night Before Christmas
* The Twelve Days Of Christmas
* Up On The Housetop
* We Need A Little Christmas
* We Three Kings Of Orient Are
* We Wish You A Merry Christmas
* What A Merry Christmas This Could Be
* What Are You Doing New Year's Eve?
* What Child Is This?
* When Santa Claus Gets Your Letter
* While Shepherds Watched Their Flocks
* The White World Of Winter
* Wonderful Christmastime
* The Wonderful World Of Christmas
* You Make It Feel Like Christmas
* You're All I Want For Christmas
Posted by Ted at December 5, 2012 5:18 AM