« Intervals Roasting | Main | The Real Christmas Book; now in Kindle and iBook »

December 3, 2012 | JL Smith. Kind of Blue.
John Smith is back with a new color and we had to bring it to your attention.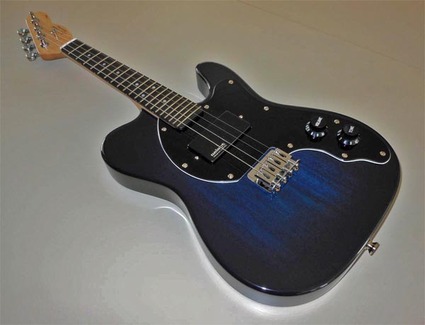 The Florida builder took a little time off in 2010 but is back in the swing again (pun very much intended) and making some great mandolins, and still at a very competitive price. he Tele body extremely well. His 4-strings start at $799, and you can choose from a number of pickup options.
We find the pure tone of his craft so good, we don't even use any effect pedals on the Sea Foam Green JL Smith 5-string we own, just a hearty Fender Blues Junior tube amp for some Porterhouse steak meaty sound. Smith enjoyed a glowing review in Vintage Guitar Magazine in October 2009.
If you've been looking for "next step" electric up from a Mandobird or Saga especially with a Telecaster like sparkle and crack, this would be a great choice.
Builder website: JL Smith Mandolins
Read JazzMando Review: JL Smith 5-string Electric
Posted by Ted at December 3, 2012 4:48 AM