« The Real Christmas Book; now in Kindle and iBook | Main | Planet Waves PW-CT-05 Practice Workstation »

December 7, 2012 | Getting Into Jazz Mandolin. Success!
Now this is the kind of feedback we love the best!...
"Ted,
I am proud to say that I finished "Getting into Jazz Mandolin." Finished means that I can play the lesson at 120 bpm. I started 11/02/2009. I know because I write the date in the corner when starting a new lesson.
This was a great book and it is so easy to go up the neck. I always know what key I am playing. The fingerings are the best part and the lessons really reinforced the idea."
Ed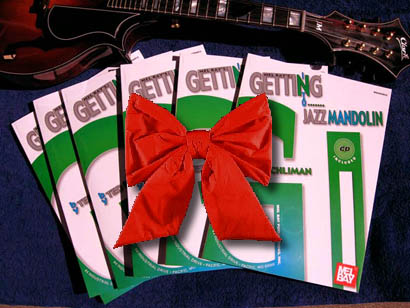 Don't feel like a failure if you aren't able to get all the way through the book, though. Even if you master a few of the pages, you can be a better player. The FFcP alone is enough to justify getting the book.
If you haven't tried, maybe you should ask for it for Christmas. Or buy one for a friend.
Buy Amazon: Getting into Jazz Mandolin
ebook: Getting into Jazz Mandolin
Purchase direct from author: Getting into Jazz Mandolin
Also:
Find a mistake? Getting Into Jazz Mandolin "errata"
Additional audio: GiJM Webtracks
Posted by Ted at December 7, 2012 4:50 AM