« December 2012 | Main | February 2013 »

January 30, 2013 | Postal rates to affect Canadian and International shipping

January 27, 2013 was the first day of the recent US Postal Service price increase. We intend to absorb the 22 cent increase in the shipping of strings and picks domestically, but our International rates nearly doubled. We now have to charge our Canadian customers an additional $7.00, most other international shipments are now $10.00. Picks will also now require a $5.00-7.00 charge, unless shipped with a set of strings.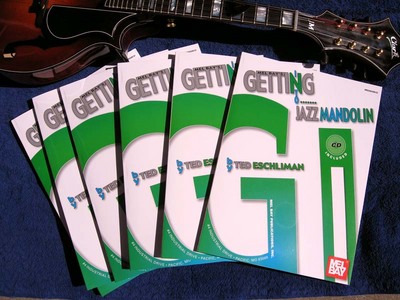 The international shipping on the book is now $18.75, more than the price of the book itself. Don't let that be a barrier to getting it; if you can find a source that can ship cheaper or from your own side of the pond, we still collect royalties on the sale. Canadian shipping also went up to $12.00.
Also, we have a temporary outtage of Jupiter Silkweave cloths. We hope to be able to reload this spring, but for the time being, they are unavailable.
Visit the Jazzmando Merchandise Center: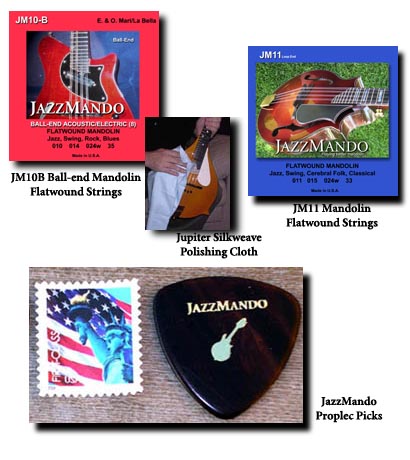 Posted by Ted at 4:45 AM

January 28, 2013 | Weber at NAMM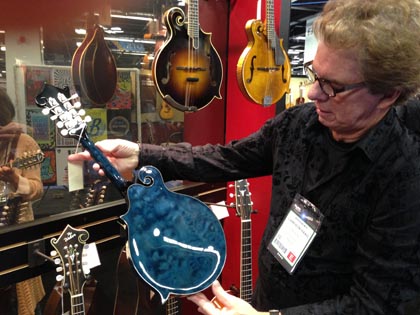 Cameron Haag and "The River"
We had the privilege of meeting with Cameron Haag with Weber Mandolins at their fabulous 2013 Winter NAMM booth. Haag and founder Bruce Weber were understandably upbeat about the new digs in Bend, Oregon, and the opportunities ahead for new designs increase production and distribution strategies. Bruce did not make the physical move, but remains at old Montana Weber HQ to continue pioneering and developing models already on the drawing board.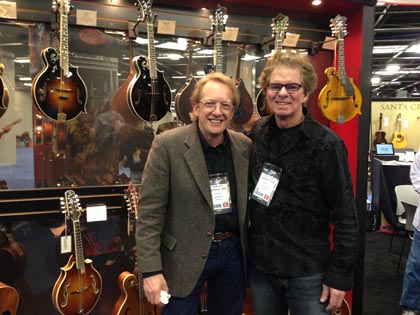 We'll look forward to bringing more news from one of the largest 21st century mandolin production facilities.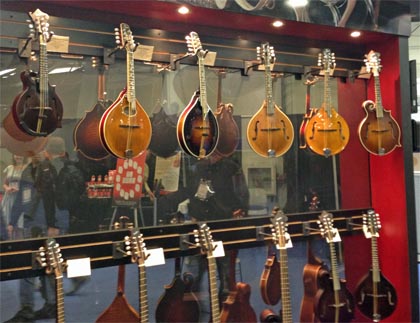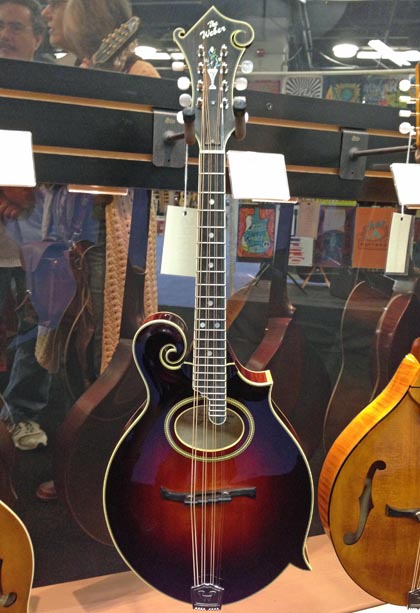 Weber Mandocello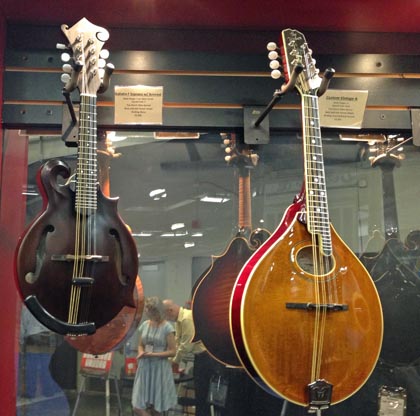 Note the scale on the new Sopranolin compared to the traditional A body mandolin.
Posted by Ted at 5:52 AM

January 26, 2013 | New at NAMM: 2013 Ovation MM80 carbon fibre top mandolin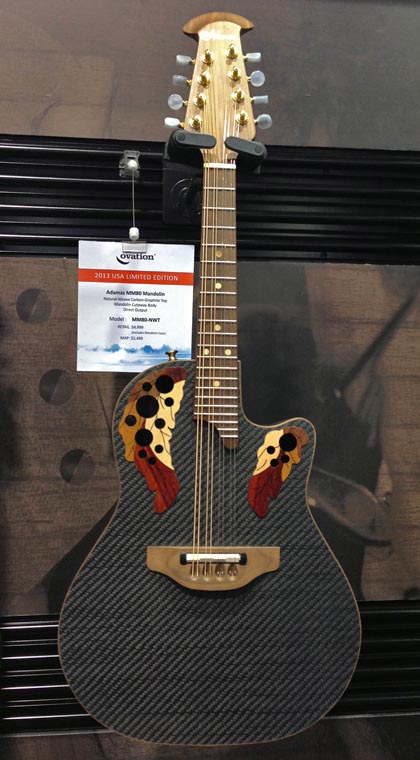 We've been at Winter NAMM the last three days logging in pictures and taking in some of the new products. One of our surprises was the new Ovation MM80-NWT carbon fibre top mandolin. Ten years ago, we lay claim to owning one of only two of these made, the Coco Ltd, but they've scheduled thirty to run this year. At a hefty $4999 list ($3499 MAP), folks probably won't be rushing to pull their credit cards out, but there's still a place for the plugged-in prowess of this instrument in the acoustically hostile stage, especially in large arena venues.
The weave top is gorgeous. Conspicuously missing this the built in chromatic tuner we had in ours, but being USA built in Connecticut, the neck and action are premium, a far cry from the current MM68AX wimpy import.
From the Ovation website:
Distinctively powerful tone sings from the diminutive Lyrachord GS body with cutaway guitar shape and the carbon fiber twill top. The top features a thin birch core and Quintad "T"-shaped spruce bracing for superior acoustic response and projection. Other premium appointments include natural walnut top binding and classic Adamas hardwood "epaulets"; a smooth-playing walnut neck with soft "V" profile; bone nut; a black acrylic heel cap; a 21-fret resin impregnated walnut fingerboard with maple dot inlays and 1/16" white side dots; a rear loading wide walnut bridge with OCP1-K compensated ivory saddle; Schaller® MG3 gold tuners with pearl buttons, and the Ovation mandolin pickup for loud, clear amplified tone.

Manufacturer's Link: Limited Edition Adamas MM80-NWT Mandolin.
Only 30 will be made.
Posted by Ted at 7:20 AM

January 24, 2013 | The V-Picks Story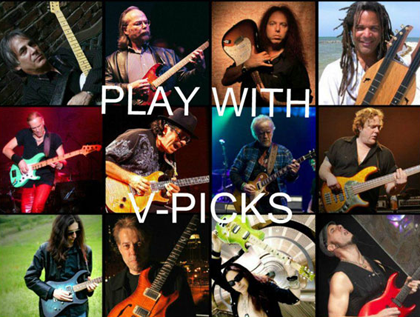 Terrific in-depth interview with our friend Vinni "V-Picks" Smith on The Gear Page. Columnist Brian Scherzer explores details of Vinni's intriguing history with the innovative pick design process and the explosive growth of his company. We've enjoyed working with him the last couple years we've offered our own custom JazzMando V-pick in our Merchandise Center in both clear and blue.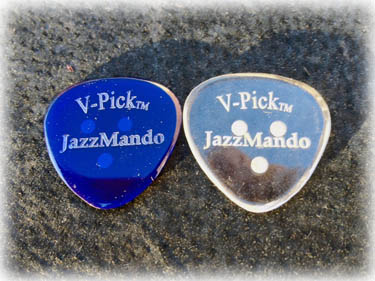 ---
From the article:
Brian: What is different about V-Picks and why should musicians choose them?
Vinni: Well, first of all, we are the original acrylic pick maker. I started making these in 1980 and started the company into full swing in 2004. Other cast acrylic picks other than lexan were just not around until about 2 years ago. Now some are trying to follow the trend. However, we have a couple of secret sauce tricks that make V-Picks far above the others. We work with our suppliers and have mixed 2 different types of acrylics and added an inert material. This gives V-Picks even more of that gripping quality and characteristic. We also heat treat/temper our material. I learned this from an aquarium maker after moving here to Nashville. It changes the density and strength of the acrylic. These big aquariums you see that hold hundreds of thousands of gallons of water need all the strength their creator can come up with. This is why they heat temper them. What does this do to a guitar pick? It makes it much, much stronger and wear resistant. I can tell in 2 seconds if brand x acrylic pick is heat tempered. None of them are. This is why some of them chip and wear jagged edges and some even leave a dust residue on the front of your guitar. This does not happen with V-Picks. But honestly, for me, the biggest benefit our picks have over the competition is SOUND. The wide spectrum of tone generated by our plectrums is truly amazing. There is undeniably a big difference in tone. Every day I get letters, emails and calls from customers that are just blown away by the tone difference.
Brian: What exactly does "Heat Tempered" mean? How does it affect guitar picks?
Vinni: It means the same thing that it means when you heat temper metal or glass. It really does not change the composition of the material, but it does indeed compact it. This process makes it much stronger and denser. Just as with metal or glass, it must be heated up with an extreme temperature and then quickly cooled off. I am not talking here about the pick being heated up on a bench grinder or buffer. I am referring to a process that is purposely done for strength and longevity of the pick. If you are playing an acrylic pick, just call them up on the phone and ask them if their picks are heat treated/tempered. If they are not, then you are playing with an inferior guitar pick.
Read more: The V-Picks Story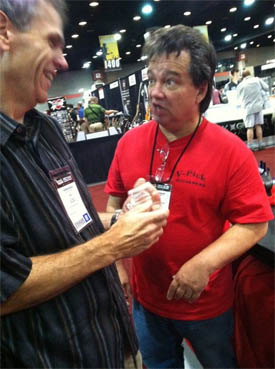 Vinni Smith, founder V-picks, Summer NAMM 2011
Vintage Vinni on pick angle:


Posted by Ted at 5:21 AM

January 22, 2013 | Free 'I vi ii7 V7' 3-note chord PDF
It's been a popular entry, but we still want to make sure you caught this recent Tips and Tricks article. This introduces four extremely handy chord patterns for one of the most common chord progressions in pop and jazz music. You'll want to learn these and immediately begin transposing them into other keys.
Printable PDF with all four variations:

'I vi ii7 V7' 3-note chord blocks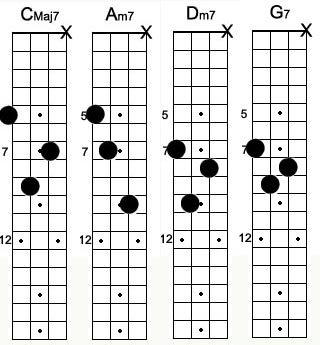 Common songs that use this progression:
Blue Moon
Why Do Fools Fall in Love
Heart and Soul
I Can't Get Started
I Fall in Love to Easily
I Got Rhythm
Sleigh Ride
Try To Remember

Posted by Ted at 4:41 AM

January 20, 2013 | Classifieds find: Rigel Oval Hole Jethro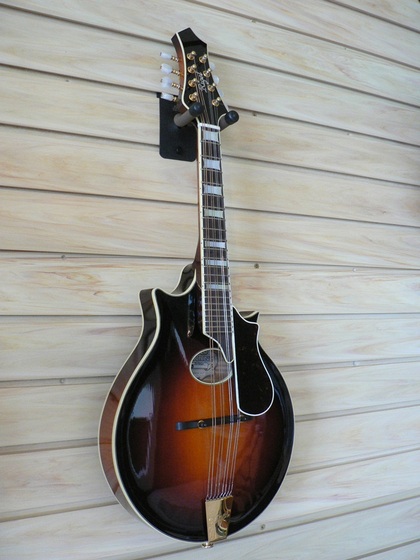 We ran across another unique Rigel "Jethro" mandolin over on the Cafe Classifieds, this one a unique. one of only two ever made. Actually there weren't that many of the Jethros built at all. Named for the legendary player, Jethro Burns, these were crafted out of premium tonewoods (eastern Rock maple back, sides and neck and Adirondack red spruce top) and were unlike most of the rounded curved back and sides of the rest of the line. We played a few of them and they were stellar.
Price is quite reasonable!
Seller's ad: Oval Hole Jethro Mandolin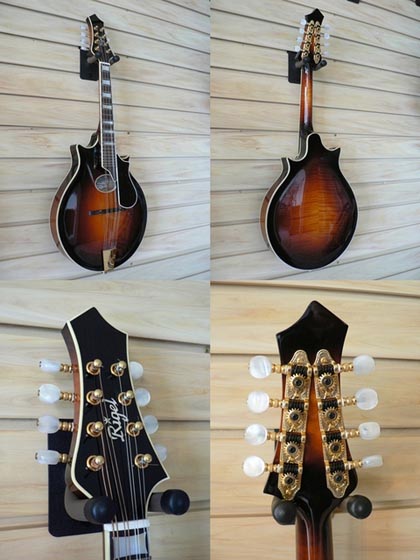 Seller's specs:
"Nice, warm tobacco-brown sunburst. Bound front and sound hole. Adjustable Ebony bridge, bound faux tortoise pickguard. Gold hardware throughout. Original gold Rigel tailpiece. Striking 2-piece back, also bound. Absolutely no belt buckle rash. Understated peghead ornamentation with Mother-of-pearl logo on a black peghead overlay), bound and with a nice sunburst on the sides of the peghead, gold Grover tuners that work perfectly. Comfortable neck with a mild radius and a nice thick Ebony fretboard also bound. MOP block inlays, scooped fretboard extension. 13 7/8 inch scale, 1 3/16 inch nut width."
$3500 shipped
We requested more pictures for our archives. Click for closeup: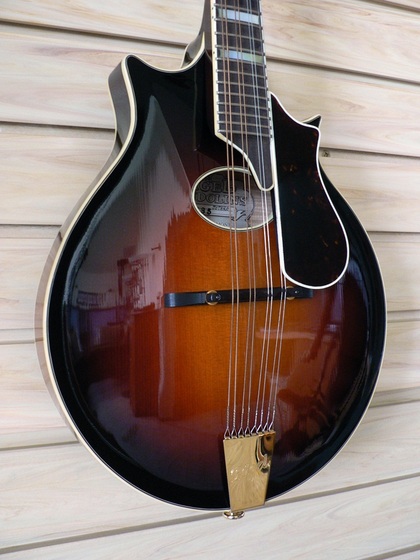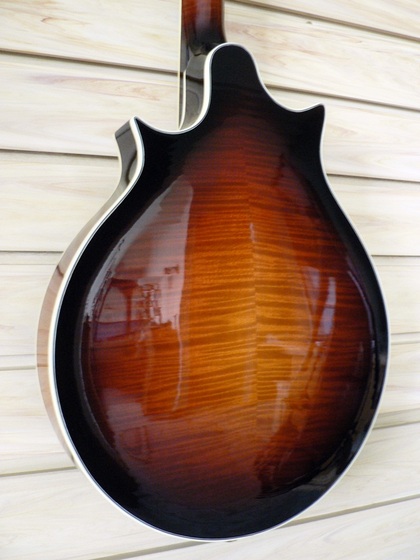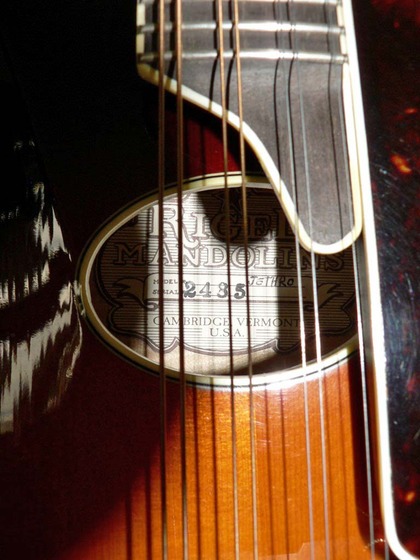 One sweet ride!
Posted by Ted at 6:52 AM

January 18, 2013 | Billy Strings & Don Julin at the Brew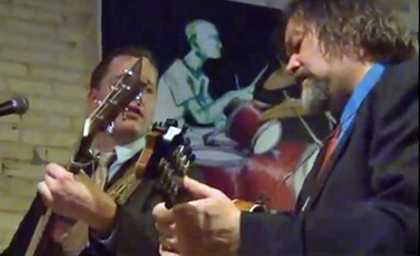 We normally stick to the jazz side of mandolin here on the site, but we thought we'd look at the bluegrass (and versatile) face of JazzMando fave and guest columnist, Don Julin in the following video recording.Filmed live at The Brew on Front Street in Traverse City, Michigan by Wayne Erreca on Dec. 30, 2012:
Video link: Billy Strings & Don Julin at the Brew
Don is the author of recently published Mandolin for Dummies.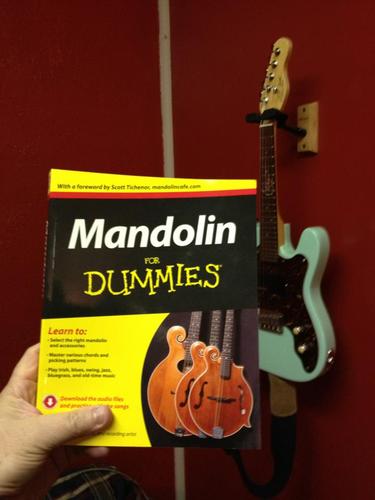 Our Mandolin Cafe Interview with Don Julin

Posted by Ted at 5:12 AM

January 16, 2013 | Merchandise Center closed next week (1/21-20)

Once again we're packing the bags for this week's 2013 Winter NAMM show in Anaheim, California, looking forward to 5 football fields full of musical gear: guitars, PA, keyboards, lighting, band and orchestral instruments, folk acoustic, and a plethora of new print materials and accessories, along with hooking up with some old industry friends. Like we've done the past decade, we'll continue to post live pictures of interesting and drool-worthy mandolin relevant products on our Facebook Page and over at the Mandolin Cafe discussion board.
We'll be meeting with Bruce, Cameron, and crew at Weber (now merged with Two Old Hippies and Breedlove), hoping to see a classical mandolin string project finished at D'Addario (three years in the works), the new Fender Mando-Strat electric mandolin, and as always, we anticpate surprises!
"Like" our Facebook Page for the latest: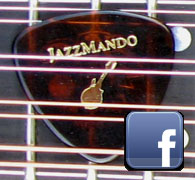 Since the crew will be away from the office, we'll be temporarily shutting down the JazzMando Merchandise Center next week. We resume shipping of strings, cloths, picks, and books on Tuesday, January 29. If you can get your order in before midnight Sunday (1/20), we'll be sure to get your order processed before we leave.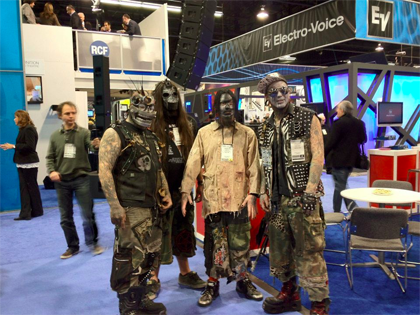 2012 NAMM Convention
Posted by Ted at 5:15 AM

January 14, 2013 | Berklee Tribute to John McGann, February 12, 2013
A special note from Berklee Staff faculty teacher and professional mandolinist Joe Walsh from his post on the Mandolin Cafe Message Board:

"I don't suppose I have to tell anyone here how big of a hole John McGann's passing left in so very many communities, one of which of course is here in the Cafe. Another of those holes is in the Berklee community, and especially the mandolin community here, where even the very existence of a mandolin scene (a thriving one!!) is a tribute to John's time, effort, and inspiring approach to music and life.
In light of that I wanted to let you know that we here at Berklee are rounding up a show to pay tribute to John next month. Every year he'd schedule a concert entitled "Mandolin Mashup" and before he passed he'd scheduled one for the 12th of this coming February. Fellow mandolin instructor Jason (Anick) and I are aiming to make this a proper tribute to him by the mandolin community he established here, and have rounded up a lot of the best mandolin players who got to work with him in his too short time at Berklee.
In addition to Jason and I, the lineup will include Dominick Leslie (of the Deadly Gentlemen), Jake Jolliff (Joy Kills Sorrow), Eric Robertson (the Boston Boys), and Alexander Gable (general all around adventurous mandolinist), all of them alums who'll be coming back to pay their respects. Current students who'll be playing a part of the show include Dan Bui, Bryce Milano, Matt Witler, with repertoire including some of John's tunes and a song composed specifically in tribute to him.
In addition to this cross-section of the first few years of mandolin at Berklee, some other ringers will be rounding out the evening, including Darol Anger, Matt Glaser and Alex Hargreaves on fiddle, Courtney Hartman on guitar, Sarah Jarosz on octave mandolin, and Sam Grisman on the upright bass.
There are so many ways to get a gauge of the way people felt about John, but one of them in this process has been seeing how readily each of these performers has signed on, shifting schedules around in order to play a few notes in memory of this ever inspiring man.
One especially cool thing is that this concert will be broadcast live on Concert Window, so anyone with an internet connection anywhere in the world will be able to watch the show. For folks who are within striking distance of Boston the details on tickets can be found here .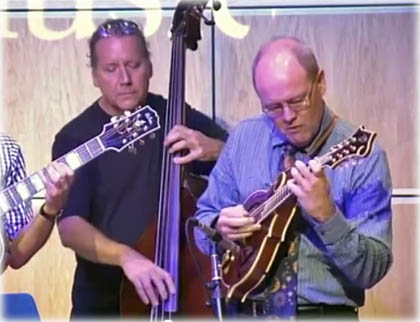 Weigh in with your thoughts on the
Mandolin Cafe Message Board
Posted by Ted at 5:34 AM

January 12, 2013 | Fender announces Mando-Strat electric mandolin
Here we go, less than two weeks from the Winter NAMM show we get our first surprise entry in the "What's New" department. Leading guitar manufacturer Fender has just announced an import knock-off of their legendary classic mandocaster (although it was never officially called that), the Mando-Strat electric mandolin. We saw a few of these made for the European market a decade ago (SB-4, FM-984) and scratched our heads trying to figure why they wouldn't release these in the US.
About time! Especially with the market departure of the Epiphone Mandobird, and the JBovier EMC, the market is in need of a quality mass production instrument. They are showing these in one color only, and typical of the other import instruments, highly unlikely to offer the classic Fender finishes Sea Foam Green, Candy Apple Red initially. (We hope they'll eventually come to their senses soon about color. Heaven knows our readership would be actively interested...)
We've been pretty impressed with price and value of the import electro-acoustic mandolins, including the Robert Schmidt model introduced last winter, and expect this one will be a good deal for the money. We won't know the street price for a while, but at $399 MSRP, we can expect something in the lower $200s.
We'll be venturing out to NAMM camera in tote, even have an appointment already booked with the Fender folks, so we hope to bring you more news and hands-on evaluation at that time. Meantime, check the video demonstration below and read up on their specs.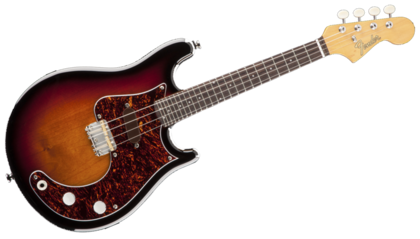 From the Fender Website:
"The classic Fender electric mandolin returns as the new Mando-Strat. This highly distinctive and charmingly diminutive instrument evokes the Fender electric four-string mandolins of the 1950s and '60s, with an updated and improved design for modern players.
The distinctive shape and chiming tone of Fender's late-'50s electric mandolin are back, with features including a solid alder body, 13.78" scale, "C"-shaped maple neck with 24-fret rosewood fingerboard, and specially designed pickup with volume and tone controls. Other features include a vintage-style bridge with chrome plate made on the actual machine used to produce the original parts half a century ago, three-ply tortoise shell pickguard, vintage-style tuners, and chrome hardware"
Specs:
White dot position inlays, three-ply tortoiseshell pickguard, knurled chrome flat-top control knobs, synthetic bone nut
Back, Sides, & Top: Alder
Neck Shape: "C" Shape
Number of Frets: 24
Position Inlays: Dot
Fingerboard Radius: 7.25" (18.41 cm)
Fingerboard: Rosewood
Neck Material: Maple
Nut Width: 1.18" (30 mm)
Scale Length: 13.78" (350 mm)
Neck Plate: 4-Bolt
Fender Designed Bridge Pickup
Bridge: Vintage-Style Adjustable with 2 Threaded Brass Barrel Saddles
Strings: Ball End .011, .016, .026w, .036w

Video Demo

Posted by Ted at 5:08 AM

January 10, 2013 | Django Fakebook download
From the European website GypsyGuitar.de, an incredible resource for the lead sheets for 200 common Django style swing tunes. Many of these go beyond your typical Great American Songbook, so it's a terrific opportunity to broaden your repertoire. The site is in German, but you can go directly to the link below and access these Gypsy Jazz gems:
Download PDF: 2008 Django Fakebook


Swing hard. Pick well!
Posted by Ted at 8:36 AM

January 8, 2013 | Broaden your horizons with Minor FFcP
We've been aware of lots of recent internet chatter about the FFcP approach to understanding the the mandolin fretboard from some folks who have just discovered it (and have questions). Nice for folks to experience that initial excitement when they begin to unravel its secrets--even cooler once they've devoted several weeks and are able to enjoy the subconscious benefits as well.
The Major FFcP lays the groundwork for the "Getting Into Jazz Mandolin" book, but we've also added some more exercises after publication, including the Dorian/Minor FFcP version. You can read more about the philosophies behind it in our free Downloads page.

Background: Dorian/Minor FFcP
Free 4 Page

PDF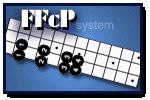 Posted by Ted at 5:14 AM

January 6, 2013 | New Circle of 5ths Clocks. Our turn.
We'll confess this wasn't an original idea, but surely good enough to steal and adapt for our own merchandise store as both an educational tool and studio decor. This 10 inch wall clock will not only help you handily travel the circle of 5ths, it can help you keep time.
Literally...
We didn't see the need for including all the Relative Major/Minor relationships, so we streamlined it down to its 12 step purity. So many ideas are clear here, the 6 hour (180 degree) jump across the face gives you the Tritone pairs (i.e. A/Eb). Clockwise adds sharps and eventually subtracts flats. Counter clockwise does the reverse. A four-hour jump does yield the Relative Major/Minor keys (i.e. C Major/A Minor). We all have our favorite zone of the face, generally the strings like the sharp keys, the horn players like the flats, and of course, everyone dreads the enharmonic hours with all the extra flats & sharps (B/Cb, F#/Gb, C#/Db).
Unless of course your using FFcP--then you don't care what key you're in!
Surrounded by a black plastic case, the background comes in your choice of classic Clark JM Cherry-Colaburst, and the new Sorensen Sprite Blueburst. Requires 1 AA battery (included).
Purchase one (or both!) for your home or office from our CafePress JM Logo Store and help support the site while you're at it. Only $18.99!
Click image(s) to purchase: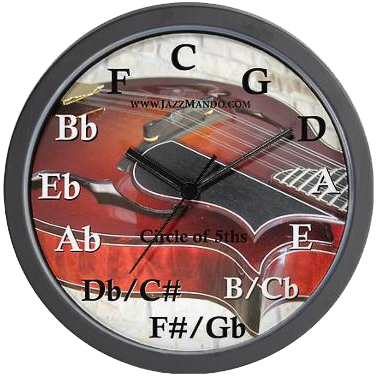 Circle of 5ths Wall Clock Cherry-Colaburst $18.99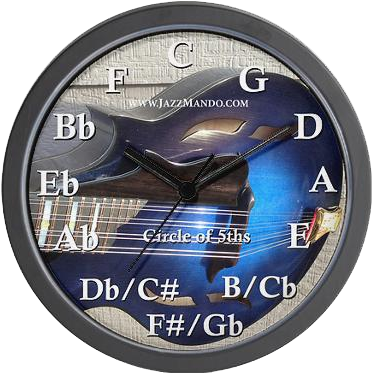 Circle of 5ths Wall Clock Cherry-Colaburst $18.99

Special bonus: Item includes free 60 bpm metronome, no additional charge!
Enjoy more items at the JazzMando Logo Store
Posted by Ted at 6:23 AM

January 4, 2013 | Circle of Fifths Clock
We mention the Circle of 5ths frequently around here. There's no better physical illustration of the endless aspects of the progression of key signatures like the face of a clock, so we were delighted to stumble across a product that not only tells time but demonstrates this key music theory concept. Pun intended: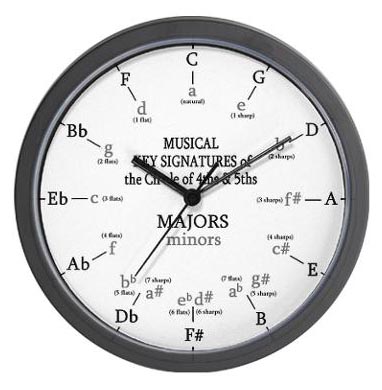 Circle of Fifths Clock $18.00
No financial interest, but these are available in the Cafe Press online store by clicking the above link.

Posted by Ted at 5:31 AM

January 2, 2013 | Minnesota Video Vault: Jethro And Friends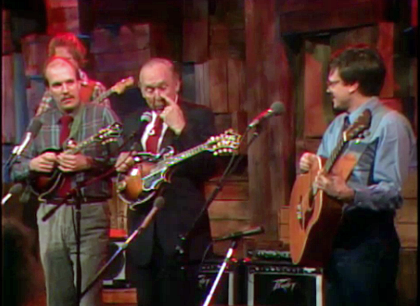 The following 1984 recording was recently made available from Minnesota Public TV. For 39 years, Jethro Burns was half of one of the greatest comedy teams of all time, Homer and Jethro. Take a look back at his history, his comedy, and get ready to laugh out loud. 55 minutes of amazing playing including a couple young pups Don Stiernberg and John Parrott (yes they misspelled the latter).
Video link: Jethro And Friends:
Note: Apologies for you iPad/iPhone users, the presentation is Flash based.
Highly recommended! Purchase:
Swing Low Sweet Mandolin
Bye Bye Blues
Posted by Ted at 5:20 AM