« Django Fakebook download | Main | Berklee Tribute to John McGann, February 12, 2013 »

January 12, 2013 | Fender announces Mando-Strat electric mandolin
Here we go, less than two weeks from the Winter NAMM show we get our first surprise entry in the "What's New" department. Leading guitar manufacturer Fender has just announced an import knock-off of their legendary classic mandocaster (although it was never officially called that), the Mando-Strat electric mandolin. We saw a few of these made for the European market a decade ago (SB-4, FM-984) and scratched our heads trying to figure why they wouldn't release these in the US.
About time! Especially with the market departure of the Epiphone Mandobird, and the JBovier EMC, the market is in need of a quality mass production instrument. They are showing these in one color only, and typical of the other import instruments, highly unlikely to offer the classic Fender finishes Sea Foam Green, Candy Apple Red initially. (We hope they'll eventually come to their senses soon about color. Heaven knows our readership would be actively interested...)
We've been pretty impressed with price and value of the import electro-acoustic mandolins, including the Robert Schmidt model introduced last winter, and expect this one will be a good deal for the money. We won't know the street price for a while, but at $399 MSRP, we can expect something in the lower $200s.
We'll be venturing out to NAMM camera in tote, even have an appointment already booked with the Fender folks, so we hope to bring you more news and hands-on evaluation at that time. Meantime, check the video demonstration below and read up on their specs.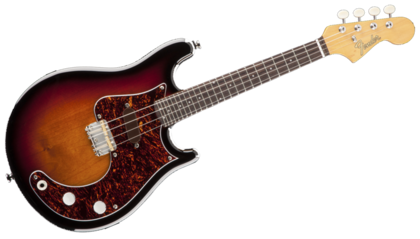 From the Fender Website:
"The classic Fender electric mandolin returns as the new Mando-Strat. This highly distinctive and charmingly diminutive instrument evokes the Fender electric four-string mandolins of the 1950s and '60s, with an updated and improved design for modern players.
The distinctive shape and chiming tone of Fender's late-'50s electric mandolin are back, with features including a solid alder body, 13.78" scale, "C"-shaped maple neck with 24-fret rosewood fingerboard, and specially designed pickup with volume and tone controls. Other features include a vintage-style bridge with chrome plate made on the actual machine used to produce the original parts half a century ago, three-ply tortoise shell pickguard, vintage-style tuners, and chrome hardware"
Specs:
White dot position inlays, three-ply tortoiseshell pickguard, knurled chrome flat-top control knobs, synthetic bone nut
Back, Sides, & Top: Alder
Neck Shape: "C" Shape
Number of Frets: 24
Position Inlays: Dot
Fingerboard Radius: 7.25" (18.41 cm)
Fingerboard: Rosewood
Neck Material: Maple
Nut Width: 1.18" (30 mm)
Scale Length: 13.78" (350 mm)
Neck Plate: 4-Bolt
Fender Designed Bridge Pickup
Bridge: Vintage-Style Adjustable with 2 Threaded Brass Barrel Saddles
Strings: Ball End .011, .016, .026w, .036w

Video Demo

Posted by Ted at January 12, 2013 5:08 AM