« Susie Brown and a JBovier electric mandolin | Main | On the way; Custom Jonathan Mann Baritone 5-string »

May 22, 2011 | Ovation US mandolin. Not.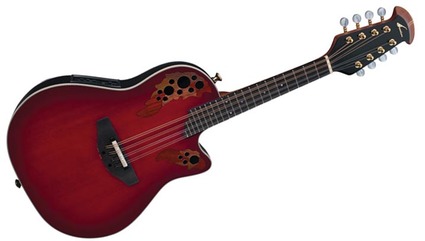 Kind of sad to see. The Ovation MM68 mandolin was not everybody's cup of tea, but we thought the USA made model was an incredibly great solution for the road warrior mandolinist, especially the guitar doubler. The instrument was easier to play, military tough, and plugged in, inarguably hard to beat sonically. They are no longer being produced in New Hartford, Connecticut at the old Ovation Headquarters. They aren't even US made, anymore.
We've just tried the new MM68AX import, and are majorly disappointed. These are pretty much on the level of the intermediate MCS148 Celebrity Series, now. The fretboard was in need of a set up out of the box, nut cut poorly and the ragged finish at the joint amateurish. At the lower street price under $800 new (list $1149), we really wanted to like it. Even the classic upper-bout sound hole exotic wood epaulets were lathered in Pac-rim gloss, and the overall sound was underwhelming. If you're expecting the quality of its legendary predecessor, you're in for a let down.
We don't like to be negative about products, so we'll turn this into a positive. If you can find a used US made MM68, buy it now before everyone finds out they aren't being made any more. The price on used ones just went up.
Bummer.
Website: The New Ovation MM68 AX

Posted by Ted at May 22, 2011 5:33 AM