« January 2013 | Main | March 2013 »

February 27, 2013 | Django in June early registration deal ending 2/28/2013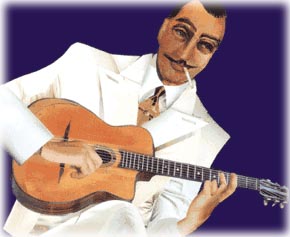 We've mentioned the popular New England gypsy jazz camp over the last few years. Django in June is known to have featured some of our favorite JazzMando dignitaries, the likes of the late John McGann, Jamie Masefield, Aaron Weinstein, Jason Anick, and last year, Paul Glasse. This year marks the return of Aaron Weinstein and now Pacific Nortwest mandolin jazz phenomenon, Matt Sircely (Hot Club Sandwich).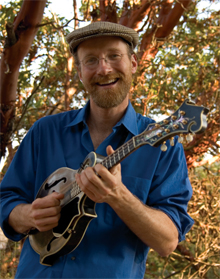 From camp director Andrew Lawrence, "Study all day with world-class artists, jam all night with many of the most adept and passionate students of the style from across North America. Got a better way to spend 5 days? For just about the same cost as the cheapest budget airfare I can find from NY to Paris, we'll not only provide an exceptional opportunity to learn and share this music, but throw in meals on-site, a private dorm room, the leafy green environs of Smith College and stellar weekend concerts.
Quel deal!"
The early registration discount is about to end. Thursday (2/28/2013) marks the end of the early-bird registration period for Django Camp. From March 1st onward, the cost of Camp goes up by $30 a month. Two risk-free ways you can skip that and lock in the cheapest possible rate for yourself:
1.) Preregister before Thursday. It's only $200 and even that is fully refundable through March. All benefit, no cost. Do it right here, right now.
2.) Pretty sure you're coming but still working out the details? Paste this note into an email to to the camp director: "Andrew, please pencil me in for Django Camp at the early bird rate, would you?" He will firm things up before the end of March.
Don't' miss out on this terrific opportunity!
Camp information: Django in June 2013; June 17-23
Email: Andrew Lawrence
Posted by Ted at 5:26 AM

February 25, 2013 | Jason Anick's new Arrow Jazzbo 5-string mandolin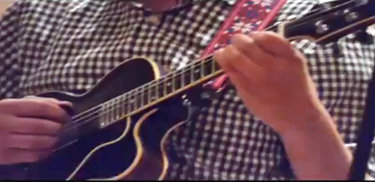 We've had the chance to check in with Boston based fiddle/mandolin prodigy Jason Anick in regards to his new 5-string Jazzbo guitar box acoustic mandolin. Our own experience with a personal 4-string Jazzbo was terrific, and were excited to help hook him up with the renown west coast builder Paul Lestock who crafted this fine instrument for him. You can see and hear what the instrument sounds like in the hands of its talent owner in the video below.
Jason weighs in: "I recently got a 5 string acoustic/electric "jazzbo" made by Paul Lestock and I couldn't be happier. The low C string opens up more potential for chords along with an extended range for soloing. Because of the larger scale length, the C string really rings out with good tone and doesn't sound too flabby or loose like other 5-strings I have tried in the past. The scale length isn't too drastic though, so it doesn't feel too different from playing a four string or regular 5-string. The semi-hollow body aspect gives it a little more acoustic sound and warmth which works great for swing and jazz. The intonation is perfect all the way up the neck, even way up on the C string. The Kent Armstrong custom pick-up that comes with it is a perfect match for the instrument, giving it the ideal clean jazz tone that is very versatile allowing for a a nice dynamic range and tone coloring. Un-plugged it surprisingly holds its on as an acoustic instrument, nice tone and loud enough for quieter musical settings. The craftsmanship of the 'jazzbo' is also something to be admired. Overall, it's an amazing instrument that I feel is the perfect fit for my style of jazz mandolin playing and I can't wait to record with it!"
We were curious how this would fit in with his current SAGA electric documented on his YouTube video Channel, "It doesn't however make my SAGA emando that I had previously been using obsolete, I see it more as owning a Gibson arch-top and a telecaster - each works better in different settings. I have been using the SAGA solid body more for playing with rock/country bands since it can gets more volume and cuts."
Lestock is not the easiest one to get a hold of and has maintained a reduced web presence the last few years, but is actively producing instruments. We're happy to see that!
Video Link: Jason Anick; "Sent Home"

Read last summer's interview: 10 Questions For Jason Anick
Posted by Ted at 5:12 AM

February 23, 2013 | New from Aebersold Jazz: Slower "Play-A-Long!"
We love the Aebersold Jazz "Play-A-Long" serious books of lessons and jazz standards (and have used them for literally decades), but often the beginner struggles with some of the cooking fast tempos in some accompaniment tracks. Jazzbooks.com announces a great assist, new "Slow Tempo" CDs for some of their best selling titles like the "All Bird" Charlier Parker, "Turn Arounds," and our favorite, the "ii V7 I" classic.
If you purchased a single-CD edition of these volumes, you should consider adding the new second CD of slower practice tempos. They've taken the original tracks and slowed them down using state-of-the-art technology to preserve the sound quality.
The Volume 3 upgrade includes a CD of all new practice tracks, not just slower versions of the old tracks. Volume 16 was originally 2 CDs. It is now 4 CDs (2 with slower practice tempos).
The new CDs can be purchased for only $5.00 per disc!
Purchase information: Jamey Aebersold Play-A-Longs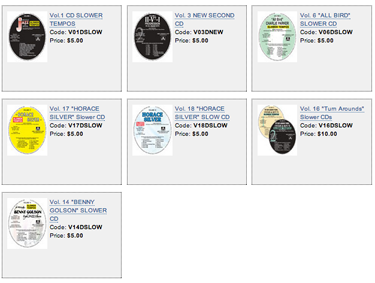 Posted by Ted at 5:47 AM

February 21, 2013 | Rare one-off Mann 5 String electric mandolin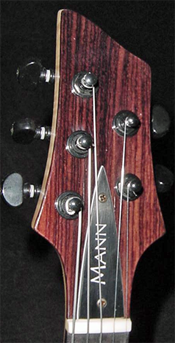 Up for grabs and to a welcome home, a beautiful one-of-a-kind 5-string electric mandolin from Tennessee builder. He tells us, "This is one I started a few years ago and just recently finished up. Honduran Mahogany flat back body is a little deeper than my EM model." We assume the longer 14.7" scale packs this instrument with extra sustain, and the deeper body even more string fundamental.
We've enjoyed Jon's craft personally, including a recently acquired 5-string custom made baritone emando (GDAEB). Over a decade in this specialty, he's a leading world class builder of electric mandolins, known for his unique signature neck-through designs.
Be sure to watch the Artist Video Series segment below produced by Mel Bay documenting more of Jon's history and philosophy of building instruments. He's great to work with, a long line of very satisfied customers.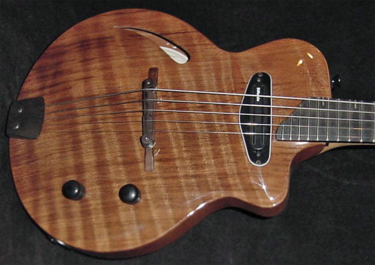 Specs:
One piece carved curly redwood top.
Ebony fretboard, tailpiece and bridge saddle
Rosewood peghead overlay and bridge base
14.7" scale length, 12" radius
1 7/32" nut width. banjo size fretwire, 2-way truss rod.
Dimarzio protrack pickup with push/pull tone control to switch pickup from series to parallel
Black hardware
Natural water-base finish with gloss top and satin back
Set up with Daddario flats and low action, great for jazz!
Comes with gigbag but should fit in F style case.
Selling Price: $1400.00


Builder Website: www.manndolins.com
Jon was a professional songwriter before his artistry at the bench making his highly sought after instruments. From the video and his library of YouTube demonstrations, it's obvious he's an accomplished picker, too.
Video link: Jonathan Mann Interview


Posted by Ted at 7:48 AM

February 19, 2013 | FFcP and Pentatonic Scales
Many folk/bluegrass musicians have come from the world of the Pentatonic Scale. We've warned about the limitations in basing all your improvisation on static vanilla Pentatonic riffs, and have tried to introduce you to alternative approaches to improvisation, through a variety of scales and modes, and of course the FFcP patterns to get you to think in chords, too.
Still there is opportunity in the Pentatonic, as many Bebop era jazz musicians have developed in their soloing (see Jazzed Pentatonics). Meanwhile we want to point out an exercise we introduced several years ago that can help get you down the path of fretboard mastery, and there's an opportunity for you to dig deeper.
Check out a popular download in our FFcP library, Pentatonic FFcP.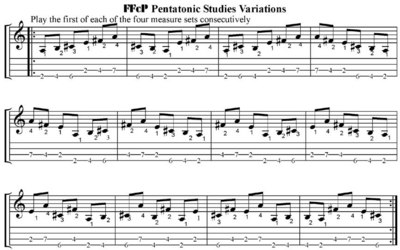 Note, this is new material, not in the GiJM book.
Posted by Ted at 5:28 AM

February 17, 2013 | MANdolinMAN quartet on Vimeo
Here's an exciting video from across the pond. Belgium's mandolin quartet "MANdolinMAN" takes a different direction in a Jobim Bossa Nova standard, "Água de beber." The music of their first album, "Old Tunes, Dusted Down'" was an interesting blend of European and North American folk traditions, performed with exquisite control and engaging dynamics.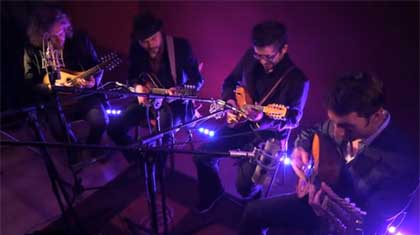 We are looking forward to a February 2013 CD release of their latest project. For now, enjoy this video (title to be announced):
Video Link: MANdolinMAN; Água de beber

MANdolinMAN (Belgium) plays Bossa Nova : Água de beber (A.C. Jobim) // new album release february 2013 from MANdolinMAN on Vimeo.
MANdolinMAN players: Andries Boone (mandolin and mandola), Peter-Jan Daems (mandolin), Maarten Decombel (mandocello) & Dirk Naessens (mandolin)
Artist Website: MANdolinMAN.be
SoundCloud Audio: Andries Boone
Posted by Ted at 7:34 AM

February 15, 2013 | Review of Girouard A-body mandolin
In our latest entry to our increasing list of reviews of progressive mandolin builders, we've added an evaluation of a new A-body red varnish mandolin from New Hampshire builder Max Girouard. The husband/wife building team have crafted a fine jazz-voiced instrument and we go into detail about some of the thoughts of what makes a good jazz mandolin, and why this particular unit qualifies in our opinion.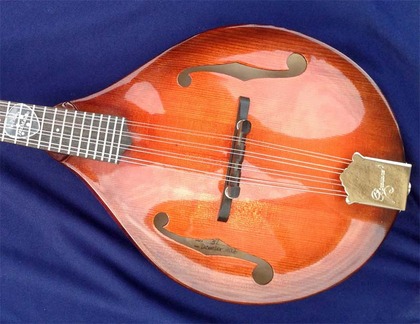 The aesthetic of the no-bind look, vintage red-burst stain, and a playability and tone potential of an instrument twice the price gives us the opportunity to introduce to our golden age of building, one more contender, a strong voice (pun intended) in options for the player with discretion and modest budget. Even better it can be American made.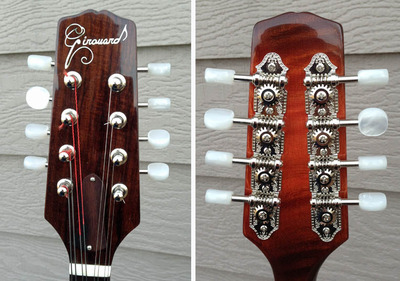 Read review: Girouard A-body mandolin (jazz-voiced)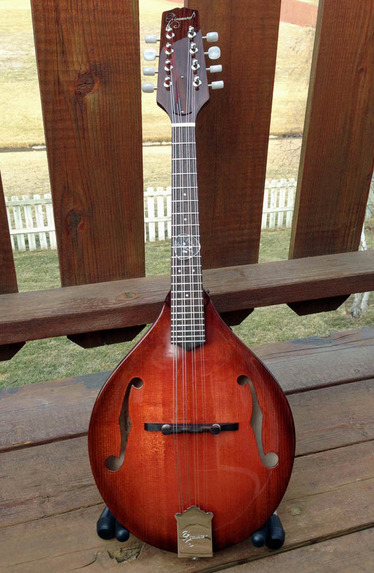 Previous article: Blue Giroaurd (sort of) mandolin on eBay
Posted by Ted at 4:47 AM

February 13, 2013 | Mischievous Swing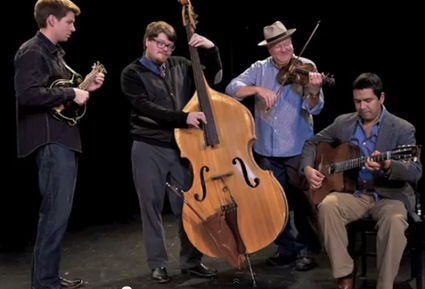 The Eichers continue to be an acoustic string jazz favorite around here. We mentioned the Oklahoma ensemble last fall when they released their debut CD Dance of the Gypsies. The oldest member of the group Shelby Eicher is a long time veteran of the southwestern US Texas Swing scene, himself a National Hall of Fame fiddler as well as a virtuoso swing mandolinist. He's joined by three sons, Nathan, Paul, and equally talented mandolinist, Isaac.
We can' recommend the CD highly enough!
Enjoy song track: Mischievous Swing

Purchase CD: The Eichers, Dance of the Gypsies
Posted by Ted at 5:28 AM

February 11, 2013 | Swing chords tips with Brian Oberlin
This year, we're looking forward to bringing you even more tips from the genius of prominent guest mandolin clinicians and educators. Our first entry was last week's article on voice-leading swing chords and easy extensions from Pacific northwest expert Brian Oberlin who coordinates the world renown River of the West Mandolin Camp.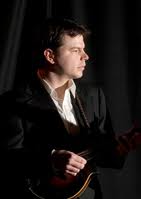 Download Brian's PDF link but be sure to listen to the audio, too!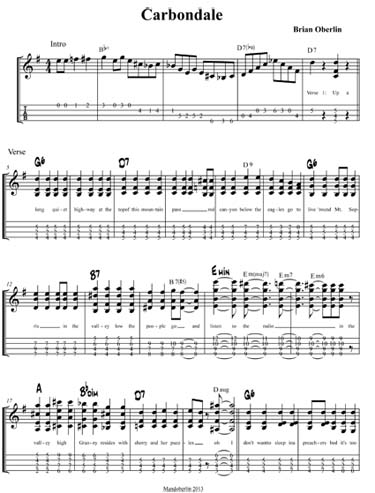 Audio link:

Carbondale MP3
Tips and Tricks: Voice-leading swing chords and extensions; Brian Oberlin
Later this week, we go north to Seattle's best in a terrific column from Mandolin Magazine's Pete Martin.

Posted by Ted at 5:21 AM

February 9, 2013 | This Is Your Brain On Music [Infographic]
"How music enters the brain, and what it does when it gets there" by Colin Lechter
From the February 6, 2013 Popular Science website:
"We know music can profoundly affect us, whether you're the type who gets weepy at a classical performance or kicks a child at a metal show. But what exactly is going on in our brains when that happens? This cartoony infographic from the University of Florida breaks it down, from the ear to the brain. It also includes some interesting notes about the correlation between brainwaves and emotions. Low beta waves, for example, are associated with concentration and alertness, while alpha waves are associated with relaxation and daydreams.
But maybe take some of this stuff with a grain of salt: Taking a class on music education isn't necessarily going to improve your SAT scores, even if picking up the trombone is correlated with bubbling in the right answers."
Link to graphic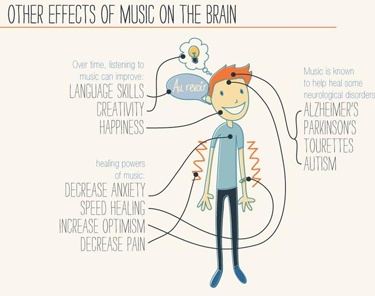 Posted by Ted at 7:49 AM

February 7, 2013 | Ethan Ballinger on Pandora
Hard to believe it's been out more than five years, but Ethan Ballinger's fresh original instrumental collection "Wish Upon a Falling Star" is now available as a free listen on Pandora. New acoustic jam roots music with a sophisticated jazz sensibility, we haven't found too many alternative acoustic ensemble projects we've liked better. It's just great atmosphere music to tune into or just relax to in the background. We still keep it in rotation.
Unfortunately, Ethan's projects lately have been more guitar than mandolin, but this CD has stood the test of time and should be in every mandolinist's audio library.
Link to Pandora: Ethan Ballinger
Own a copy: Wish Upon a Falling Star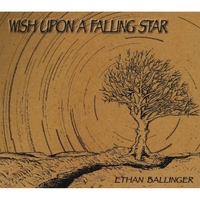 Posted by Ted at 7:44 AM

February 5, 2013 | FFcP chatter. Seeking help.
It's admittedly a bit voyeuristic, but we enjoy reading from afar what other veteran users have to say as explanation of some of the concepts we've developed on the site over the last 10 years. At the heart of it all is our FFcP (Four Finger closed Position) approach to mastering all 12 major scales (let alone finger strength and dexterity), and it's fun to hear out others explain not only how it works, but how it benefits them.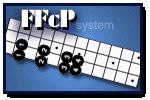 This from a recent entry in the Mandolin Cafe Forum seeking the help of peers:
"FFcP is a method of playing scales (and thus keys, tunes, chords, etc.) without using open (unfretted) notes on the mandolin.
Because of not using open notes, you can repeat scale patterns anywhere on the instrument giving you access to the entire fretboard. You also can play any scale using one of the 4 FFcP fingering patterns, and you can extend a scale across the fretboard.
Hope this helps flesh out some of the above information."
Bill
"The FFcP exercises are included in Ted's popular book Getting into Jazz Mandolin. They are also available for free download at JazzMando and here on the Cafe. Apart fron the book, they are great on their own to help ingrain the scale interval relationships in all 12 keys using only 4 fingering patterns. By initially eliminating the open strings used in some scales, the entire set of 12 major scales can be accesed using the same fingerings. Puts the pinky to work in a hurry too. Although supporting explanation and theory is dispensed, the reader is invited to let their fingers do the hard work at first, developing the muscle memory neccessary to feel where the tones are. It really opened up the fretboard for me."
Scott
Participate in the Discussion: Re: FFcP question(s)

Posted by Ted at 5:23 AM

February 3, 2013 | Understanding Minor
In the December 2011 issue of Mandolin Sessions, we took a closer look at the often confusing variation of the Minor Scale. Natural, Harmonic, Melodic, we've always maintained students (more, their teachers) get too hung up on knowing the differences and pounding them out in needless repetition. Understand, this is all theory--it's more lab than field work.
Yes, you should know what these are, but to be able to quote them in all twelve keys is like learning to speak fluent Latin. It will help you understand languages, but it won't help you explain to your 16 year-old how to change a tire.
We prefer to approach the minor scale variations in terms of harmonic function, and to practice them that way. Knowing what the 7th scale degree does (not just what it is) will help you drive your music. Knowing viscerally the variation of color in the 6th helps you paint your improv in techinolor.
See what we mean...
Read article. Minor League: Making the most of Minor Keys

Posted by Ted at 6:30 AM

February 1, 2013 | 5th annual River of the West Mandolin Camp
Sign up now! River of the West Mandolin Camp
June 6 - 9, 2013
The fifth annual River of the West Mandolin Camp (June 6 - 9, 2013) promises four days of mandolin immersion with the finest mandolin performers and educators in the world. It will be held in the Columbia River Gorge, 20 miles east of Portland, Oregon. This year's Camp features Don Stiernberg, Carlo Aonzo, Radim Zenkl, and Brian Oberlin as mandolin instructors. Aside from the scheduled workshops, encompassing jazz, swing, bluegrass, Italian classical, Latin, and solo mandolin, there will be faculty and student concerts. The maximum student capacity is 45, and everyone will have the opportunity to attend all of the workshops and play in an ensemble with the instructor of his/her choice. Tuition is $500 which includes lodging, meals, and all activities. Visit camp website for full details.

Archive Video link: River of the West Mandolin Camp

Posted by Ted at 5:20 AM