« Understanding Minor | Main | Ethan Ballinger on Pandora »

February 5, 2013 | FFcP chatter. Seeking help.
It's admittedly a bit voyeuristic, but we enjoy reading from afar what other veteran users have to say as explanation of some of the concepts we've developed on the site over the last 10 years. At the heart of it all is our FFcP (Four Finger closed Position) approach to mastering all 12 major scales (let alone finger strength and dexterity), and it's fun to hear out others explain not only how it works, but how it benefits them.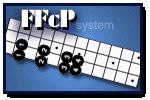 This from a recent entry in the Mandolin Cafe Forum seeking the help of peers:
"FFcP is a method of playing scales (and thus keys, tunes, chords, etc.) without using open (unfretted) notes on the mandolin.
Because of not using open notes, you can repeat scale patterns anywhere on the instrument giving you access to the entire fretboard. You also can play any scale using one of the 4 FFcP fingering patterns, and you can extend a scale across the fretboard.
Hope this helps flesh out some of the above information."
Bill
"The FFcP exercises are included in Ted's popular book Getting into Jazz Mandolin. They are also available for free download at JazzMando and here on the Cafe. Apart fron the book, they are great on their own to help ingrain the scale interval relationships in all 12 keys using only 4 fingering patterns. By initially eliminating the open strings used in some scales, the entire set of 12 major scales can be accesed using the same fingerings. Puts the pinky to work in a hurry too. Although supporting explanation and theory is dispensed, the reader is invited to let their fingers do the hard work at first, developing the muscle memory neccessary to feel where the tones are. It really opened up the fretboard for me."
Scott
Participate in the Discussion: Re: FFcP question(s)

Posted by Ted at February 5, 2013 5:23 AM