Paul Lestock
Arrow Guitars & Mandolins
4-string Jazzbo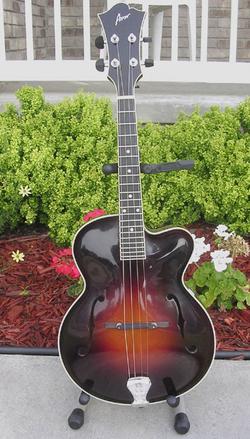 When Paul Lestock approached us about reviewing his radically new "Jazzbo" line of Arrow Mandolins, we couldn't have been more thrilled. Just the pictures of these fine instruments were enough to get the blood flowing, and the rumors coming out of the festivals by trusted friends--these were going to be a force to contend with for any serious jazz mandolinist.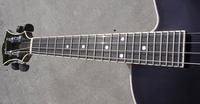 In preliminary correspondence. Paul was adamant about the need for a longer scale instrument. I remember voicing my concern (okay, my protest...) that my fingers are short and stubby. He was insistent that this was the secret sauce in developing an instrument that would deliver both power and tone. Needless to say, after about five minutes playing the four-string Jazzbo carefully shipped to me, I was sold on the concept.
He was dead-on correct. (Last time I try to tell a luthier genius his job!)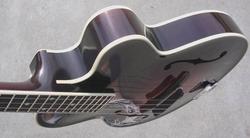 The extra fret span was hardly noticeable, Certainly less than that of a Mandola (let alone an Octave Mandolin), the spacing became adaptable and intuitive immediately. Quickly, we'd notice than the spacing not only yield greater tone and volume, it also gave a little more left finger play with that magic sweet spot between the frets for vibrato. Difficult for the normal eight string, the combination of four and more space lends a very intuitive Django-esque approach to finger vibrato, effortless and encouraging. This has to be experienced to truly be appreciated.
This makes the Jazzbo a very unique solo instrument in itself. The combination of volume and approach to phrasing, let alone the rich, full sound gives a melodic prowess extremely rare in a plucked soprano register instrument.
This particular instrument's magic voice could be attributed to its unique Alaska yellow cedar top. Though he's used Englemann on other projects (like Joe Craven's five-string), this was a slight deviation that surprisingly, yielded an even more potent delivery.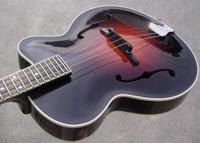 We wouldn't stop at touting the laurels of its linear capability. Its tenor body shape is also a clue to its vertical, chord capability. We don't like to use the word "chop" in describing the crunch necessary to chord comping, but the easily attained drive, mass bass response, and percussive punch make this as viable an accompaniment instrument as melody. What a tremendous opportunity to fill in this register, to complement a tenor guitar in an acoustic jazz ensemble!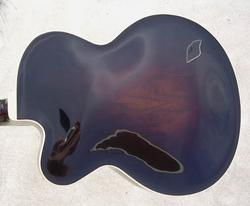 This makes for an extremely versatile jazz instrument. Dare we say "breakthrough..."
As mentioned, Lestock's reverence to vintage tone is apparent in his basic D'Angelico body design. A sweet arch and gentle 'burst finish, surrounded by a white binding outline hints at an era when acoustic instruments reigned. Exhaustive effort in selecting the appropriate tone woods to accomplish this is a good start, but it still takes an attention to neck angles, scale length, and an exacting approach to design just the right machine for stellar tone production. Paul has excelled quite expertly with this instrument in all these areas.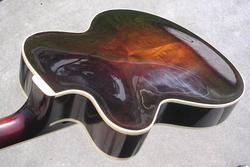 No instrument would be world-class without masterful fit and finish. Cosmetics intact, virtually perfect, the instruments fingerboard and frets are as comfortable as it gets. This is an easy instrument to just fall in; its lively body readily vibrates and effortlessly fingers with comfort.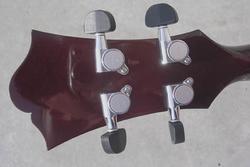 Gotoh tuners adorned with ebony buttons complement the Jazzbo's vingtage aura. Simple, but tasteful circle fret dots allow function without swaggering bravado. The subtle dark body hues of root-beer blends into its licorice edges, elegantly capturing an era of classic instrument manufacturing.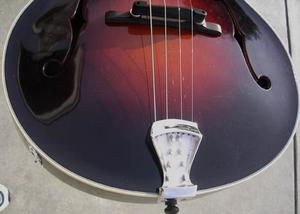 An instrument this worthy of powerful solo playing and complementary accompanying would do well for any serious jazzer, as a stand alone instrument, or a joyous retreat for the hardcore eight-stringer.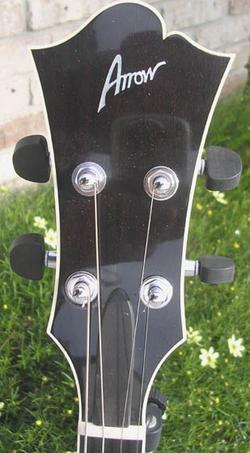 "My reverence for vintage tone is tempered by my desire to expand the dynamic range and playability wanted by today's open minded player. Variables of scale length, neck angles, new materials and different tonewoods are some of the factors my predecessors may not have fully explored." All we can say is we are excited to see Paul's vital pioneering and skill devoted to our genre. His attention is our privilege.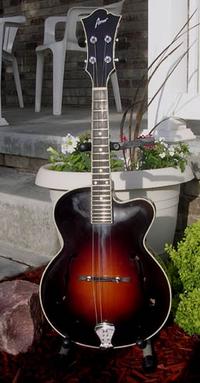 Listen to an MP3! (Kent Armstrong pickup through a Presonus TubePre)

Could it be Magic

Please note, Paul no longer hosts a website. Last contact we had with him was through his Facebook account. We suggest searching there.