« February 2013 | Main | April 2013 »

March 29, 2013 | New 3-note Mandolin Chord "Playing Cards"
To supplement our series of 3-note chord voicing, we're adding to our Merchandise Center a unique package of four cards you can study and carry in your case. Premium 80 lb. glossy full-color 5.47" x 4.21" postcards, we include complete variations of popular blocks you can move up, down, and across the freeboard to get the most out of your accompanying. You can also use these as a starting point for chord melody.
Better range and timbre, more versatility in transposing, this approach to building basic chords off your thickest strings helps with less shrill background comping, and keeps you out of the way of the soloists. They're also terrific as a building block other 5th tuned instruments including mandola, mandocello, tenor guitar, and 5-string mandolins.
All 3-note 7th Chord inversions, Major, Minor, and Dominant
Major 'ii V7 I'
Minor 'ii7b5 V7 i'
'I vi ii V7'
These are the basic harmonic "sentences" of jazz and popular music. Very important to have in your fingers!

They are available in sets of four cards, priced at $5.00 each ($6.50 for Canadian and International shipping).
Order yours today! Consider it a donation to the site.
Purchase information: JazzMando 3-note Mandolin "Playing Cards"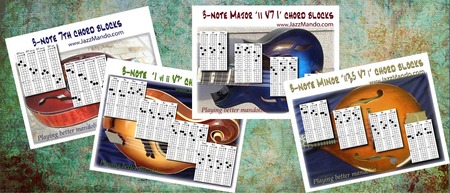 Posted by Ted at 5:08 AM

March 27, 2013 | The latest from Clark Mandolins
We had the chance to catch up with our old friend and long time site supporter, Boise Idaho wood miracle man Austin Clark after a wildly successful Wintergrass exhibit, now that he's back to a somewhat normal work routine. We were thrilled to share and exclusive look at some of latest and greatest in his shop, a JM5 jazzbox mandolin and a JM6 soprano guitar: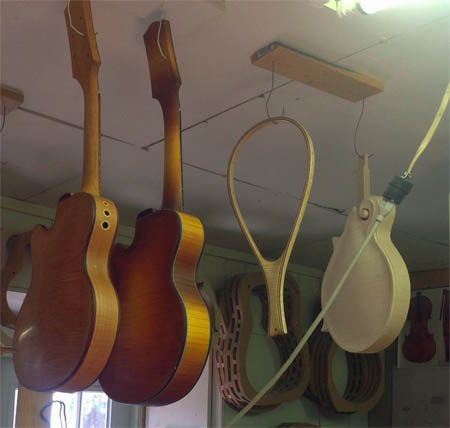 He weighs in, "These two instruments are going to be finished in a few weeks. The varnish is on, leveled and curing but I haven't French polished them yet. I am trying to wrap these two up as I dive into my next batch of three octaves and another JM5! The JM5 is a one piece back with cocobolo binding and a mahogany neck. The client asked for side ports, so it has the three bound ports you see in the picture. The JM6 (soprano guitar) is a bit larger bodied with a 15.875" scale length. That particular customer asked for a somewhat unique inlay, as you can see."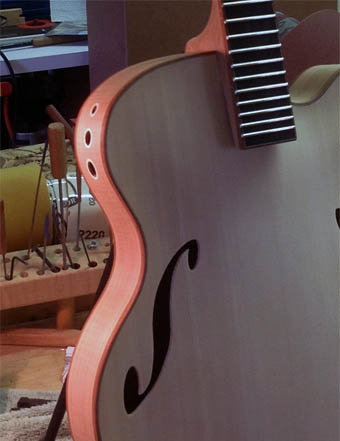 Asked about the funny, multi-stringed "instrument" on the right, he elaborates, "I have always hated throwing away my scrap wood, so as a side project in my "spare" time, I started making fishing nets and fly boxes a few months ago. Oddly enough, it seems to be turning into a side business. I started selling them mostly to my clients who know of or share my fly fishing habit, but more and more I am making them for other folks, too!"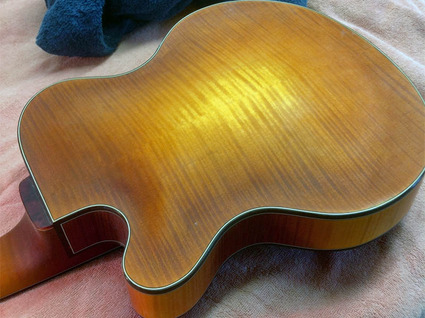 We've throughly enjoyed our own signature Clark JM5. Read more about it here.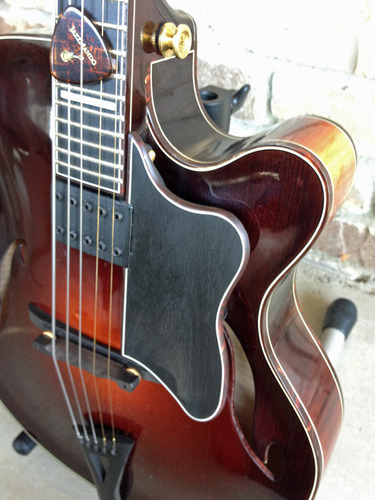 Builder website and purchase information: Clark Mandolins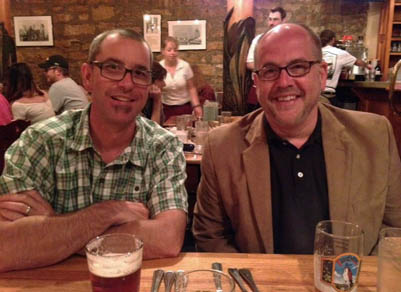 .jpg
Austin Clark with site author, Ted Eschliman
Posted by Ted at 5:27 AM

March 25, 2013 | Joe Carr Mandolin Cafe Interview

Many who have picked up the mandolin in the last three decades owe a debt of gratitude to Texas educator/author Joe Carr. The prolific author of nearly one hundred educational titles has spread his nuts and bolts instruction to many a fretted instrumentalist, and especially mandolin. If you search his materials in the Mel Bay catalog, you'll spend many minutes just sifting through the volumes of titles alone.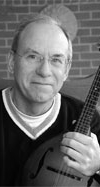 We had the privilege of working under his encouragement for nine years at Mel Bay's online webzine MandolinSessions.com. It was Joe who was responsible for wrangling the team of columnists every two months for this invaluable resource that even though discontinued a year ago, remains in archive form. We encourage you to spend some time sifting through the free materials there.
Download the jazz mandolin topics we've collected in PDF form.
The good folks at Mandolin Cafe just published a terrific chronicle of Joe's history. Take some time for a good read:
"As a performer, recording artist, teacher, author, writer, camp director and all around great guy, Joe Carr has touched the lives of many bluegrass musicians. As Professor of Music at South Plains College for nearly thirty years he has helped educate hundreds of dedicated bluegrass musicians, including now famous professional players like Mike Bub and Ron Block. As an author he has helped teach and inspire a countless number of musicians with instructional titles for guitar, mandolin, fiddle, banjo, ukulele, and dulcimer, available through Mel Bay Publications."
Read entire article: Joe Carr Mandolin Cafe Interview
Joe Carr authored instructional books on amazon.com
Posted by Ted at 5:22 AM

March 23, 2013 | 3-note Chords. Drink 'em up!
Better range and timbre, more versatility in transposing up and down the fingerboard, and of course, a more pragmatic base for chord melody playing. Terrific for other 5th tuned instruments including mandola, mandocello, and 5-string mandolins, too.
This is part of our continual pitch for learning sets of 3-note chords on our often shrill instrument. Stick to the lower three strings and build your comping vocabulary of them leaving your E strings for melody and the "color commentary" of chord extensions, #9, b13, #11, etc.
To help you drink these in? A 3-note chord mug, of course!
Start building your own personal catalog with these grips, and juice them with a little caffeine.
Literally.
Purchase information: JazzMando 3-note 7th Chord Mug?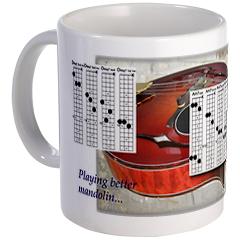 Coming soon: JazzMando Playing Cards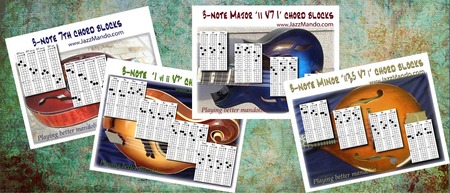 Posted by Ted at 5:54 AM

March 21, 2013 | Stretching your Minor Chord vocabulary
Last week in our weekly Tips and Tricks column we continued offering new vocabulary in some 3-note chord blocks of the minor mode. These have been very practical, but we wanted to bring it home even more by showing you how these could work in a jazz standard. We gave you some "real world" variations in A minor and D minor in the context of the jazz standard, "Black Orpheus." It's surprising how far you can go with these if you're willing to venture up the neck!
Be sure to read the whole Tips article, but let's add something here you can print out and put on your music stand. We've created a one-page PDF of the chords. Enjoy!
Link to article: Applying minor chord blocks--Black Orpheus
Link to PDF: Minor 'ii7b5 V7 i' variations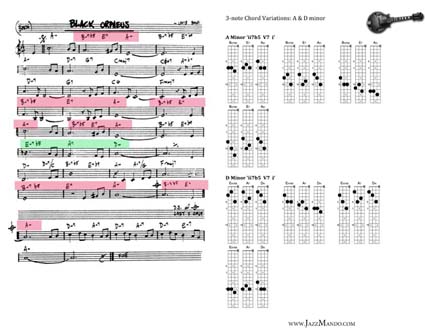 Posted by Ted at 6:25 AM

March 19, 2013 | 10 years! March 19, 2003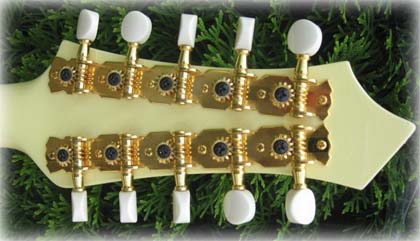 Celebrating 10
Happy Birthday to us!...
On March 19 ten years ago, we began what was at the time, a personal journey in exploring the best way to coax jazz out of the mandolin fretboard. A bit awkward in the early inception of the site, we journaled basic theory concepts, 'ii V7 I' blocks, turnarounds, modes and scales, and worked our way through the best playing techniques to extract these sounds. We revolutionized the approach to closed fingering with our exclusive FFcP system and hope to go further vertically with 3-note chord comping potential.
Over 1900 pages later on the site now, we're proud of a best-selling Mel Bay book, "Getting into Jazz Mandolin," and the creation of strings and picks constructed specially for warm tone and pure attack from our partnership with manufacturers. We've introduced around 40 new mandolin builders in our review section and bring you regular news from up and coming performers in our "What's New" columns. Our weekly "Tips and Tricks" feature offers new insights and technique helps from staff and many prominent guest writers.
We continue to spread the word through our social media, Twitter, Facebook, and our RSS feed.
It's all a labor of love, and we appreciate this decade of support from you the reader.
Swing hard, pick well!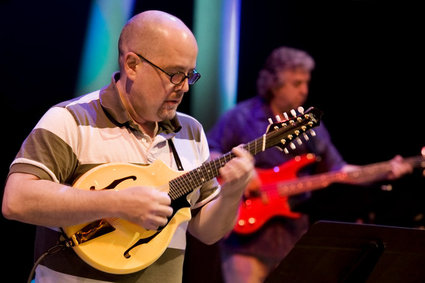 Site Author, Ted Eschliman
Posted by Ted at 9:12 AM

March 17, 2013 | Actually, it is easy being green.
Happy St. Patrick's Day!
Even if you aren't Irish, you'll appreciate a little wearin' of the green, especially in the amazing finish of this custom 2-point mandolin fashioned by Dekalb, Illinois woodsmith, Dale Ludewig. The longtime furniture builder and mandolin craftsman is well known for taking satisfyingly aesthetic chances on unusual, but brilliant finishes including merlot-burst, blue, and the following exotic green.
Pinch me...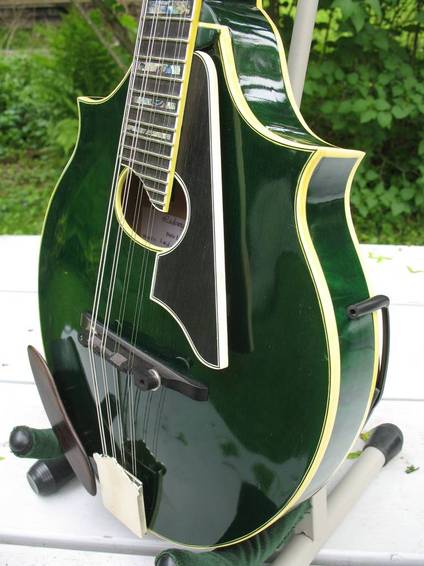 It's original owner Larry Sherman opines, "An amazing voice, great dynamics, a joy to play, very comfortable neck, low action, clear notes with sustain and power. Definition, clarity, tone, complexity, sweetness, and volume to match many F-holes instruments yet with the oval-hole sound that goes so well with Irish/jazz/fiddle arrangements."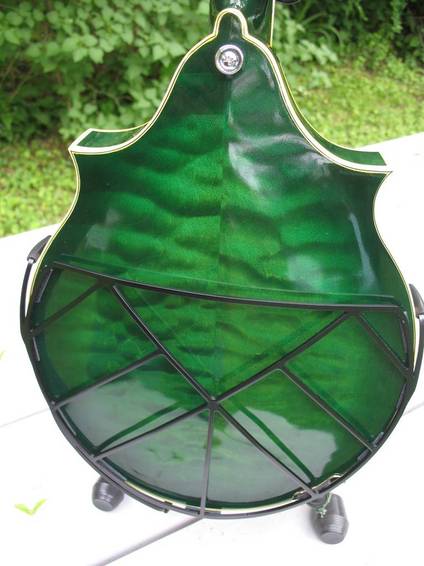 At the moment, Dale does not have inventory outside of his own personal instruments. He's currently taking commissions, though, and wold be happy to let you play them.
Read more about the work of Dale Ludewig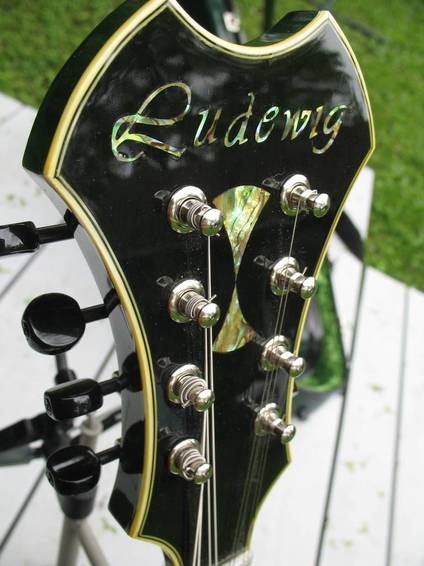 Posted by Ted at 5:44 AM

March 15, 2013 | Sanius Verantius - Presto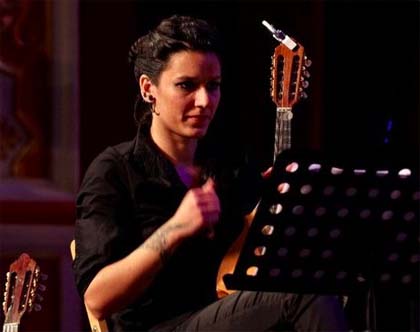 Architect. Producer. Model. Arranger.
Mandolinist...
We mentioned the many talents of the young Croatian artist Sanius Verantius three years ago, and are thrilled to see her latest impressive project, a compelling multimedia presentation of Vivaldi's "Presto" (The Four Seasons).
This is Vivaldi like you've never seen or heard before!
Video link: Sanius Verantius - Presto

Born Sanja Vrancic in Sibenik, Croatia, she started mandolin at age 9, was playing in the Mandolin Orchestra Kresimir in Sibenik even as a child. She's had the good fortune of some more formal training with Professor Ugo Orlandi in Padua several years ago. In addition to her university studies, she rehearsed regularly with the Mandolin Orchestra Sloga a couple times a week (more before a performance).
Her theatrical projects showcase her artistic potential, not the least of which, a fine mandolinist. We look foreword to hearing more from her in this side of the Atlantic.
Read archive article: Introducing Sanius Verantius from Croatia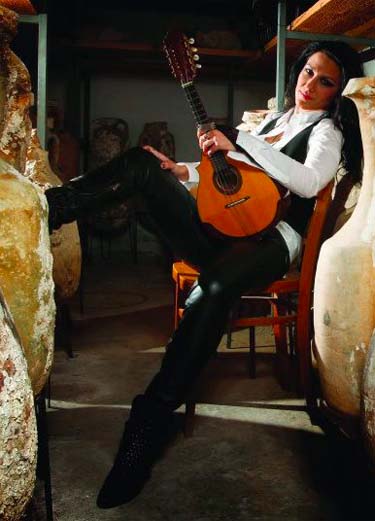 Posted by Ted at 5:14 AM

March 13, 2013 | J.L. Smith emando on 'IIIrd Tyme Out' project
We just heard from one of our favorite emando builders, John Smith of J.L. Smith Mandolins who tells us one if his 4-string telecaster style mandolins is featured on several cuts of the "IIIrd Tyme Out" CD released last January, "Bluegrassed" for Cracker Barrel resturants/stores. Renown mandolinist Wayne Benson used it on the tracks, 2. Modern Day Bonnie and Clyde, 7. My window faces the South, and 10. Tulsa Time.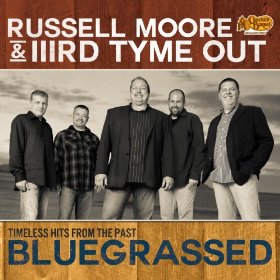 As you'd expect, the project is very good, and can be purchased through the Cracker Barrel Website, Amazon Music, or iTunes. Preview some of the songs there.
Purchase CD or download Russell More & IIIrd Tyme Out; Bluegrassed
Amazon
iTunes
Cracker Barrel
Read more about the fine Tele-mando craftsmanship of JL Smith Mandolins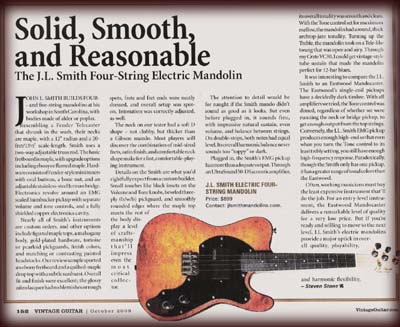 Posted by Ted at 5:10 AM

March 11, 2013 | Supercharging your chord comping: 3-note minor key blocks
Nearly ten years ago, we systemized a new approach to understanding the mandolin fretboard through a closed position finger system we called "FFcP," or Four Fingered closed Position. Since then we're attempting to change the approach to comping with a different approach to voicing chords with only 3-notes.
We can't stress enough how great this is for the mandolinist, better range and timbre, more versatility in transposing up and down the fingerboard, and of course, a more pragmatic base for chord melody playing. It also works terrifically well for other 5th tuned instruments including mandola, mandocello, and 5-string mandolins.
Last week, we capped off a series of simple three note progression with our Minor 'ii7b5 V7 I' 3-note Mandolin Chord Blocks. If you haven't already, check these out and all the "Further" articles at the bottom of this entry to our weekly Tips and Tricks column. The 3-note chord approach can revolutionize your playing.
Review article: 3-note minor key blocks
Download PDF:

Minor 'ii7b5 V7 I' 3-note Mandolin Chord Blocks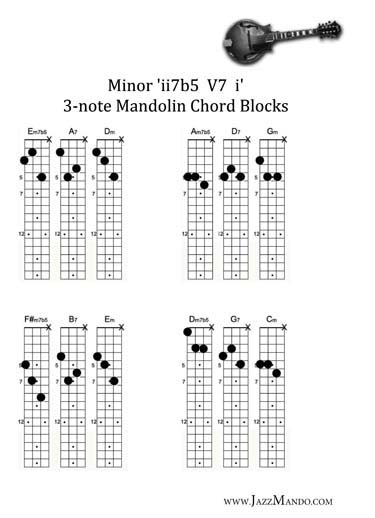 Posted by Ted at 5:15 AM

March 9, 2013 | Guitarra Baiano "Dia de Vida"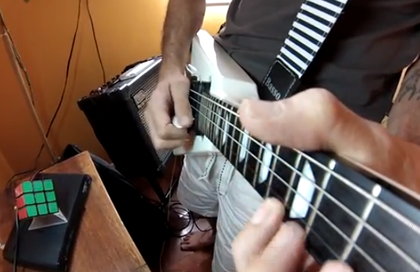 We mentioned the Rio de Janeiro 5-string guitarra baiana artistry of Marcos Moletta before. (Go ahead and count the strings. 1, 2, 3, 4, 5. Yep; not an electric guitar...)
Here is an intriguing perspective of his "Valkyria, the stunning Flying V emando from the perspective of its headstock. This is a fun video not only to listen to, but to capture some of his unique technical ideas for your own playing.
Confession: we intend to steal some licks.
If there's anything out there that makes a case for the brilliant musical nuance of a single course mandolin we have yet to see it. His slides, taps, harmonics, and vibrato are both dynamic and compelling. The following is one of his original tunes:
Video link: Dia de Vida!

Check out his YouTube Channel.
Posted by Ted at 5:22 AM

March 7, 2013 | Mike Marshall Choro "must haves"
He's produced quite a number of CDs in colaboration with other great artists, but we have to say our favorite project is Mike Marshall's 1996 collection of Choros standards, Brasil: Duets (reissued 2005). Marshall teams up with jazz innovators like Bela Fleck, and Andy Narrell, and virtuoso bassist Edgar Meyer, offering the world a unique glimpse of the Brazilian Choro. Mike and company and their orchestrations do an impressive job of filling out the sound with only two instruments.
Folk music? Probably. Jazz? Without a doubt. Be warned; once you hear what Marshall does, you'll have to get inoculated for the Choro Bug!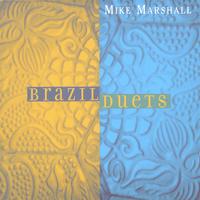 CD Baby Brasil: Duets
Also recommended: Mike Marshall & Choro Famoso
Nearly a decade after the release of this brilliant Duets project, Mike teamed up with some of Southern California's best Choro musicians. Punctuated with powerfully lush clarinet and rolling percussion line, his tone is as beautiful as it gets.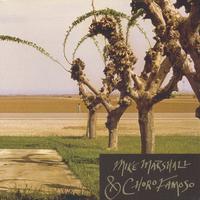 CD Baby Brasil: Duets

Check out more at the Mike Marshall Amazon Store
Posted by Ted at 5:23 AM

March 5, 2013 | Tasty major landing chords
We started a couple months ago introducing some systematic chord progression nuggets we labeled "vamps." The idea was to give you something practical you could build off of and move around the fretboard, sonic material to supercharge static areas of songs. We took the 3-note chord approach and also categorized them in streams: major, minor, and dominant 7th sets, later injecting connecting chords.
Two weeks ago we revisited the cornerstone chords of jazz, and the JazzMando site itself, this time in the simpler 3-note chord voicings. "ii V7 I" is the essence of Western European music, and the most essential "sentence" of jazz.
We kept it simple, and if you haven't already seen it, last week we showed you some more colorful incarnations. Hopefully, you've had the chance to check them out and move them around the fingerboard. Start just playing them. Move them up and down one or two frets. When you do, you'll have covered the 'ii V7 I' in about every key.
Enjoy article: Tasty Major landing chords and download PDF

Major 'ii V7 I' Blocks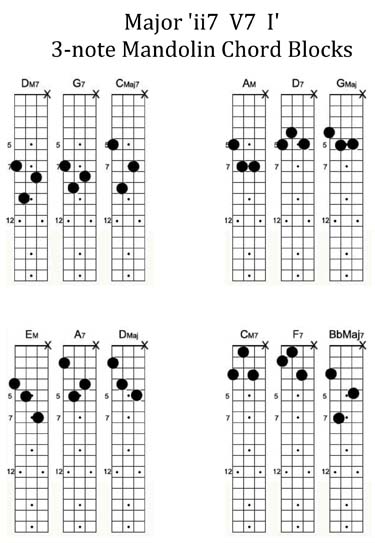 Later this week, Minor 'ii7b5 V7 I' sets!
Posted by Ted at 4:58 AM

March 3, 2013 | Quirky instrument strikes chord at Grammys, and at local Mandolin Festival in NH
Interesting article on the NewHampshire.com website on the status of the mandolin, past and present. We get so wrapped up in our mando-centric world it's great to get a fresh perspective from outside, even if the author does label our instrument "quirky."
Most of the piece centers around this weekend's three day festival Friday through Sunday, March 1-3, which began 11 year ago. The concert series includes big names including Matt Flinner, Robin Bullock, Will Patton and David Surette.
"It's been a big year for the little mandolin. 'The mandolin is kind of symbolic of the whole movement away from mass-produced music," contends David Surette, mandolin teacher and folk department chair at the Concord Community Music School. "People in these times are coming to value authenticity and doing things themselves, and not just having everything being a mass market commodity. I think it ties into that.'"
Read entire article: Quirky instrument strikes chord at Grammys, and at local Mandolin Festival in NH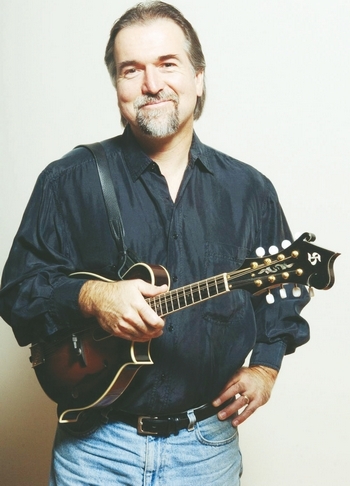 David Surette Mandolin Festival
UPDATE 3/4/2013: ARTICLE NO LONGER AVAILABLE OUTSIDE OF PAID SUBSCRIPTION.

Posted by Ted at 6:12 AM

March 1, 2013 | Fender Mando-Strat review
We mentioned the release of the new Mando-Strat in January, the reincarnation of Fender's own classic Mandocaster. Needless to say, we are thrilled to see FMI enter the highly lucrative world of electric mandolins. They should be able to make hundreds of dollars.
All kidding aside, the Mando-Strat we bought off the shelf from a local dealer (they have three more, by the way) was ready to play off the hook. Based on our personal experience, we anticipate a much lower failure rate than the competitive Epiphone Mandobird. No rough fret ends, no wimpy E string. It came ready to rock, or in our case, swing.
Read more in our latest instrument review: Fender Mando-Strat Electric Mandolin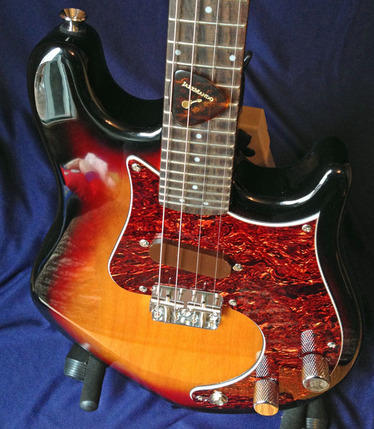 Posted by Ted at 5:26 AM