Fender
Mando-Strat Electric Mandolin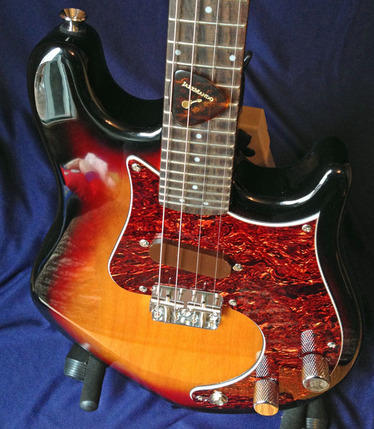 First of all to the mandolin purists who say, "Four strings? Mandolins have eight," we've got three words...
Get over it.
A mandolin with double course strings was once very necessary. Before electricity. Now there's a whole opportunity for both finesse AND power chord fun with a plugged-in electric mandolin. No tremolo, no "chop?" C'mon. Leave the clattering tinkling to background music in an Italian restaurant. If 2 and 4 backbeats in a bluegrass tune are all you want to do, get yourself a cowbell. A single course offers the nuances of vibrato, slides, bends that don't make the instrument go out of tune with itself. Let alone, a volume knob and a distortion pedal allow you to rock.
Okay, got that off our chests...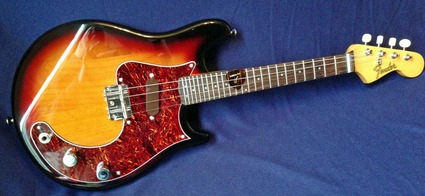 After nearly four decades, Fender Musical Instruments decided to get back into the highly lucrative mass production electric mandolin market with a new incarnation of the 50's and 60's cult classic Mandocaster. Although that was never the official name of the instrument, big name mandolinists like Jethro Burns and Sam Bush wielded these critters on stage and the opportunity to get the American made classic was left to plundering ebay at ridiculously high prices. $2K, $3K, even $4K for a mint Mandocaster was not uncommon. Often the aged Bakelite tuners were crumbling in the basket case affordable ones, and some of the poorly kept ones could take a lot of work to make, let alone keep in playing condition.
There have been instruments that have come close, the JBovier EMC for one, but nothing with the silky feel of the original, and for obvious proprietary reasons, never the exact body shape. Their January 2013 release of the new Mando-Strat is the answer to a maiden's prayer, with somewhat of a mixed blessing. Made in Indonesia sans the boutique vibe of the Fender USA Custom Shop, still this emando can be obtained at a ridiculously low street price. MSP at $399 (without case) you'll probably not pay more than mid-upper $200s for a new one.
This puts it at slightly higher than the popular, now discontinued Epiphone Mandobird, somewhat of a cult classic in itself, but in our opinion, this is a much better designed piece. The pickup off the shelf is much more balanced string to string (a HUGE problem for the M'bird), and even though it's a one-trick pony single coil pickup, the sound is not bad for the price point. We're somewhat spoiled by the JBovier which packed immensely more tone versatility with its double pickup, but at 2-3 times the price. The aftermarket potential for pickups should be huge when these take off.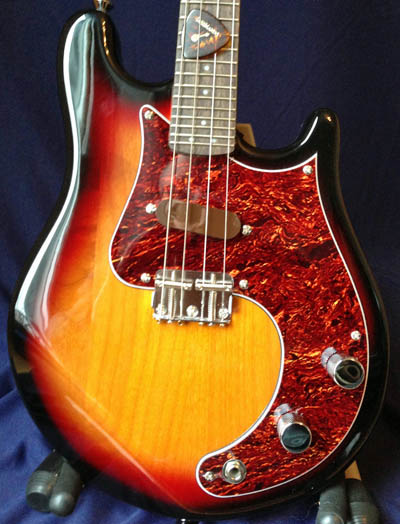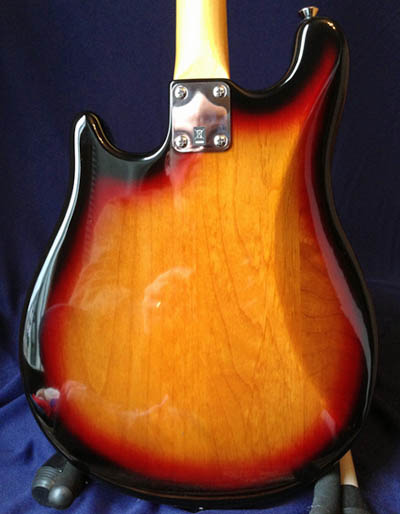 So out of the gate, the Mando-Strat is a viable contender for the emando dabbler, or anyone wanting to start living in the electric world. It's a gateway drug for a professional to step into the likes of a JL Smith, Jonathan Mann, Schwab, Stevens, or any of the other reputable existing American builds. With a little investment in a better pickup, it would make a great auxiliary stage instrument for any professional player.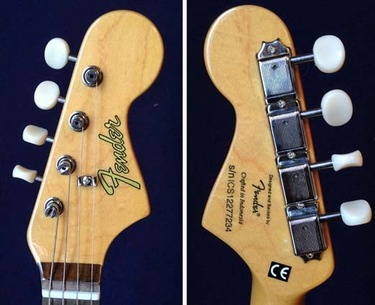 Fit and finish is as good or better than most imports. Fender has done an excellent job of supervising quality in their Asian and Mexican factories, this one coming out of Indonesia. The jumbo frets are cut neatly (no rough edges), much better than the Mandobirds ever were, and the instrument was ready to play out of the box. (WE paid for it ourselves.) No frills tuners and bridge are adequate, and enough thought to put a string tree, this is definitely no toy.
The maple neck (rosewood fingerboard) is characteristically chunky, beefy in the hands for a small instrument, and body balance is good, though the alder body is on the heavy side, not uncomfortably so.
The classic sunburst finish is a safe first-out choice. We hope FMI comes to its senses soon and offers some of its own traditional finishes very soon, Sea Foam Green, Candy Apple Red, Shoreline Gold, to name a few safe ones.
Keep in mind, the hunt for a good case is still on. Most will probably carry these around in a gig bag, as a decent case will price out at half the instrument's tag. Again, we see these like a stock car. The diehard aficionado will immediately want to craft modifications, new knobs bling, route additional pickup configurations, push/pull, etc. and make it more professional caliber.
We are very excited to see Fender back in their own game. We don't think the market will bear midpriced versions of these, but at least we'd like to see colors. Perhaps if emando connoisseurs support this initial run with enough purchases, they will.
Specs:
White dot position inlays, three-ply tortoiseshell pickguard, knurled chrome flat-top control knobs, synthetic bone nut
Back, Sides, & Top: Alder
Neck Shape: "C" Shape
Number of Frets: 24
Position Inlays: Dot
Fingerboard Radius: 7.25" (18.41 cm)
Fingerboard: Rosewood
Neck Material: Maple
Nut Width: 1.18" (30 mm)
Scale Length: 13.78" (350 mm)
Neck Plate: 4-Bolt
Fender Designed Bridge Pickup
Bridge: Vintage-Style Adjustable with 2 Threaded Brass Barrel Saddles
Strings: Ball End .011, .016, .026w, .036w
Manufacturers information: Fender Mando-Strat Electric Mandolin

Read up on other world class mandolin builders: