« Mike Marshall Choro "must haves" | Main | Supercharging your chord comping: 3-note minor key blocks »

March 9, 2013 | Guitarra Baiano "Dia de Vida"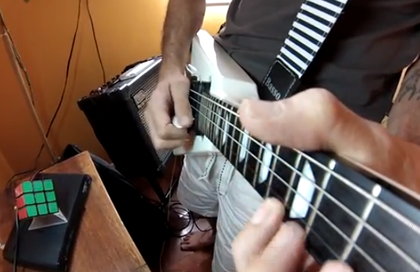 We mentioned the Rio de Janeiro 5-string guitarra baiana artistry of Marcos Moletta before. (Go ahead and count the strings. 1, 2, 3, 4, 5. Yep; not an electric guitar...)
Here is an intriguing perspective of his "Valkyria, the stunning Flying V emando from the perspective of its headstock. This is a fun video not only to listen to, but to capture some of his unique technical ideas for your own playing.
Confession: we intend to steal some licks.
If there's anything out there that makes a case for the brilliant musical nuance of a single course mandolin we have yet to see it. His slides, taps, harmonics, and vibrato are both dynamic and compelling. The following is one of his original tunes:
Video link: Dia de Vida!

Check out his YouTube Channel.
Posted by Ted at March 9, 2013 5:22 AM