« The latest from Clark Mandolins | Main | Introducing our 2nd book! Yoga Chords for Mandolin »

March 29, 2013 | New 3-note Mandolin Chord "Playing Cards"
To supplement our series of 3-note chord voicing, we're adding to our Merchandise Center a unique package of four cards you can study and carry in your case. Premium 80 lb. glossy full-color 5.47" x 4.21" postcards, we include complete variations of popular blocks you can move up, down, and across the freeboard to get the most out of your accompanying. You can also use these as a starting point for chord melody.
Better range and timbre, more versatility in transposing, this approach to building basic chords off your thickest strings helps with less shrill background comping, and keeps you out of the way of the soloists. They're also terrific as a building block other 5th tuned instruments including mandola, mandocello, tenor guitar, and 5-string mandolins.
All 3-note 7th Chord inversions, Major, Minor, and Dominant
Major 'ii V7 I'
Minor 'ii7b5 V7 i'
'I vi ii V7'
These are the basic harmonic "sentences" of jazz and popular music. Very important to have in your fingers!

They are available in sets of four cards, priced at $5.00 each ($6.50 for Canadian and International shipping).
Order yours today! Consider it a donation to the site.
Purchase information: JazzMando 3-note Mandolin "Playing Cards"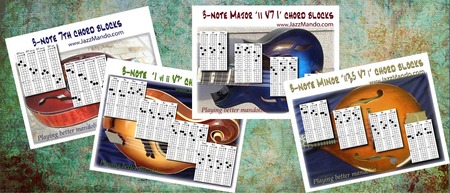 Posted by Ted at March 29, 2013 5:08 AM