« 3-note Chords. Drink 'em up! | Main | The latest from Clark Mandolins »

March 25, 2013 | Joe Carr Mandolin Cafe Interview

Many who have picked up the mandolin in the last three decades owe a debt of gratitude to Texas educator/author Joe Carr. The prolific author of nearly one hundred educational titles has spread his nuts and bolts instruction to many a fretted instrumentalist, and especially mandolin. If you search his materials in the Mel Bay catalog, you'll spend many minutes just sifting through the volumes of titles alone.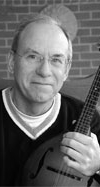 We had the privilege of working under his encouragement for nine years at Mel Bay's online webzine MandolinSessions.com. It was Joe who was responsible for wrangling the team of columnists every two months for this invaluable resource that even though discontinued a year ago, remains in archive form. We encourage you to spend some time sifting through the free materials there.
Download the jazz mandolin topics we've collected in PDF form.
The good folks at Mandolin Cafe just published a terrific chronicle of Joe's history. Take some time for a good read:
"As a performer, recording artist, teacher, author, writer, camp director and all around great guy, Joe Carr has touched the lives of many bluegrass musicians. As Professor of Music at South Plains College for nearly thirty years he has helped educate hundreds of dedicated bluegrass musicians, including now famous professional players like Mike Bub and Ron Block. As an author he has helped teach and inspire a countless number of musicians with instructional titles for guitar, mandolin, fiddle, banjo, ukulele, and dulcimer, available through Mel Bay Publications."
Read entire article: Joe Carr Mandolin Cafe Interview
Joe Carr authored instructional books on amazon.com
Posted by Ted at March 25, 2013 5:22 AM