« Quirky instrument strikes chord at Grammys, and at local Mandolin Festival in NH | Main | Mike Marshall Choro "must haves" »

March 5, 2013 | Tasty major landing chords
We started a couple months ago introducing some systematic chord progression nuggets we labeled "vamps." The idea was to give you something practical you could build off of and move around the fretboard, sonic material to supercharge static areas of songs. We took the 3-note chord approach and also categorized them in streams: major, minor, and dominant 7th sets, later injecting connecting chords.
Two weeks ago we revisited the cornerstone chords of jazz, and the JazzMando site itself, this time in the simpler 3-note chord voicings. "ii V7 I" is the essence of Western European music, and the most essential "sentence" of jazz.
We kept it simple, and if you haven't already seen it, last week we showed you some more colorful incarnations. Hopefully, you've had the chance to check them out and move them around the fingerboard. Start just playing them. Move them up and down one or two frets. When you do, you'll have covered the 'ii V7 I' in about every key.
Enjoy article: Tasty Major landing chords and download PDF

Major 'ii V7 I' Blocks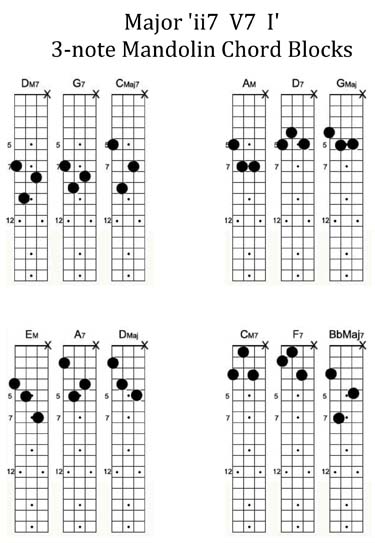 Later this week, Minor 'ii7b5 V7 I' sets!
Posted by Ted at March 5, 2013 4:58 AM