« March 2013 | Main | May 2013 »

April 29, 2013 | New Hamilton de Holanda: Trio
Brazilian 10-string wizard Hamilton de Holanda has a new release out, "Trio." An ensemble a little more streamlined than some of his other projects, it's just his legendary bandolim and the assistance of Thiago Serrinha (percussion) and long time bandmate Andre Vasconcellos (double bass).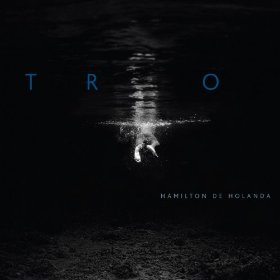 Hard to imagine there are only three at work on this CD. The texture is busy, but not in an unintentional way. Virtuosity (lots of notes) and musicality (expression) does not always intersect, but it certainly does in the discography of Holanda, and this project is no exception. We like the fact that Trio is just that, his 10-string facility and the support of bass and percussion.
Highly recommended!
From the iTunes biography:
"Having played with Hermeto Pascoal, Zelia Duncan, Marco Pereira, Marcos Ariel, Rosa Passos, and others, Hamilton de Holanda was a prodigy child who confirmed his virtuosic talent at the choro mandolin. Along with his solo career, he teaches mandolin at the University of Brasília and in the Escola de Choro Raphael Rabello. Moving with his family to Brasília at the age of one, de Holanda was presented with a mandolin by his grandfather when was five. Hamilton de Holanda's father, a choro violonista (acoustic guitarist), boosted the nascent talent of Hamilton and his brother Fernando Cesar de Holanda (violao). Ever since they were very young, they started sharing with competent choro musicians of Brasílias; the two of them soon became good enough to form a duo, christened as Dois de Ouro by Pernambuco do Pandeiro. Hamilton de Holanda studied violin while still a child at the Escola de Música de Brasília. In 1995, he was awarded as best interpreter in the II Choro Festival of Rio de Janeiro State. In the same festival, his choro "Destrocando a Macaxeira" won second place. In 1998, he got third place in the I Premio Visa de MPB Instrumental. He Recorded two albums with the Dois de Ouro, one with violonista Marco Pereira, and solo albums. In 2000, he performed in the Free Jazz Festival and in the next year, in the Brasileirinho project at the CCBB (Rio).
Purchase information: Hamilton de Holanda: Trio also on iTunes
More Hamilton de Holanda from Amazon.
Posted by Ted at 4:51 AM

April 27, 2013 | New Clark JM5 mandolin. Blonde!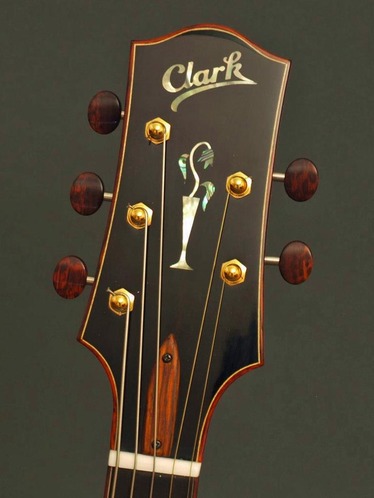 We posted pictures of this unique 5-string acoustic mandolin a couple months prior to its French polishing, and had to follow up with some final shots of the latest creation from Boise woodsmith Austin Clark. We've had the pleasure of owning the original JM5 in a cherry cola-burst finish. This, a one piece back with cocobolo binding and a mahogany neck.
We'd be interested in knowing if blondes really do have more fun!...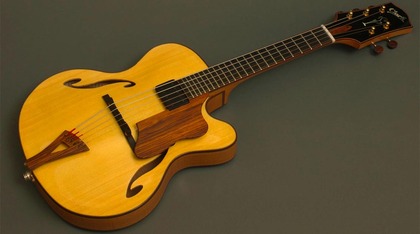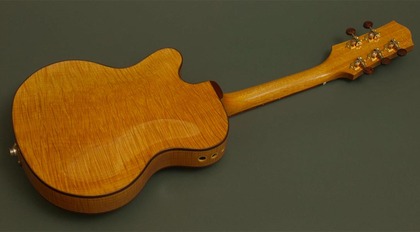 Builder website: Clark Mandolins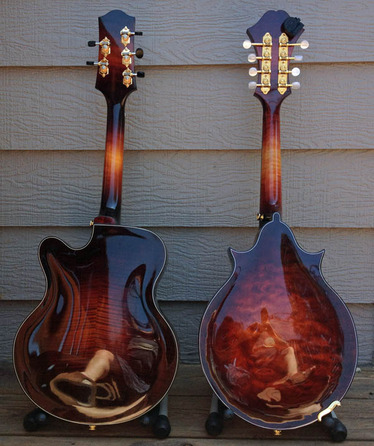 Posted by Ted at 4:54 AM

April 25, 2013 | Bill Bussmann Desert Hardwoods
We're on record as big fans of New Mexico builder Bill Bussmann (Old Wave Mandolins), and one of the reasons is is bold use of native woods. He weighs in, "This week's wood hunt took me to southern Arizona, relieved a borderline wood hoarder of some of his fine pile of desert ironwood (Olneya Tesota), Catclaw Acacia (Acacia Greggii) and Mesquite Burl (Prosopis Velutina). If you're passing thru NW Tucson with this luthieran affliction, its worth a look, email for contact info, nfi, just solid stuff."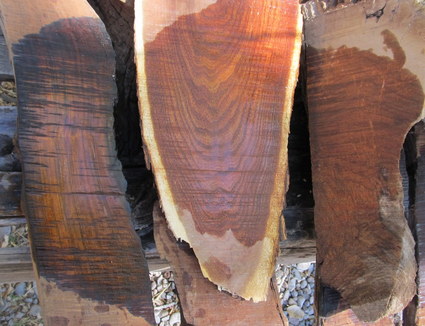 He's famous for his adornments in other Mesquite: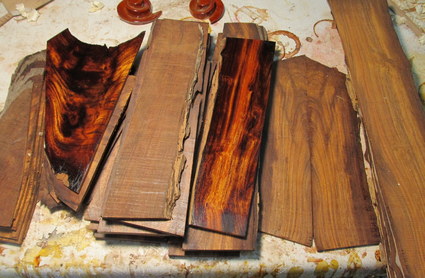 We encourage you to spend some time on his website and see some of the great, often cosmetically blasphemous creations from this mad genius. Builder photo page: Old Wave Mandolins
Check out our review on our own custom build, the Old Wave Solocomp JM 4-string jazz mandola.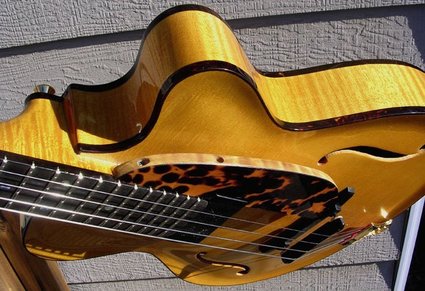 Posted by Ted at 6:33 AM

April 23, 2013 | Unseasonably cool.
Certainly there were jazz mandolin projects prior to the year 2000. You had swing legends Jethro Burns, Tiny Moore, Johnny Gimble. There were other mandolinists who dabbled in jazz including the bluegrass infused "Dawg" music of David Grisman.
For us, a pivotal CD came in 2001 with jazz mandolin legend Don Stiernberg and his horn laden "Unseasonably Cool." A dynamic Chicago based rhythm section, it was great to finally hear the mandolin surrounded by (and competing with) winds and not confined to an all string based ensemble.
Take the phrasing and emotional delivery of Chet Baker, throw in a little "Jethro" chord vocabulary, some 30's & 40's innocence and charm, and you get one of the sweetest jazz recordings ever played on the mandolin. Sophistication that smiles, calculated composition that laughs, all brought to you by one of the nicest guys on the planet, "The Don."
We consider the 12 year-old recording a profoundly inspirational turning point here, one which became the spine of the site. Putting the mandolin on the level of traditional jazz instruments has been our calling. We'll give kudos to this and many more of Don's incredible discography.
Listen up: Don Stiernberg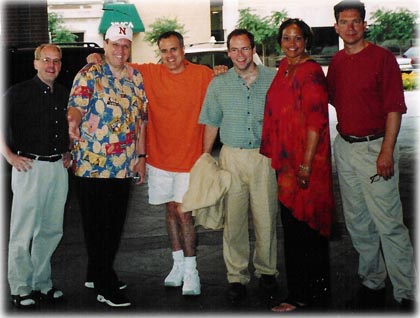 Don Stiernberg Quartet "Jazz in June" 2003
Posted by Ted at 5:10 AM

April 21, 2013 | Hands across the water; trip to The Acoustic Music Company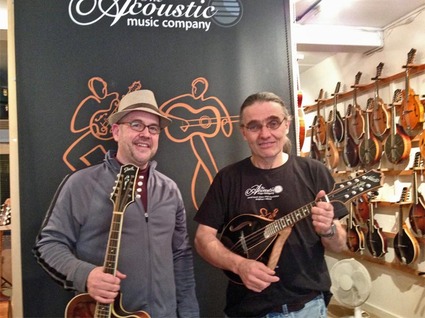 It was a little over a year ago, we had the pleasure of hooking up with TAMCO owner/proprietor Trevor Moyle in his amazing shop in Brighton (UK) a scenic 75 minute train ride from Central London on Britain's National Rail. In addition to sampling his wares, we had the privilege of taking a host of pictures of the craft of some of the world's finest mandolin builders.
You've probably surfed the website of The Acoustic Music Company, but there's nothing like experiencing it in person. Interestingly, several of his instruments have been custom designed from his own drawings. In addition to acute business chops, he has a flare for form.
Check out the tour eye candy in the link archive: Brighton Trip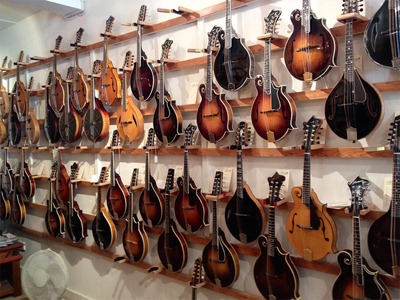 Store website: The Acoustic Music Company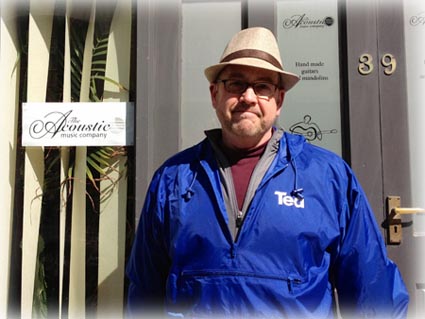 Posted by Ted at 5:54 AM

April 19, 2013 | Etymotic Research ER20 ETY-Plugs Hearing Protection
For those of us past 40 (okay, some past 50), we've learned how important our hearing is, and many are kicking themselves from not taking better care of their ears in younger years. Yup, we think we're immortal in our youth.
Etymotic Research, an industry leader in acoustic research has been a household name (or should be) for in-ear products, including high tech ear plugs. We'd like to pitch the notion every musician should own a pair of quality noise filters for concerts, shop and high decibel work environments, or simply a little peace on a cross country flight. The ER20 ETY-Plugs are a low cost alternative, street priced around ten bucks, and one of the best way to thwart the dangers of loud noise environments.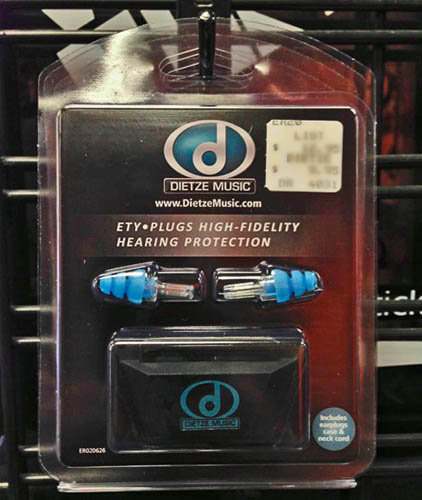 List Price $12.95
Sale Price $ 9.95
With deep roots in acoustic research and the hearing aid industry, Etymotic Research invented insert earphones in 1984. Innovation, education and hearing conservation are central to Etymotic's mission, with products that accurately assess hearing, improve the lives of those with hearing loss, and enhance the listening experience of musicians and music lovers everywhere. Etymotic's products are used by scientists, hearing practitioners, hearing-impaired consumers, professional and amateur musicians, and others who insist on superior sound quality.
Protect Your Hearing Without Loss of Clarity
ETY-Plugs are the world's highest fidelity non-custom earplugs. They reduce most noise to safe levels while preserving the clarity of speech and the richness of music. ETY-Plugs are configured to replicate the natural response of the ear canal so that when sound enters the earplug, it is reproduced unchanged, exactly the same as the ear would hear it, only quieter.
ETY-Plugs use a tuned resonator and acoustic resistor to replicate the natural response of the ear canal. This unique construction, combined with Etymotic's proprietary sound path, reduces sound levels evenly across the frequency range without changing the sound quality. Result: Music and speech remain clear, but quieter and safer. Foam earplugs reduce the high frequencies, resulting in muffled speech and music, but ETY-Plugs provide almost equal sound reduction (20 dB) across the range of hearing.
Natual and Clear Sound for Noisy Environments
ETY-Plugs reduce sound levels evenly so that music and speech are clear and natural, not muffled as with other earplugs. So you can reduce your risk of hearing damage for many noisy occupations as well as noisy venues--such as airshows, parades, athletic events and motor sports. When you're at a concert, ETY-Plugs protect your hearing without letting you miss out on any of the action. They're also ideal for musicians, letting them hear their own instrument and how they blend with others accurately and without distraction.
Purchase these online from a recommended retailer. Mention "Jazzmando" in the comment field for reduced shipping price of $2.00 US. ($9.00 Canada and International)
Link: Etymotic Research ER20 ETY-Plugs Hearing Protection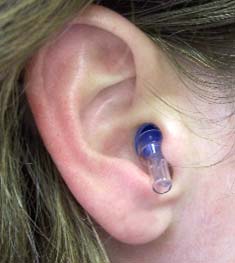 Posted by Ted at 5:13 AM

April 17, 2013 | Stellar ii7b5 chords
The m7b5 chord often confounds the curious folk musician. It's harmonically foreign, never used in bluegrass, and learning fingerings by rote isn't the best, just like learning a language outside of some kind of immersion isn't very effective either. Don't feel intimidated if you don't know it.
Yet...
We decided to put them not only in the context of a progression (ii7b5/V7), but in the context of an entire song in last week's Tips and Tricks column.
The first block we presented is a particularly healthy choice, it actually uses the root of the chord so it's easy to hear in a solo mandolin context. The song we use, "Stella by Starlight" demonstrates it effectively too. If you haven't already, study this lesson, and be sure to click on the "Further" links at the bottom of the page, especially the one for "Black Orpheus."
Enjoy lesson: Stella by Starlight 'iiv7b5 V7' Fun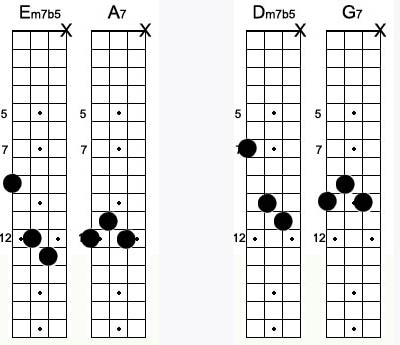 Posted by Ted at 4:54 AM

April 15, 2013 | Will Patton Quartet; Jitterbug Waltz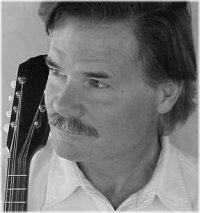 If he's not the best, he's certainly one of the tastiest jazz mandolinists alive today. New Englander Will Patton has been on our radar well over a decade as one of the most brilliant, and from the video below, you'll see why. Arranger, song-writer, and phenomenal on the frets, this is a personal favorite, Fats Waller "Jitterbug Waltz," and featured on his 2000 release, Latitudes and Departures. You'll find five "must have!" jazz mandolin CDs in his discography.
Enjoy:
Link: Will Patton Quartet; Jitterbug Waltz

Sample and purchase Will Patton projects:
Latitudes and Departures
Peripherique
String Theory
6th Street Runaround
Flow
Mandolin Cafe interview: 10 Questions for Will Patton
Posted by Ted at 5:14 AM

April 13, 2013 | Your "Ah-ha!" Moment at the Mandolin Cafe
Learning to play any instrument will be a series of "Ah-ha!" moments. You're in your daily practice mode or even on stage and you come to grips in a visceral sense that some major break-though in your ability has just washed over you.
What a wonderful feeling!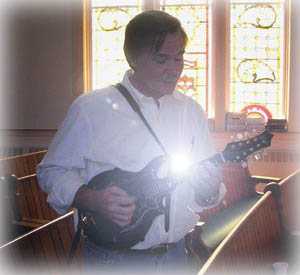 There's an intriguing discussion going on at the Mandolin Cafe Discussion Forum, and we're proud of several mentions-- our exclusive FFcP strategies have pushed some beginning and intermediate mandolinists to the next level. Laird writes "I may not be quite as graceful in B or E flat, for example, but at least I know where I should be going. FFCP helped with getting me used to playing up the neck without open strings." (see link below)
It's a proven method, one we've documented long forum in the "Getting Into Jazz Mandolin" book, but we also have a more compact introduction on the FFcP Studies page for you to dabble in .
Like it? Keep going with the advanced studies.

Join in the discussion; tell us about your "Ah-ha!":
Your "Ah-ha!" Moment?
Posted by Ted at 5:16 AM

April 11, 2013 | Hamilton de Holanda, Jazz in Campo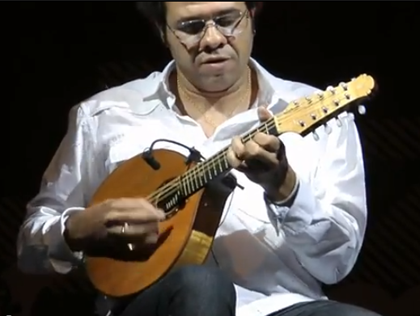 It's always a treat to witness the brilliance of Brazilian bandolim superstar, Hamilton de Holanda. On YouTube is a breathtaking solo clip from a jazz festival in Italy, Jazz in Campo. So much music from only two hands!
Enjoy!
Hamilton de Holanda, Jazz in Campo


Purchase Hamilton de Holanda downloads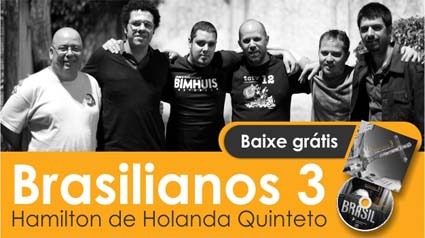 Posted by Ted at 8:32 AM

April 9, 2013 | River of the West 2013
Hopefully you've had the chance to read through last week's Tips and Tricks feature with staff contributor Brian Oberlin. His nuts and bolts approach to music theory on the mandolin fretboard is a great gateway for the novice player, and extra-credit material for the more advanced. His introduction to Diatonic Major and Minor Chords provides a crucial overview to understanding not only jazz, but Western European music in general.
Read article: Diatonic Major and Minor Chords with Brian Oberlin
Brian is an in-demand performer and teacher, but we should also mention his sensational work administrating the River of the West Mandolin Camp. Several of our readers have weighed in about what a great experience it was. Now in its 5th year, the workshops and educational experiences only get better.
The June 6-9 event is coming up sooner than you think so don't hesitate to get your registration in early.
Camp Details: River of the West Mandolin Camp June 6 - 9, 2013
Archive Video link: River of the West Mandolin Camp

Posted by Ted at 4:54 AM

April 7, 2013 | Remembering John McGann
It's been a year now since the unexpected passing of a contemporary player/pedagogical giant. Multi-instrumentalist John McGann influenced so many in his young life, and we can count our blessings that a healthy dose of his published works, YouTube videos and informal internet chatter have allowed us an immortal glance into his brain.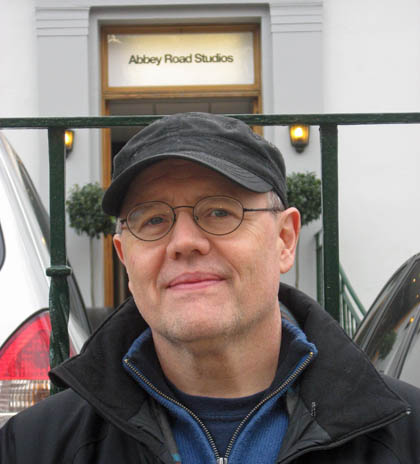 We were fortunate enough to have the opportunity to interview John for the Mandolin Cafe, and it's always a treat to go back and read his pearls of wisdom. One of the questions we asked was about the shortlist of consistent player weaknesses he had tackled as private teacher, clinician, and professor at the prestigious Berklee School of Music and how he addressed them:
John McGann
Time. Almost no one has as strong a sense of rhythm and time as they think they do. Work with a metronome is great here, as is playing along with recordings.
Tone. By playing with the pick "down toward the top," using rest strokes rather than letting the pick fly up into the air, the string can vibrate more efficiently, making the bridge, top, braces, back and sides (the box) do its thing in creating a warmer, richer, darker sound. For most people, this is as good as or better than buying a new instrument. Time after time I see faces light up when this revelation is made.
Technique. See the question for left hand. Also, people who say "my hands are too small" usually need to simply adjust the angle at which the hand comes into the neck and to spread the fingers out at the base of the hand.
Right hand technique. Anchoring does you no favors, and unless you are Adam Steffey, you probably should think about the mechanics involved. Mobility of the hand, so you can deliver the pick to each string at the same relative angle, without twisting which will compromise tone and attack, is one of the keys.
Other general problems are people just not knowing tunes. I've had students tell me "I'm really into bluegrass!" and when I ask "What tunes do you play?" I am told "Oh, I don't actually play any tunes." This is mind boggling to me. Repertoire development seems so obvious!
A bunch of scales and arpeggios and licks does not create a player, but someone who can play (memorized!) 100 tunes (chords and melodies) well is automatically playing scale and arpeggio material in a musical fashion.
Wanna play jazz? Learn tunes! Wanna play bluegrass or Celtic or Macedonian music or rock and roll or blues? Learn tunes! Improvisational vocabulary doesn't come from chords, scales or licks. It comes from the tunes themselves! Memorized!
We certainly miss John...
Read article: 10 Questions For John McGann
Recordings and books of John McGann
Posted by Ted at 7:04 AM

April 5, 2013 | What is a Sus chord?
Jazz Mandology: Keeping in Suspense: A look at "Sus" chords and variations
At the risk of being blow-hardy, we feel one of the most significant columns we wrote for the Mandolin Sessions was the August 2006 feature on unraveling suspended chords. There is so much misinformation about these out there, and if you are going to tackle jazz, understanding the "hybrid" nature of the chord is crucial. If you are involved in any kind of contemporary worship music, this chord's significance is eclipsed only by the major chord itself.
In these circles, it is "The" sound.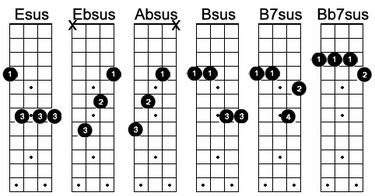 Compounding the complication, there is confusion about the difference between Sus4, Sus7, Add 9, and the open 5th with an Add 2. If you haven't already, take the time to review this material in the MandolinSessions.com archives.
Read online: Keeping in Suspense: A look at "Sus" chords and variations
We've also made it available here in a downloadable PDF document,.

Posted by Ted at 4:55 AM

April 3, 2013 | John Knutson Luthiery announces the return of the Songbird mandolin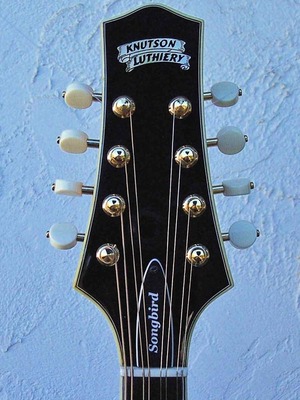 After spending the last 2-1/2 decades focusing on the Messenger upright electric basses and arch top and flattop guitars, California builder and instrument innovator John Knutson is resurrecting an enhanced version of his 1980s classic "Songbird" mandolin. Around two dozen of these were built in that decade and you can see pictures of the original design on his website.
Knutson reports, "I find that such outside designs are much more accepted now than back in the day, so I think my timing is right. I have two custom orders and it feels really good to be playing mandolin again."
Songbird Archtop mandolin 2013
Also of interest is his exclusive instrument pickups. He reveals, "I am involved with a new transducer type pickup that is revolutionizing live sound in all its applications. Up until now we have focused on the upright bass, and nylon, archtop, steel string and resophonic guitar applications. Mandolin is in the works and I'm developing the application for that and moving toward the final production model. These pickups are transparent sounding, totally directional and non-microphonic, quack free, and dynamically like playing acoustically even at extreme 80db soundlevels, and very high tech."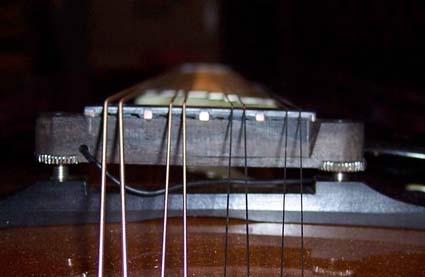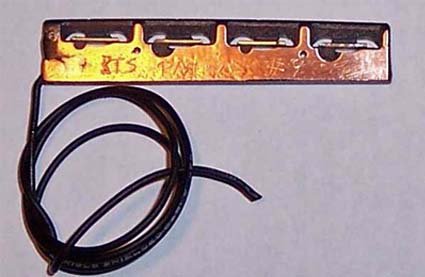 We'll be excited to review one of the Songbirds soon. Meantime, check out some of the archive pictures on John's web site.
More information: John Knutson Luthiery
Posted by Ted at 4:33 AM

April 1, 2013 | Introducing our 2nd book! Yoga Chords for Mandolin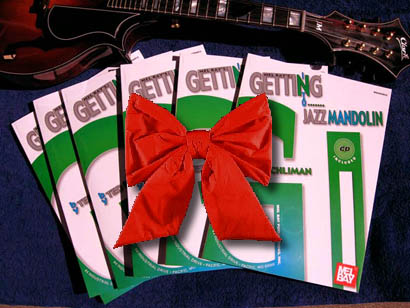 After several years of positive reinforcement and prodding, we've finally released our follow-up to the best selling Mel Bay book "Getting into Jazz Mandolin!" Much of the feedback has come from outside the jazz world, particularly demanding more lessons and exercises with the exclusive FFcP (Four Finger closed Position) approach to fretboard mastery. In addition to the vast potential in playing beyond the cowboy chord keys and open drones in G, D, and A, many have found the physical benefits of using the fourth finger and the calisthenic improvements with hand strength and finger flexibility.
We've taken the same approach to linear fretboard freedom and have gone vertical!
Chords, Chords, Chords!!!
How many times newbie mandolinists have complained about the torture and cramping of the G-chop chord. We've developed a 48 page book to systematically stretch and supercharge your chord voabulary and playing. Introducing "Yoga Chords for Mandolin."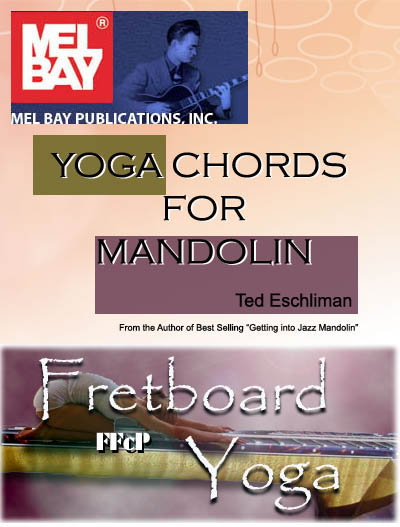 Not only bluegrass chords, you can tackle fearlessly some of the more perplexing jazz vocabulary with this system. G#9b13?
No problemo.
Sample page from the 'ii V7 I' section: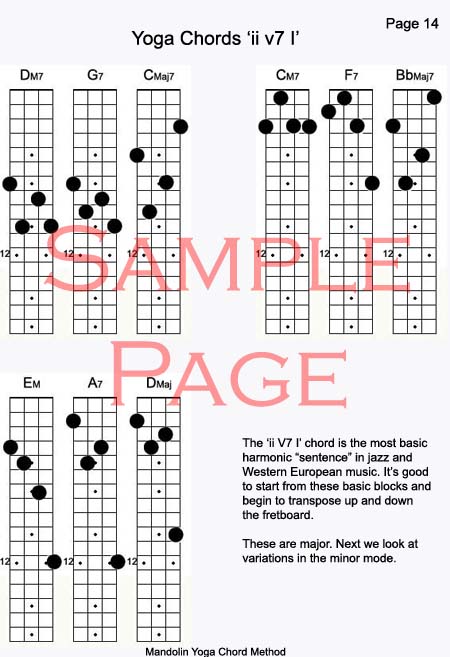 Order your book and start stretching today!
Purchase information: Yoga Chords for Mandolin
Posted by Ted at 4:53 AM