« What is a Sus chord? | Main | River of the West 2013 »

April 7, 2013 | Remembering John McGann
It's been a year now since the unexpected passing of a contemporary player/pedagogical giant. Multi-instrumentalist John McGann influenced so many in his young life, and we can count our blessings that a healthy dose of his published works, YouTube videos and informal internet chatter have allowed us an immortal glance into his brain.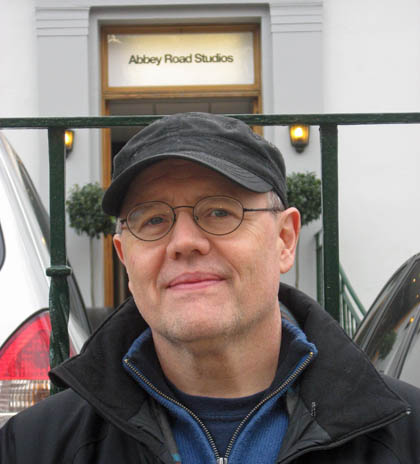 We were fortunate enough to have the opportunity to interview John for the Mandolin Cafe, and it's always a treat to go back and read his pearls of wisdom. One of the questions we asked was about the shortlist of consistent player weaknesses he had tackled as private teacher, clinician, and professor at the prestigious Berklee School of Music and how he addressed them:
John McGann
Time. Almost no one has as strong a sense of rhythm and time as they think they do. Work with a metronome is great here, as is playing along with recordings.
Tone. By playing with the pick "down toward the top," using rest strokes rather than letting the pick fly up into the air, the string can vibrate more efficiently, making the bridge, top, braces, back and sides (the box) do its thing in creating a warmer, richer, darker sound. For most people, this is as good as or better than buying a new instrument. Time after time I see faces light up when this revelation is made.
Technique. See the question for left hand. Also, people who say "my hands are too small" usually need to simply adjust the angle at which the hand comes into the neck and to spread the fingers out at the base of the hand.
Right hand technique. Anchoring does you no favors, and unless you are Adam Steffey, you probably should think about the mechanics involved. Mobility of the hand, so you can deliver the pick to each string at the same relative angle, without twisting which will compromise tone and attack, is one of the keys.
Other general problems are people just not knowing tunes. I've had students tell me "I'm really into bluegrass!" and when I ask "What tunes do you play?" I am told "Oh, I don't actually play any tunes." This is mind boggling to me. Repertoire development seems so obvious!
A bunch of scales and arpeggios and licks does not create a player, but someone who can play (memorized!) 100 tunes (chords and melodies) well is automatically playing scale and arpeggio material in a musical fashion.
Wanna play jazz? Learn tunes! Wanna play bluegrass or Celtic or Macedonian music or rock and roll or blues? Learn tunes! Improvisational vocabulary doesn't come from chords, scales or licks. It comes from the tunes themselves! Memorized!
We certainly miss John...
Read article: 10 Questions For John McGann
Recordings and books of John McGann
Posted by Ted at April 7, 2013 7:04 AM