« Will Patton Quartet; Jitterbug Waltz | Main | Etymotic Research ER20 ETY-Plugs Hearing Protection »

April 17, 2013 | Stellar ii7b5 chords
The m7b5 chord often confounds the curious folk musician. It's harmonically foreign, never used in bluegrass, and learning fingerings by rote isn't the best, just like learning a language outside of some kind of immersion isn't very effective either. Don't feel intimidated if you don't know it.
Yet...
We decided to put them not only in the context of a progression (ii7b5/V7), but in the context of an entire song in last week's Tips and Tricks column.
The first block we presented is a particularly healthy choice, it actually uses the root of the chord so it's easy to hear in a solo mandolin context. The song we use, "Stella by Starlight" demonstrates it effectively too. If you haven't already, study this lesson, and be sure to click on the "Further" links at the bottom of the page, especially the one for "Black Orpheus."
Enjoy lesson: Stella by Starlight 'iiv7b5 V7' Fun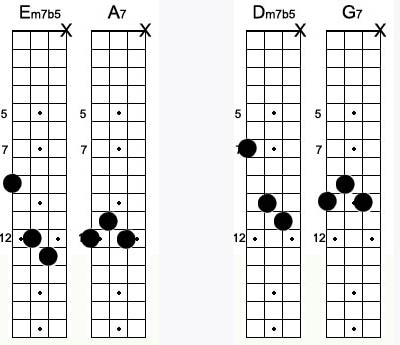 Posted by Ted at April 17, 2013 4:54 AM