« New Clark JM5 mandolin. Blonde! | Main | Static Changes: V7 chords »

April 29, 2013 | New Hamilton de Holanda: Trio
Brazilian 10-string wizard Hamilton de Holanda has a new release out, "Trio." An ensemble a little more streamlined than some of his other projects, it's just his legendary bandolim and the assistance of Thiago Serrinha (percussion) and long time bandmate Andre Vasconcellos (double bass).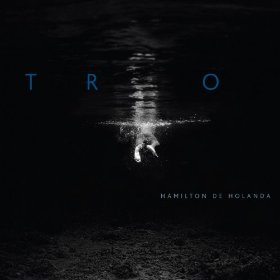 Hard to imagine there are only three at work on this CD. The texture is busy, but not in an unintentional way. Virtuosity (lots of notes) and musicality (expression) does not always intersect, but it certainly does in the discography of Holanda, and this project is no exception. We like the fact that Trio is just that, his 10-string facility and the support of bass and percussion.
Highly recommended!
From the iTunes biography:
"Having played with Hermeto Pascoal, Zelia Duncan, Marco Pereira, Marcos Ariel, Rosa Passos, and others, Hamilton de Holanda was a prodigy child who confirmed his virtuosic talent at the choro mandolin. Along with his solo career, he teaches mandolin at the University of Brasília and in the Escola de Choro Raphael Rabello. Moving with his family to Brasília at the age of one, de Holanda was presented with a mandolin by his grandfather when was five. Hamilton de Holanda's father, a choro violonista (acoustic guitarist), boosted the nascent talent of Hamilton and his brother Fernando Cesar de Holanda (violao). Ever since they were very young, they started sharing with competent choro musicians of Brasílias; the two of them soon became good enough to form a duo, christened as Dois de Ouro by Pernambuco do Pandeiro. Hamilton de Holanda studied violin while still a child at the Escola de Música de Brasília. In 1995, he was awarded as best interpreter in the II Choro Festival of Rio de Janeiro State. In the same festival, his choro "Destrocando a Macaxeira" won second place. In 1998, he got third place in the I Premio Visa de MPB Instrumental. He Recorded two albums with the Dois de Ouro, one with violonista Marco Pereira, and solo albums. In 2000, he performed in the Free Jazz Festival and in the next year, in the Brasileirinho project at the CCBB (Rio).
Purchase information: Hamilton de Holanda: Trio also on iTunes
More Hamilton de Holanda from Amazon.
Posted by Ted at April 29, 2013 4:51 AM