« Review of Girouard A-body mandolin | Main | FFcP and Pentatonic Scales »

February 17, 2013 | MANdolinMAN quartet on Vimeo
Here's an exciting video from across the pond. Belgium's mandolin quartet "MANdolinMAN" takes a different direction in a Jobim Bossa Nova standard, "Água de beber." The music of their first album, "Old Tunes, Dusted Down'" was an interesting blend of European and North American folk traditions, performed with exquisite control and engaging dynamics.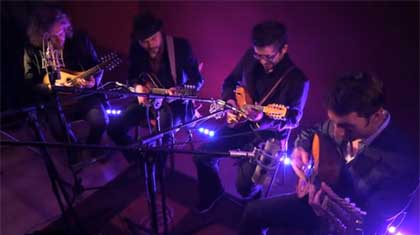 We are looking forward to a February 2013 CD release of their latest project. For now, enjoy this video (title to be announced):
Video Link: MANdolinMAN; Água de beber

MANdolinMAN (Belgium) plays Bossa Nova : Água de beber (A.C. Jobim) // new album release february 2013 from MANdolinMAN on Vimeo.
MANdolinMAN players: Andries Boone (mandolin and mandola), Peter-Jan Daems (mandolin), Maarten Decombel (mandocello) & Dirk Naessens (mandolin)
Artist Website: MANdolinMAN.be
SoundCloud Audio: Andries Boone
Posted by Ted at February 17, 2013 7:34 AM