« Rare one-off Mann 5 String electric mandolin | Main | Jason Anick's new Arrow Jazzbo 5-string mandolin »

February 23, 2013 | New from Aebersold Jazz: Slower "Play-A-Long!"
We love the Aebersold Jazz "Play-A-Long" serious books of lessons and jazz standards (and have used them for literally decades), but often the beginner struggles with some of the cooking fast tempos in some accompaniment tracks. Jazzbooks.com announces a great assist, new "Slow Tempo" CDs for some of their best selling titles like the "All Bird" Charlier Parker, "Turn Arounds," and our favorite, the "ii V7 I" classic.
If you purchased a single-CD edition of these volumes, you should consider adding the new second CD of slower practice tempos. They've taken the original tracks and slowed them down using state-of-the-art technology to preserve the sound quality.
The Volume 3 upgrade includes a CD of all new practice tracks, not just slower versions of the old tracks. Volume 16 was originally 2 CDs. It is now 4 CDs (2 with slower practice tempos).
The new CDs can be purchased for only $5.00 per disc!
Purchase information: Jamey Aebersold Play-A-Longs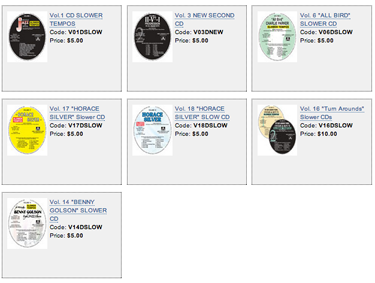 Posted by Ted at February 23, 2013 5:47 AM