« October 2012 | Main | December 2012 »

November 29, 2012 | Aebersold on iTunes
We've mentioned opportunities for practicing with backing tracks before. Ralph Patt has some terrific audio on his instructional site. Of course you can also use "Band in the Box" software popular in the 90's, and its more modern incarnation, iPhone or Android based iRealB on your phone or tablet. These are great for their versatility in changing keys or modifying the tune's tempo.
The only drawback with the MIDI based accompaniments is they tend to be somewhat sterile. We've enjoyed playing through many of the popular Jamey Abersold "Play along" series books and their package CDs not only because the recording quality is so good, but the musicians themselves are superb. The nuance of a live player (even recorded) is inspiring. That said, it can be an expensive proposition to acquire all the books in the series, and if you already have a RealBook, you might not need all the songs in a particular collection.
This is where the beauty of iTunes comes in, the capability of cherry picking single song tracks rather than a whole album. You can go through the entire library of Aebersold tunes, pick and chose cafeteria style the audio for individual songs. Say you only wanted a couple tracks of Jobim or Coltrane, you could only spend a few dollars rather than purchase the whole book's audio.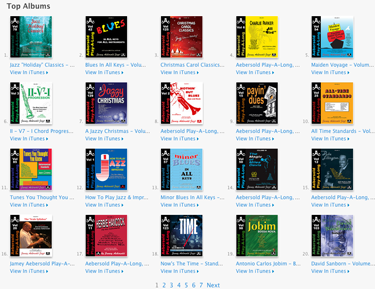 Purchase Jamey Aebersold Jazz on iTunes
Purchase Jamey Aebersold Jazz on Amazon MP3
Posted by Ted at 8:22 AM

November 27, 2012 | Peter Ostroushko; "The Mando Chronicles"
One of most ambitious, comprehensive mandolin centered projects tackled in a while is the newly released 3-CD compilation of folk, classical and world music, The Mando Chronicles recorded by midwestern string virtuoso Peter Ostroushko. If you've ever been graced by the music of the weekly American Public Media radio presentation of the popular host Garrison Keillor's "Prairie Home Companion" based out of the mandolinist's home state of Minnesota, you've heard if not his name, his incredible playing. An unassuming package of facility and modesty, the American contemporary folk hero has done more for the cause of mandolin than many might be aware of through his touring and discography. This agglomeration of music is certainly a testament to that.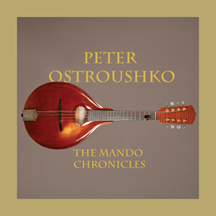 The three all-acoustic CDs contain four sections divided into Folk, Old World, Classical, and South American. As you would expect, the Americana includes Bluegrass (joined by Norman Blake!), but there's some ragtime and even a few cuts of mid-20th century jazz, with Texas Swing legend Johnny Gimble (recorded in Waco, TX). The Old World includes a healthy dose of Ukrainian from Ostorushko's own genealogical heritage, French Musette, Italian, and an array of Irish tunes. The Classical includes transcriptions of Bach, Vivaldi, Beethoven, an original tune, and the South American section four Brazilian Choros and a Puerto Rican waltz.
His arsenal of instruments are summarily oval hole, and appropriately so. Despite intense technical pick facility and the high timbre of the mandolin, his sound envelopes the soul rather than pierces, the sweetness of his tone relaxes and delights at the same time. Spurts of fret pyrotechnics are certainly there, but never at the risk of showing off. He always seems to have fun without showboating.
This is an important collection to acquire for any serious mandolin aficionado. Although the jazz selections are only a small section of the total 52 tracks, the gestalt of the project is an encyclopedia of mandolin past and potential worth absorbing. The student will learn, the more advanced player will be tickled.

Purchase information: Peter Ostroushko; "The Mando Chronicles"
Other recordings: Amazon's Peter Ostroushko Store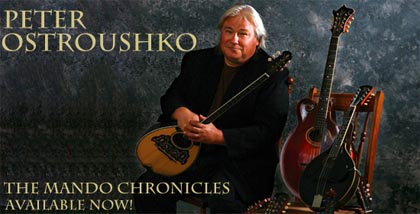 Biography: (Red House Records).
Posted by Ted at 5:21 AM

November 25, 2012 | Tenor Guitar History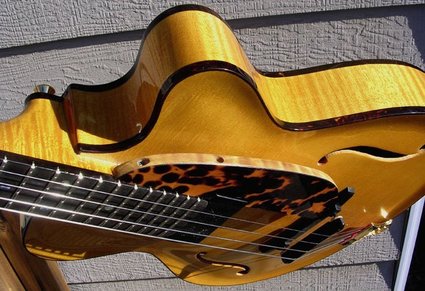 We've often thought missing from the market is a short-scaled tenor guitar. The accompaniment prowess of the register of the mandola, along with it's rich solo register would lend itself well to chord melody, and the shorter scale makes it much easier for the mandolinist to adapt and conquer the fret spacing. We even commissioned popular Old Wave Mandolins builder Bill Bussmann craft one several years ago in the SoloComp JM.
Back up, though. You may not have thought of the tenor guitar as part of the mandolin family, but as string specialist Jamie Boss explains in the following video, the 5ths tuning allows easy adaptation, especially if you're already familiar with mandola tuning (CGDA). Some tune the tenor to octave mandolin tuning, too (GDAE). Either way, if you have ever wondered about the similarities, Boss does a terrific job of demonstrating the instruments and touring your through a little history.
Enjoy!
Video Link: How to play the Tenor Guitar

More guitar/mandolin history: Martins vs. Gibsons: The Evolution of American Acoustic Guitars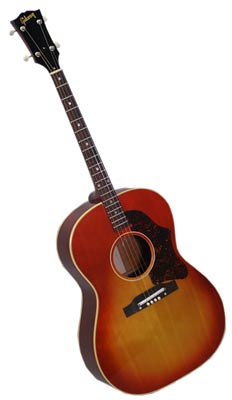 Posted by Ted at 7:49 AM

November 23, 2012 | Black Friday Mel Bay Special! 30% off & Free Shipping
Black Friday, and seems everyone's at the mall or box store getting a cheap Flat Screen TV or toaster. Not you though--you'll be at the Mel Bay website scoring great prices on some of the best educational materials in the world, and still in your pajamas.
Hard to beat this price on "Getting Into Jazz Mandolin." 30% off and free shipping at Mel Bay's cyber store. One day only, don't miss out.
Purchase from Mel Bay: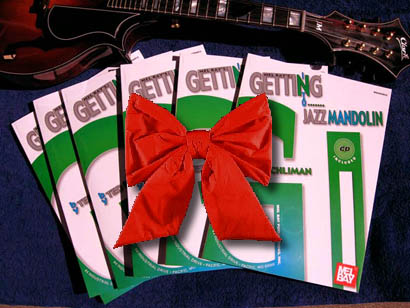 Use the code: "pie" to get 30% off your entire purchase and Free Shipping
Hope your Thanksgiving was special!
Posted by Ted at 5:04 AM

November 21, 2012 | Don Julin: Vibe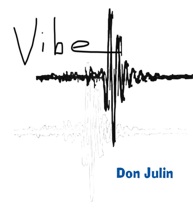 Though we've advocated the potential for mandolin in the jazz world on this site for over a decade, sadly it seems there are only a handful of high profile mandolinists with the chops (pun intended) capable of pulling it off at the prominence of the national stage. The swing rhythm is different than any other bluegrass or folk rhythm, the phrasing and articulations more string fundamental and tone-centric, and don't even get started talking the harmonic complexity. It's hard for the amateur to avoid the saccharin temptations riddling their improve with the easy Pentatonic riff, even the best of them fall into that trap too often.
More often than not, it can boil down to the literature itself, and Don Julin's most recent contribution to the jazz mandolin world, "Vibe" is a collection of some of the best jazz standards penned. Hard to go wrong with Ellington, Monk, Vernon Duke, Miles Davis, it's the tunes themselves that can summon up the playing chutzpah. Surrounded by a competent traditional trio rhythm section, including the return of guitarist Ron Getz (Mr. Natural), the quartet swings hard and gives Julin the space he needs to breathe and channel the 20th century's legends.
Don includes a few of his signature sidetrip interpretational departures, a jazz waltz version of "Prelude to a Kiss," a Latin rendition of Bronslau Kaper's "Invitation," and a swing ballad version of "Autumn in New York," he blends smartly just the right amount of something old, something new to tease the palate. The whole project is a pleasant jazz acoustic string jazz journey.
Of course, we have the additional benefits of Julin the educator, widely sought for his teaching skills, he's capable of "duplicating" himself through his Skype lessons, highly in-demand workshops, and of course is recent foray into the publishing world, Mandolin for Dummies, which promise to be a go-to resource for anyone wanting to uncover the secrets of the mandolin--for generations.
You'll surely enjoy the music on the CD, but we suggest you get this for something even more, the chance to hear how it's done.
Tracks:
Birk's Works
Prelude to a Kiss
Straight No Chaser
Vibe
Doxy
Invitation
Autumn in New York
Blue Monk
Blue in Green
Purchase information:
Download: Don Julin: Vibe
CD direct from artist
Posted by Ted at 4:53 AM

November 19, 2012 | Minor 7th chord stream wrap up
Some of the juiciest chord blocks we've ever put up, we took a look under the hood at last week's Tips and Tricks session at the simple but chocolatey tasting variations of the Minor 7th chord up the fretboard. These are a "must-have" for any serious modal jazz musician, and a terrific parlor trick set of chords to mover around the fretboard.
You don't need to know the science behind them, they just sound great by themselves. Then again, if you want to understand how they are derived, you can learn to apply the simple theory and manipulate effectively in all twelve keys!
Article includes PDF print and analysis. Link: Minor 7th Chord Streams. Under the hood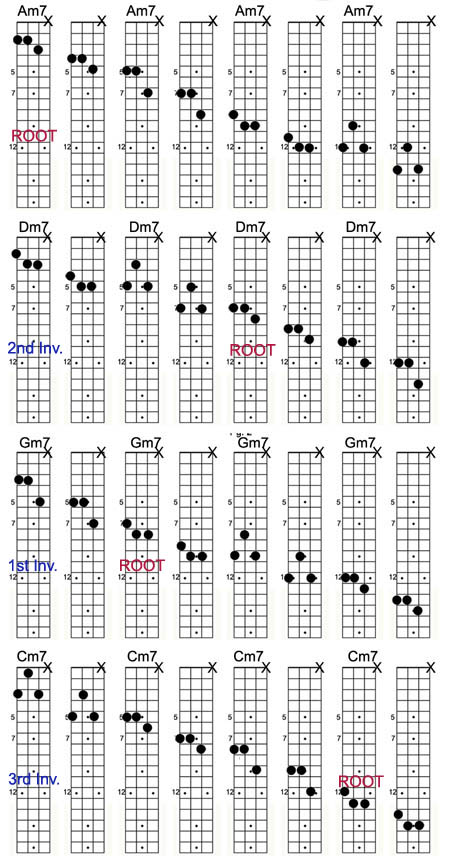 ---
Thinking Christmas list? How about a JazzMando 3-note 7th Chord Mug?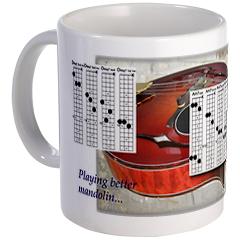 Posted by Ted at 5:33 AM

November 17, 2012 | Mike Marshall ArtistWorks School of Mandolin
We're big fans of Mike Marshall, not only his incredible playing prowess, but his gift of communication and teaching skills. His easy-going, yet intensely practical approach to teaching mandolin yields an encyclopedia of tips and strategies toward the goal of mastering the instrument.
Video Link: Behind the Scenes: School of Mandolin with Mike Marshall

Mike teaches hundreds of lessons in his online Video Exchange Feedback Mandolin School at the ArtistWorks Academy of Bluegrass, including:
Moveable Chords
Three Moveable Chords
Cuckoo's Nest
Red Haired Boy
Target Notes - Golden Slippers
Target Notes - Liberty
Tremolos
Harmonizing the Melody
Doable Double Stops
The Mandolin's Place in the Band
Playing Fills Behind a Vocalist
Kickoffs
Blues Scale
Sitting on Top of the World - Blues
1-6-2-5 Progression
Red Wing
Part of the ArtistWorks experience includes use of their patented Video Exchange system where you submit videos of your playing and Mike himself goes over your video and responds by video giving you feedback on your playing.
We're looking forward to a staff write up on the experience next month from the always articulate, James Condino.
Additional information:
Mike Marshall's School of Mandolin
Free Mike Marshall mandolin lessons from ArtistWorks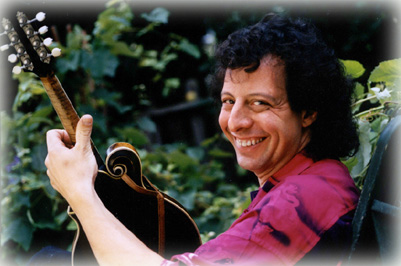 Posted by Ted at 5:38 AM

November 15, 2012 | Berklee's Bryce Milano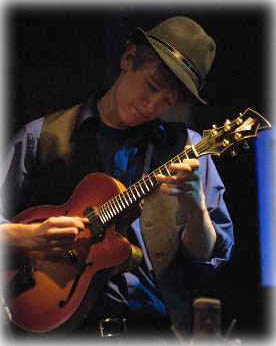 We've been following the career path of young pup, now full-time Berklee School of Music student, mandolin virtuoso Bryce Milano since we me him and his Nebraska raised father Joseph seven years ago at Rigelfest. At the time, he'd been under the tutelage of Mike Marshall, including a stint with Darol Anger and String Nation. You can tell by the following video he's come of his own not only as a performer but a promising composer.
Video Link: Bryce Milano "Megatune"


Catch up on the latest: The Bryce Milano Quintet to kick off Brown Bag concert series
Posted by Ted at 6:22 AM

November 11, 2012 | Weber Acquisition revisited
We weighed in earlier this weekend with an admittedly critical take on the recent acquisition of Weber Fine Acoustic Instruments (Sound to Earth) by the parent company of Breedlove, Two Old Hippies, LLC. As we reported, our misgivings were no reflection on the praise and confidence we had with the Weber crew, our reservations had more to do with the ineptitude of the current Breedlove marketing forces.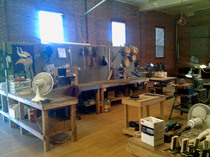 After an enlightening personal conversation yesterday with company founder, Bruce Weber himself, we're a little less apprehensive about the future of the Sound to Earth team. Bruce took the time to fill us in on some of the details of the transition, how it came to be, and his own outlook on how the handoff would manifest in the next six months.
Foremost, the hands-on involvement of his production team, long time marketing coordinator Cameron Haag, and Bruce himself are all critical components in the the process that started over with informal discussion 18 months ago and, born out of an already developed relationship with Tom Bedell, T.O.H, founder. This is not a case of a "brand" acquisition but the builder's process and philosophy along with it. Weber hopes to continue the evolution of product and dealer network finely honed and developed over the last 15 years and economize with the merged building strengths of both facilities. He looks forward to spending more time tinkering with new ideas and stepping back to supervise and invent, rather than dictate and administrate. He feels the current team is strong enough to continue on with larger, better financed facilities in the Bend Oregon community, which already has a strong woodworking culture.
Weber has a solid concept of how the line is woven together, mandolin, mandola, octave mandolin, and now a limited selection of the new soprano models are all available in most of the unique designs, Gallatin, Yellowstone, Big Horn, A-body, etc. The intent is to continue to develop these and future variations over time, growing rather than just handing off the existing offerings.
Our hope is Weber strengthening a struggling guitar company (Breedlove) that never developed the full potential of its own innovation in mandolin building. He's already used the last fifteen years to demonstrate he is capable of starting a company. We're eager to see over the next few years how this is done with one that has certainly needed help.
Previous article: Two Old Hippies to absorb Weber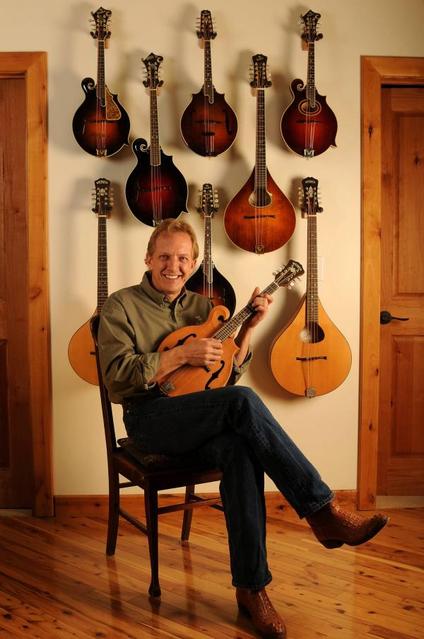 Posted by Ted at 6:15 AM

November 9, 2012 | Two Old Hippies to absorb Weber
From the Mandolin Cafe News pages, "Bend, Ore. Two Old Hippies, LLC, American builder and designer of Breedlove and Bedell Guitars announce the addition of Weber Fine Acoustic Instruments to the Two Old Hippies team. Bruce Weber and Bruce Weber Jr. are official Co-Hippies and will continue to design, build and promote exquisite Weber instruments."
Further: Weber Fine Acoustic Instruments Joins Two Old Hippies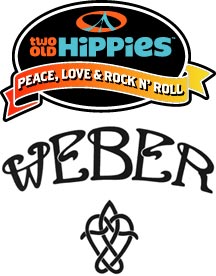 You can read the details in the corporate release yourself. We've enjoyed our many year relationship with Bruce and Mary Weber, but we'll confess apprehension about the future of the legendary line. Two Old Hippies. LLC, AKA "Bedell Guitars" has had a less than stellar track record handling the Breedlove acquisition, leaving their mandolin line on the backburner for the last three years in darkness and anemic communication. Little new or innovative in Kim Breedlove's cutting edge design, squandered marketing and artist resources, sparse supply of instruments to the Breedlove dealer base, we're short seeing this is a positive move for the one of the last bastions of premier American mandolin scale production, Weber Fine Acoustic Instruments.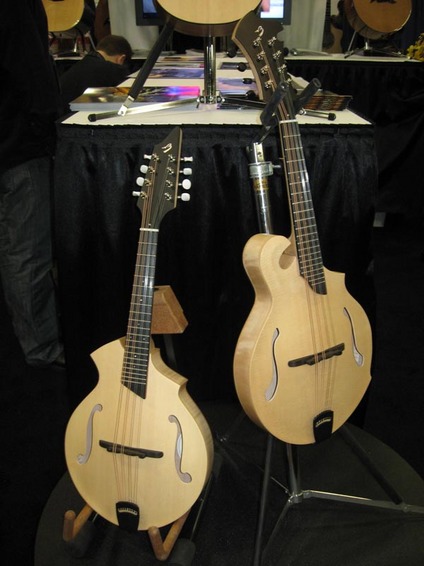 2011 Winter NAMM Breedlove booth
In the 90s, following the exodus of Flatiron craftsmanship with its acquisition by Gibson Guitars in 1997, Bruce and Mary did the unthinkable, moved back west and boldly started from the ground up, an iconic American mandolin line that has not only survived but thrived magnificently in the face of offshore competitive forces in production. A testament to the instruments' global popularity, anything you'd order from Weber currently would be a six month plus wait from its Montana headquarters.
We're saddened to presage the dissipation of one of our favorite brands but wish the Weber family the best. In the Golden Age of mandolin building, we're grateful for what they've contributed to the mandolin world the last decade and a half.
Read past articles:
Weber Factory Tour
Weber Mandola
Design a Weber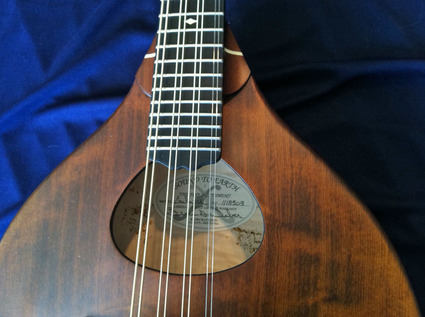 Posted by Ted at 5:51 AM

November 7, 2012 | JazzMando Facebook Page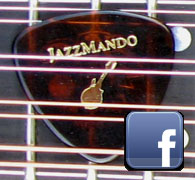 We've reached a milestone with our JazzMando Facebook Page recently surpassing the 500 mark. Assuming we don't alienate any of the current list with bad jokes or political commentary, we hope to hold our ground continue to reach our fan base through Facebook and our Twitter followers with news, recaps, a captivating video or pictures.
We're committed to a news item every other day here and of course our weekly (Thursday) Tips and Tricks article where we go a little more in depth. Our tweets and posts are a little more frequent, and of course you have the chance to weigh in with your thoughts there, too.
Join us. Tell a friend!
JazzMando Facebook page
JazzMando Twitter account

Posted by Ted at 4:52 AM

November 5, 2012 | Postal classification change
It seems crazy, but we just received official notice from the US Postal Service we can no longer ship out our small pick orders at the cheaper "Large Envelope" rate. We've had to increase the price of a 4 pick order from $5.95 to $6.45. With the postal charge, envelope, and PayPal transaction free, over half the price you pay is just getting an order to your mailbox.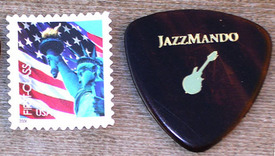 Keep in mind when you order a cloth or set of strings, we usually throw in a free sample pick, and you can always take advantage of the economy of scale and get larger orders.
We're doing everything we can to get you our merchandise as efficiently and inexpensively as possible. Thanks for your understanding.
Visit the JazzMando Merchandise Center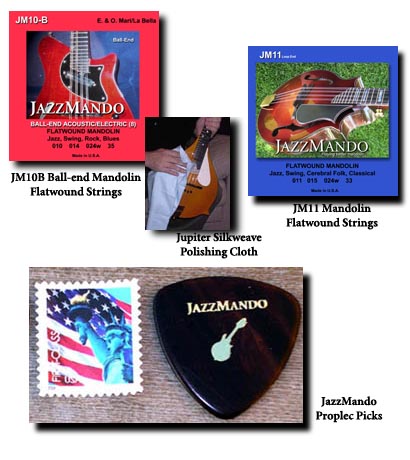 .
Posted by Ted at 5:35 AM

November 3, 2012 | Pinkham Family Benefit
We've been friends and a fan of mandolin virtuoso Josh Pinkham for nearly a decade. The young musician hails from premium musician stock. His parents Jeff and Terry are first rate musicians known well throughout Florida and the lower eastern US coast. One of our favorite recordings was recorded by the family a few years ago, penned by Jeff and performed marvelously by the trio known as the Pinkham Family Band.
We were saddened to hear that Jeff was recently diagnosed with Stage 4 throat cancer. Former bandmate and lifelong friend Mike Marshall, David Grisman and other greats are doing a benefit concert in Tampa, Florida on November 12.
More information: Benefit for Jeff Pinkham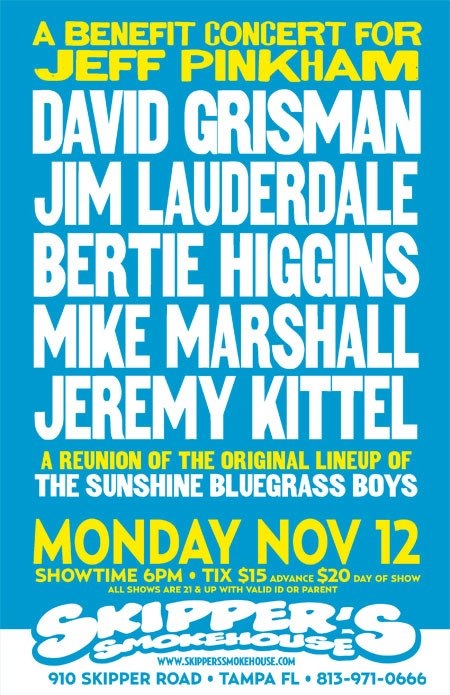 WITH: David Grisman, Jim Lauderdale, Bertie Higgins, Sam Grisman, Josh Pinkham, Mike's original Sunshine Bluegrass Boys band and many many more.
Can't make the show but want to help out? Donate via PayPal Link to Jpmusic@tampabay.rr.com or snailmail to:
Jeff Pinkham
P O box 914
Odessa, Fl. 33556
Posted by Ted at 5:20 AM