« Minor 7th chord stream wrap up | Main | Black Friday Mel Bay Special! 30% off & Free Shipping »

November 21, 2012 | Don Julin: Vibe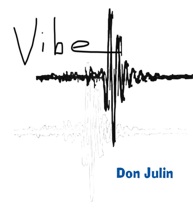 Though we've advocated the potential for mandolin in the jazz world on this site for over a decade, sadly it seems there are only a handful of high profile mandolinists with the chops (pun intended) capable of pulling it off at the prominence of the national stage. The swing rhythm is different than any other bluegrass or folk rhythm, the phrasing and articulations more string fundamental and tone-centric, and don't even get started talking the harmonic complexity. It's hard for the amateur to avoid the saccharin temptations riddling their improve with the easy Pentatonic riff, even the best of them fall into that trap too often.
More often than not, it can boil down to the literature itself, and Don Julin's most recent contribution to the jazz mandolin world, "Vibe" is a collection of some of the best jazz standards penned. Hard to go wrong with Ellington, Monk, Vernon Duke, Miles Davis, it's the tunes themselves that can summon up the playing chutzpah. Surrounded by a competent traditional trio rhythm section, including the return of guitarist Ron Getz (Mr. Natural), the quartet swings hard and gives Julin the space he needs to breathe and channel the 20th century's legends.
Don includes a few of his signature sidetrip interpretational departures, a jazz waltz version of "Prelude to a Kiss," a Latin rendition of Bronslau Kaper's "Invitation," and a swing ballad version of "Autumn in New York," he blends smartly just the right amount of something old, something new to tease the palate. The whole project is a pleasant jazz acoustic string jazz journey.
Of course, we have the additional benefits of Julin the educator, widely sought for his teaching skills, he's capable of "duplicating" himself through his Skype lessons, highly in-demand workshops, and of course is recent foray into the publishing world, Mandolin for Dummies, which promise to be a go-to resource for anyone wanting to uncover the secrets of the mandolin--for generations.
You'll surely enjoy the music on the CD, but we suggest you get this for something even more, the chance to hear how it's done.
Tracks:
Birk's Works
Prelude to a Kiss
Straight No Chaser
Vibe
Doxy
Invitation
Autumn in New York
Blue Monk
Blue in Green
Purchase information:
Download: Don Julin: Vibe
CD direct from artist
Posted by Ted at November 21, 2012 4:53 AM