« Postal classification change | Main | Two Old Hippies to absorb Weber »

November 7, 2012 | JazzMando Facebook Page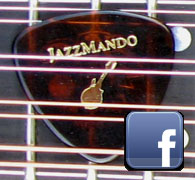 We've reached a milestone with our JazzMando Facebook Page recently surpassing the 500 mark. Assuming we don't alienate any of the current list with bad jokes or political commentary, we hope to hold our ground continue to reach our fan base through Facebook and our Twitter followers with news, recaps, a captivating video or pictures.
We're committed to a news item every other day here and of course our weekly (Thursday) Tips and Tricks article where we go a little more in depth. Our tweets and posts are a little more frequent, and of course you have the chance to weigh in with your thoughts there, too.
Join us. Tell a friend!
JazzMando Facebook page
JazzMando Twitter account

Posted by Ted at November 7, 2012 4:52 AM