« Bobelock cases available | Main | Postal classification change »

November 3, 2012 | Pinkham Family Benefit
We've been friends and a fan of mandolin virtuoso Josh Pinkham for nearly a decade. The young musician hails from premium musician stock. His parents Jeff and Terry are first rate musicians known well throughout Florida and the lower eastern US coast. One of our favorite recordings was recorded by the family a few years ago, penned by Jeff and performed marvelously by the trio known as the Pinkham Family Band.
We were saddened to hear that Jeff was recently diagnosed with Stage 4 throat cancer. Former bandmate and lifelong friend Mike Marshall, David Grisman and other greats are doing a benefit concert in Tampa, Florida on November 12.
More information: Benefit for Jeff Pinkham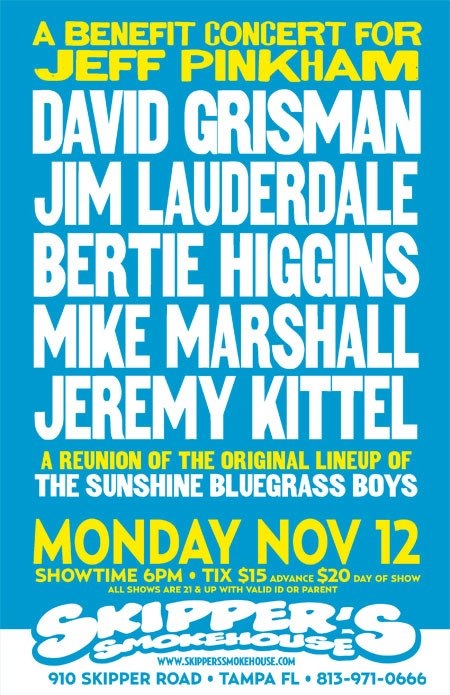 WITH: David Grisman, Jim Lauderdale, Bertie Higgins, Sam Grisman, Josh Pinkham, Mike's original Sunshine Bluegrass Boys band and many many more.
Can't make the show but want to help out? Donate via PayPal Link to Jpmusic@tampabay.rr.com or snailmail to:
Jeff Pinkham
P O box 914
Odessa, Fl. 33556
Posted by Ted at November 3, 2012 5:20 AM