« Tenor Guitar History | Main | Aebersold on iTunes »

November 27, 2012 | Peter Ostroushko; "The Mando Chronicles"
One of most ambitious, comprehensive mandolin centered projects tackled in a while is the newly released 3-CD compilation of folk, classical and world music, The Mando Chronicles recorded by midwestern string virtuoso Peter Ostroushko. If you've ever been graced by the music of the weekly American Public Media radio presentation of the popular host Garrison Keillor's "Prairie Home Companion" based out of the mandolinist's home state of Minnesota, you've heard if not his name, his incredible playing. An unassuming package of facility and modesty, the American contemporary folk hero has done more for the cause of mandolin than many might be aware of through his touring and discography. This agglomeration of music is certainly a testament to that.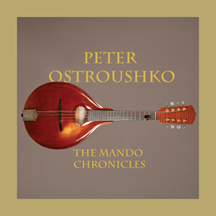 The three all-acoustic CDs contain four sections divided into Folk, Old World, Classical, and South American. As you would expect, the Americana includes Bluegrass (joined by Norman Blake!), but there's some ragtime and even a few cuts of mid-20th century jazz, with Texas Swing legend Johnny Gimble (recorded in Waco, TX). The Old World includes a healthy dose of Ukrainian from Ostorushko's own genealogical heritage, French Musette, Italian, and an array of Irish tunes. The Classical includes transcriptions of Bach, Vivaldi, Beethoven, an original tune, and the South American section four Brazilian Choros and a Puerto Rican waltz.
His arsenal of instruments are summarily oval hole, and appropriately so. Despite intense technical pick facility and the high timbre of the mandolin, his sound envelopes the soul rather than pierces, the sweetness of his tone relaxes and delights at the same time. Spurts of fret pyrotechnics are certainly there, but never at the risk of showing off. He always seems to have fun without showboating.
This is an important collection to acquire for any serious mandolin aficionado. Although the jazz selections are only a small section of the total 52 tracks, the gestalt of the project is an encyclopedia of mandolin past and potential worth absorbing. The student will learn, the more advanced player will be tickled.

Purchase information: Peter Ostroushko; "The Mando Chronicles"
Other recordings: Amazon's Peter Ostroushko Store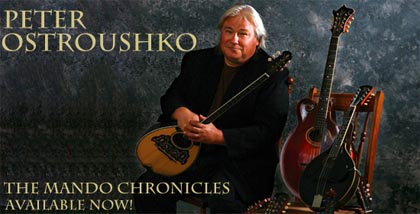 Biography: (Red House Records).
Posted by Ted at November 27, 2012 5:21 AM