« April 2011 | Main | June 2011 »

May 30, 2011 | Will Patton; Flow
We've just been privileged to an advance copy of Will Patton's CD "Flow," and no surprise, enchanted with the swing and ethnic rhythms and the contagious melodies of this masterpiece project. We've been expecting this for a couple years, and it's everything we could have expected and more.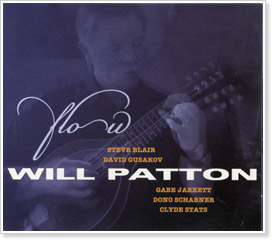 His fifth recording, Will takes us to some familiar Patton ensemble terrain, the hard driving four-beat-to-a-bar acoustic swing, some South American induced percussiveness, and a dab of French musette, but their is nothing tired about this. The inclusion of longtime musical friend, French jazz guitarist Nine Garcia is more Johnny Smith than Django Reinhardt in this recording, and we also have the sultry harmonica inclusion of Will Galson, and an almost country twang from the dobro folk stylings of Jim Pitman.
We also get welcome clarinet phrasings of daughter Anna Patton who continues to mature her own signature jazz sound. Violin (David Gusakov) and clarinet offer an enticing textural contrast to the plectral nature of Will's treasured vintage Gibson oval hole A mandolin. The majority of tracks are catchy original tunes, but the New Englander treats us to some terrific jazz standards like Cheesecake (Dexter Gordon), Bebop in Pastel (Sonny Stitt), and the Billy Strayhorn/Duke Ellington ballad waltz, Daydream.
Will jokingly confides, the entire project is "the latest salvo in my get rich slowly campaign. I kind of turned off the edit switch in my A&R deliberations (thus, partly, the title "flow,"). There's a bit of Cuban-Brasilian-French-Folkie-Bebop going on here."
We love it, delighted with the 5th installment in our personal Will Patton discography. You should, too.
Selections:
Cheesecake
Le Marais
Charanga
Waltz for Anna
Bebop in Pastel
Sampa
Big Dawg
Daydream
November
Caporal Swing
Read past reviews: 6th St. Runaround, String Theory.
Additional information:
Artist website
Purchase: Will Patton: Flow
Read our recent Mandolin Cafe artist interview: 10 Questions for Will Patton
Posted by Ted at 6:18 AM

May 28, 2011 | Nathan Chan, "The Swan"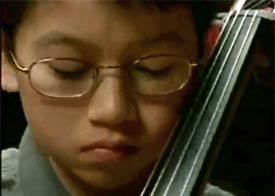 Sometimes we get so wrapped up in the mechanics of playing, we forget "to play."
We'd never undersell the pursuit of an in depth mastery of fundamentals and good mandolin technique, that's what we're for on the site, good tone, music theory basics, and effective practicing. Through it all though, we're here to make music.
Art.
The arpeggios, the FFcP, the m7b5 chords are nothing if they aren't used to ultimately express the soul.
This beautiful HBO video excerpt of young cellist Nathan Chan (11 at the time) does more to this notion than we could ever put into words.
Video link: Nathan Chan, cellist, plays The Swan by Camille Saint Saens
If you don't get a little teary eyed from Camille Saint Saens, check your pulse. You may well be dead...
Posted by Ted at 5:38 AM

May 26, 2011 | Strings, Picks, Polish Cloths, Books, before it's too late...
We're giving you the one week countdown warning for a JazzMando Merchandise shipment hiatus, June 1st. If you're at all on the fence about picking up a set of JM10B, JM11, or JD13 JazzMando strings, you'll want to move now as we won't be able to ship again until after June 14th. If we get your order by May 31st, you'll be able to avoid a two-week delay while the warehouse is shut down.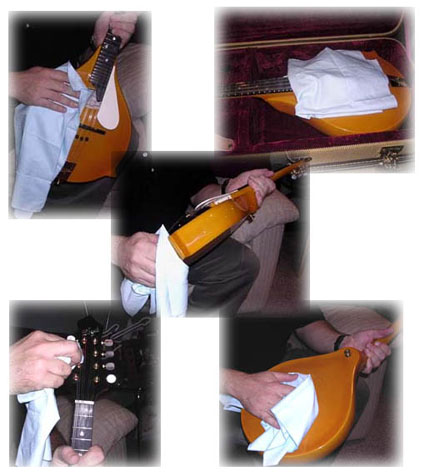 This is also last call on our 2nd for $1 polish cloth special, so if spring cleaning is on your list, you won't want to miss this opportunity to get two polish cloths shipped to you for only $6.25.
Support the JazzMando site and its free resources by shopping the JazzMando Merchandise Center today!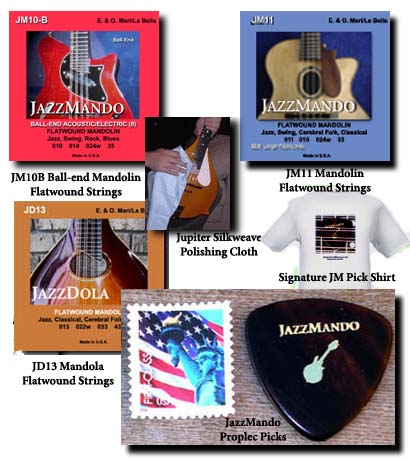 Posted by Ted at 6:01 AM

May 24, 2011 | On the way; Custom Jonathan Mann Baritone 5-string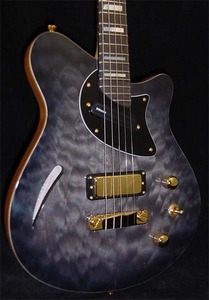 Heading for the JazzMando studio, a delicious 5-string electric bari-emando EM-5B (tuned GDAEB low to high) lovingly packed and on its way Tennessee emando specialist, Jonathan Mann. It's our second instrument from the in-demand craftsman, and what we anticipate, a wonderful new voice. The baritone register offers some dynamic harmonic register opportunities for jazz.
We look forward to an official review a few weeks after its arrival, but below are some of the photos to get us excited. Note custom bling upgrades, gold hardware, block inlay, and signature headstock truss rod cover.
Builder's website: Manndolins
Read past review: Jonathan Mann EM-5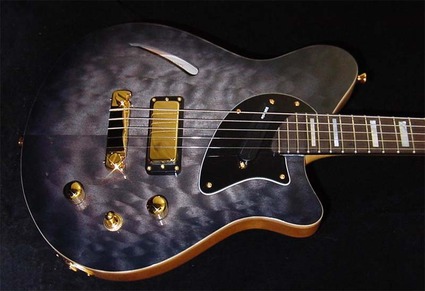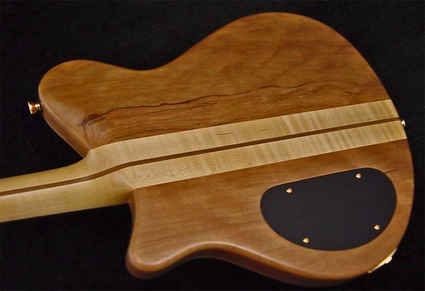 Check out Video Demo. Link: Mann EM-5B Octave/Baritone Electric Mandolin

Posted by Ted at 5:41 AM

May 22, 2011 | Ovation US mandolin. Not.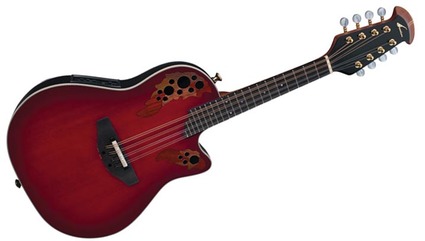 Kind of sad to see. The Ovation MM68 mandolin was not everybody's cup of tea, but we thought the USA made model was an incredibly great solution for the road warrior mandolinist, especially the guitar doubler. The instrument was easier to play, military tough, and plugged in, inarguably hard to beat sonically. They are no longer being produced in New Hartford, Connecticut at the old Ovation Headquarters. They aren't even US made, anymore.
We've just tried the new MM68AX import, and are majorly disappointed. These are pretty much on the level of the intermediate MCS148 Celebrity Series, now. The fretboard was in need of a set up out of the box, nut cut poorly and the ragged finish at the joint amateurish. At the lower street price under $800 new (list $1149), we really wanted to like it. Even the classic upper-bout sound hole exotic wood epaulets were lathered in Pac-rim gloss, and the overall sound was underwhelming. If you're expecting the quality of its legendary predecessor, you're in for a let down.
We don't like to be negative about products, so we'll turn this into a positive. If you can find a used US made MM68, buy it now before everyone finds out they aren't being made any more. The price on used ones just went up.
Bummer.
Website: The New Ovation MM68 AX

Posted by Ted at 5:33 AM

May 20, 2011 | Susie Brown and a JBovier electric mandolin
JaneDear Girls' multi-instrumentalist Susie Brown has elected to swing a special edition red JBovier EMC mandocaster available from the JBovier Custom Shop. We look forward to releasing promotional shots once they've been authorized. We were privileged to be in on the genesis of this terrific line of electric mandolins, offering some consulting work on some of the initial prototypes.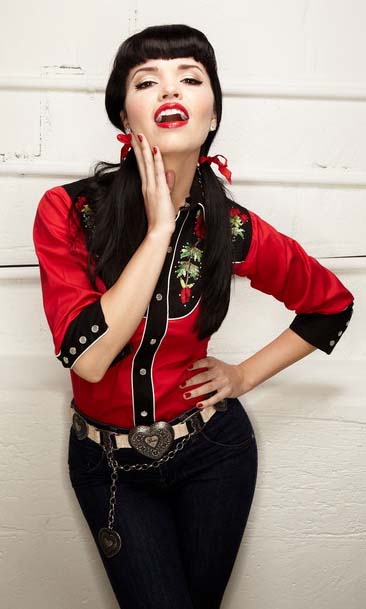 We highly recommend bypassing the JBovier dealer network and getting a special color or special configuration and personalized attention at the JBovier Custom Shop.
Read reviews: JBovier emando.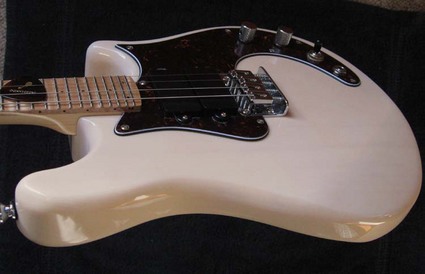 Visit: JBovier Custom Shop mandolins


Posted by Ted at 5:29 AM

May 18, 2011 | Ted Falcon "Jambrosia"
Good tunes bear harmonic sophistication, but carry with them a strong melody that is portable, easily transported infectiously in the head for hours, if not days. Such is the case with the fresh new instrumental material on Ted Falcon's latest incarnation, his Brazil based ensemble, Jambrosia which features a delicious combination of instruments and talented indigenous personnel, B3 Organ, electric and acoustic guitars, percussion, and of course Falcon on violin and bandolim. The self-titled album is strong with an almost earworm linearity, spiced with a sparkling juxtaposition of traditional acoustic textures and progressive rock energies.
We first hooked up with the artist in the Los Angeles Choro Ensemble after the violinist's rapid mastery and adaptation of the bandolim. Not too long after, he recorded "Memories of Brazil" an homage to a rich tradition of Choro past which featured the classic compositions of Brazilian masters Ernesto Nazereth, Waldir Azevedo, Nelson Aves, Pixinguinha, and of course the legendary Jacob do Bandolim. Spreading his wings musically, he teamed up with harmonica wizard, Pablo Fagundes and injected a soulful, bluesier edge to the South American sound with a follow-up project, "Transcontinental Music Express." Jambrosia is a step further in to a progressive jazz/rock journey, yet he remains true to his keen sense of melody and form.
The opening track "Across the Red Sky" is his most overt bandolim statement, more percussively chordal than the rest of the songs, partly because of the plectral nature instrument itself, but more because he's just so stellar lyrically with the violin on the other tracks. He possesses a wind instrumentalist's sense of line, breathing and phrasing sentences into his smart but expressive compositions. The haunting rhapsodical quality of the final track, "Fallen Towers" is a personal favorite. This is a CD you'll want to have in your library, one you'll want to come back to even years from now and enjoy.
Highly recommended!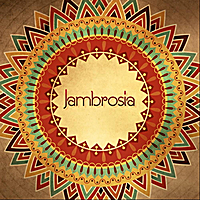 Purchase CD: Jambrosia
Tracks:
Across the Red Sky
Brooklyn Blues
Tsu Gua
White Sands
Got off Easy
Horizons
Maksum Breakdown
Sarava, Saravah!
Go on with your Bad Self
Fallen Towers
Ted Falcon e Jambrosia - MiniDoc - 061UHA from UHAvideo on Vimeo.
Previous Reviews:
Ted & Pablo, Transcontinental Music Express
Memórias do Brasil

Posted by Ted at 5:00 AM

May 16, 2011 | Looking back: What the Pros say about Good Tone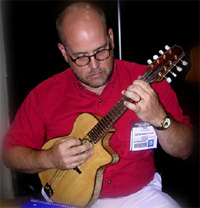 Back in early 2007, we had the privilege of interviewing some of the industry experts on mandolin tone for a Mandolin Sessions article. It was the first of a two part series, and we harvested some really great ideas from the likes of Paul Glasse, Will Patton, Mike Marshall, Emory Lester, Don Stiernberg, John Reischman, Jamie Maisefield, Michael Lampert, and even the Dawg himself, David Grisman.
It was a treat picking the brains of these guys, and if you have a spare 20 minutes, you might get a lot out of this, too. Check out, Thinking Good Tone Part 1--What the Pros say about Good Tone, and if you've got a little more time, the follow up article to the series, Part 2, thoughts from Evan Marshall.
Read:
What the Pros say about Good Tone.
Using the picking hand to start Good Tone.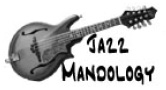 Posted by Ted at 5:59 AM

May 14, 2011 | "Peaches en Regalia" on Electric Mandolin (Guitarra Baiana)
Our third installment from our friend and guitarro baiana speciallist from Rio de Janeiro Marcos Moletta, this terrific interpretation of the Frank Zappa classic, "Peaches en Regalia." We first ran across the electric artist in May of last year, and again in January of this year with his 14 minute tour of his amazing instrument.
Marcos weighs in: "This instrument is, in fact, a GUITARRA BAIANA, the brazilian 5 string solidbody electric mandolin created in the mid 40's by Dodo & Osmar, from Bahia, Brazil. This Flying V shape model was named VALKYRIA, and is custom made for me by Bahian luthier FABIO BATANJ."
He has also weighed in kindly on the benefits of personal study of our FFcP exercises. We always love hearing from artists who have benefited from these, especially in other parts of the globe.
And love the tone on that white Flying V!
View video link: "Peaches en Regalia" on Electric Mandolin

Artist MySpace Page: Marcos Moletta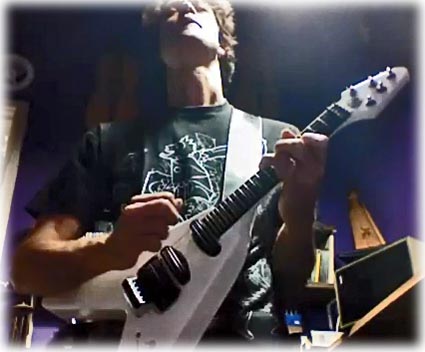 Posted by Ted at 5:06 AM

May 12, 2011 | Lawrence Smart Tuxedo 2-point
Once in a while you run across an instrument that hits you in the gut. Intellectually, you conclude the features, the pedigree, even the overall aesthetics are sound, but it's not just the head that draws the conclusion that a mandolin warrants raving, sometimes it's the heart. Such is the case with an exceptional axe brought to our attention by our friend Chip Booth, who actually owns a Lawrence Smart 10-string fanned fret. He shared with us some gorgeous shots of what he refers to as a signature "Tuxedo 2-point."
We did a hands-on review a couple winters ago on a Smart A-body 10-string, and it was exquisite. He and Chip have work out some stunning aesthetics of an instrument destined to be a showcase classic. We thought in addition to the drool-worthy pics, we would add some of the correspondence and comments about the process from Chip, himself.
It's our understanding the unit is still for sale by the builder. Click on the Smart Instruments link near the bottom if you're interested.
Enjoy!
Lawrence Smart and I have been friends and bandmates for some time, and this is the second instrument we have collaborated on. The first was the 10-string fanned fret mandolin that I eventually purchased. When he found himself in a position to build an instrument in this batch without a buyer he asked me if I would like to help design it. I have always loved the look of 2-point mandolins, especially the L&H offset design. I suggested we go with this body style, without a clear plan at first. Lawrence agreed, and he picked some maple for the back and sides that he especially likes to work with (sorry, I don't know the variety). It isn't the most figured wood, but he thinks highly of it, and describes it as "creamy" to work with. It is from the same board my 10-string is made from, and that turned out amazingly well. He also suggested a lightweight piece of Englemann spruce that he had been wanting to use. Lawrence uses locally cut Englemann with X-bracing almost exclusively. As basic work on the instrument progressed we discussed who would want to play a 2-point mandolin. Jazz players came to mind for both of us, so we went in that direction.

When it came time to carve the top I assumed Lawrence would carve it with some very specific tonal idea in mind. He understands these things far more than he lets on, but what amazed me was how much it appeared he let the wood "decide" how it would be carved. He carved a little, tapped, scraped and listened, and let me try it, until the wood came alive. The difference was obvious, even to me, when the wood reached some shape or weight that allowed it to vibrate freely. From there he honed it with tiny changes until he found just what he was looking for. He measured and recorded the end results, but never seemed to assume there should be a specific result, rather he let each piece of wood come alive in the way that best suited it. We chose S holes rather than F holes to move towards a slightly more modern design without straying too far from tradition.
Once the body was assembled I made some final decisions about the aesthetics, such as binding, inlay, and a general idea of the finish. I asked for block inlay on the neck specifically. In my opinion nothing says jazz like block inlay. I also had the good fortune to recently play a wonderful torch and wire F style mandolin with block inlay built by our friend Fletcher Brock, who is also a local builder. I never realized how hard it is to see fret dots on a mandolin until I played his mandolin with the large block inlay. Instantly I felt more comfortable playing up the neck. I find the inlay just as useful on this instrument. Lawrence used his own art deco inspired design for the headstock inlay, which perfectly suits the style of the instrument.

My first instinct was to go for a dark brown sunburst, but as the mandolin neared completion we began to refer to it as the "tuxedo" mandolin. Lawrence was making a black-top 10-string at the same time, so at the last minute we decided to go with black for the two point as well to complete the tuxedo look. I suggested if we go black on the top we should make the back and sides very light. We spent a morning playing with stain and creating a series of five custom colors which Lawrence hand rubbed to create the sunburst. It is a unique color scheme that feels reasonably traditional but isn't clearly reminiscent of anything in particular. As a final treatment to the finish I ask Lawrence to try a technique that he had mentioned to me he occasionally used. It dulls the gloss of the French polish, making the mandolin appear a little bit more "vintage", like the finish is older, but without being distressed. The difference is subtle, the effect is nowhere near satin, but it really compliments Lawrence's very organic, handmade aesthetic, and I feel especially compliments the black top. (And boy does it make it easier to photograph!)

Lawrence custom designed the ebony pickguard at my suggestion to compliment the triangle shape of the headstock inlay and continue the deco motif.
So, how does it sound? The low end is smooth and present but not overwhelming. You can hear and feel the wood, but it doesn't get in the way. The low end continues to develop as it has only been strung for a week, but I suspect this mandolin will never be considered bassy. The high end is sweet and clear, the strings really ring out, and it has wonderful note separation. Combined with an unusual amount of sustain for an F hole instrument, the tone is well suited to jazz playing. Extended chords ring clearly without unwanted modulation, even though the mandolin has plenty of overtones. I believe this is because the overall voicing of the instrument is fairly high. Not thin, rather a bright, cutting note that can be easily distinguished in an ensemble. Though he word "bright" is seldom used when describing ideal jazz tones in this case it is a clear advantage as the most potentially dissonant note can be heard clearly without the mushiness that a low mid heavy instrument can create. There is plenty of volume and dynamic range. No matter how hard I hit the mandolin it responds well and doesn't overdrive, and it sounds full and clear when played softly.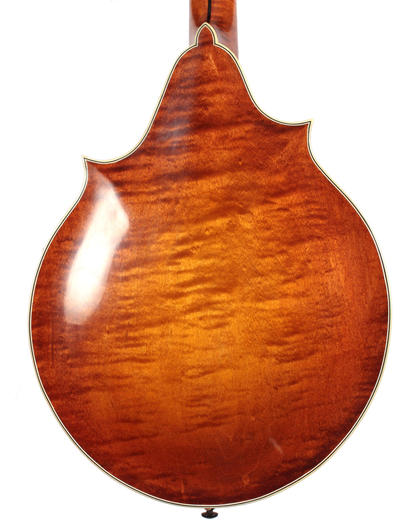 The custom specifications include:



Two point L&H inspired body


Light weight Engelmann spruce top


X-bracing


One piece maple back


3-piece maple neck with black stripe


Radiused ebony fingerboard


Hand applied varnish/French polish finish with final treatment to knock down the gloss


L Smart Design "mountain" headstock


L Smart designed deco style headstock inlay


Black top


custom amber burst back and sides


white-black-white double binding (top and sides)


pearl block inlay


S holes


silver hardware with ebony tuner buttons


ebony pickguard, shape inspired by headstock inlay



Read past review: Lawrence Smart10-string Mandolin
Builder's website: Smart Instruments
Chip Booth's website: Chuck Moose

Posted by Ted at 5:49 AM




May 10, 2011 | Planet Waves Headstock Tuner Sale!
We first mentioned the Planet Waves PW-CT-10 Chromatic Headstock Tuner back in February of 2009, and at the time it was a pretty good value, with a street price around $30. Since being challenged by competitive products like the Snark, Intelli-Touch, and import knock-offs, its shine was somewhat diminished. Around the first of the year, D'addario dropped the retail price, and we've found them available for half that price, at a crazy $14.95.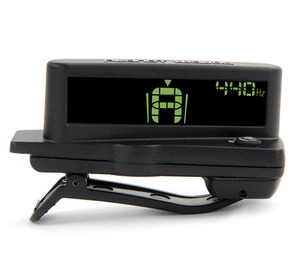 What we like:
Low mass, the unit's stealth fitting lies unobtrusively on the edge of the headstock but it's easy-to-read LED face shows a virtual needle that glows red left and right, until you've centered the pitch and POP!, the readout turns green, visible at almost any angle. We've returned to the tuner as a personal favorite.
Purchase: PW-CT-10 Chromatic Headstock Tuner
Video Demo Link: Planet Waves Headstock Tuner Demo

Posted by Ted at 5:48 AM

May 8, 2011 | Metronomes "listen" to each other
Video Link: Synchronization of Metronomes

"Five metronomes are set to 176 bpm and placed on a Foam Core board. When empty cans are placed underneath, the board is free to move from side to side and the metronomes are able to influence each other into synchronization. When the cans are removed the metronomes are no longer physically coupled and some of them begin to fall out of step."
It's not only a cool thing to observe from a sheer Physics perspective, there's a lot a musician can glean from this experiment. With the right amount of "space," the Taktell Super Mini mechanical metronomes are able to listen to each other. This is not unlike musicians in an ensemble. When you take care to listen to the musician next to you, conscious or subconsciously, things tend to synchronize no matter where they start. When they don't, strict time drifts.
Interesting to see this played out graphically like this!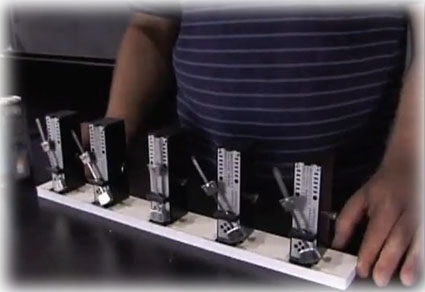 Save 60% and purchase a metronome from one of our sponsors: Seiko SQ50
Only $17.95!
Posted by Ted at 5:56 AM

May 6, 2011 | The Situation
As policy, we usually try to remain apolitical in our reporting, but we ran across this interesting pre-press photo of "The Situation," and could hardly resist passing it on. It wouldn't be the first time the White House security staff could be caught in a jam.
Who knew?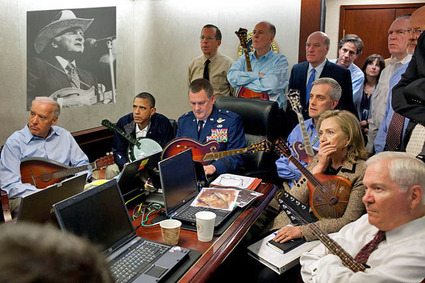 You can write your own caption.
Posted by Ted at 5:33 AM

May 4, 2011 | Double bonus at Mel Bay Publications
Double bonus! Right now they are giving 20% off over at www.melbay.com, plus free USPS media mail shipping! Use promotional code MBFF20 to cash in on all the goodness!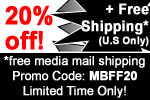 Mel Bay Publishing has been specializing in books for learning guitar, mandolin, banjo, flute, jazz, tinwhistle, dulcimer, guitar lesson, music books, flamenco, banjo, harmonica, recorder, and a variety of untold other instruments since it started publishing the signature Mel Bay guitar method in 1947 and teaching the whole world how to play guitar. If you want to expand your skills or broaden your appreciation for Choro, Celtic, Classical, Bluegrass, or Swing, there's a huge choice of books not only in paper but ebook format. Some of our favorite authors are there, Mike Marshall, John McGann, Joe Carr, Chris Thile, Jethro Burns, and many more are there.
Load up your cyber shopping cart now, sale is available for a limited time.
Shop mandolin: Mel Bay Publications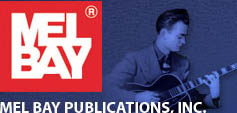 Posted by Ted at 5:26 AM

May 2, 2011 | Builders of the 21st Century
It can easily be claimed we are living in a Golden Age of building. The rapid exchange and communication of artisan improvements and new technologies and a global access to the fruits of labor of some talented craftsmen through cyber communication and shipping resources have made some incredible instruments available to and from all corners of the world.
We're excited to bring hands-on reviews to our readership. Over thirty instruments have been through the JazzMando lab for intense scrutiny. It's a rough job, but somebody's got to to it.
We've taken pictures and expressed our thoughts on some great instruments from small and large builders, some you know, but many may have gone under your radar. Take a few moments to get caught up on our builder reviews. You might find something to stir you up a little!
Brian Lock, JBovier, Lawrence Smart, JL Smith, David Cohen, Eastman/Giacomel, Austin Clark, Walt Kuhlman, Jason Harshbarger, Orien MacDonald, Andrew Mowry, New Millennium Acoustic Design, Century Strings, Ben Wilcox, James Condino, Tercio Ribeiro, Bill Bussmann, Pete Langdell, Dale Ludewig, Paul Lestock, Rolfe Gerhardt, Jonathan Mann, Michael Lewis, Keith Carey, Dave Wendler
Visit: Builders of the 21st Century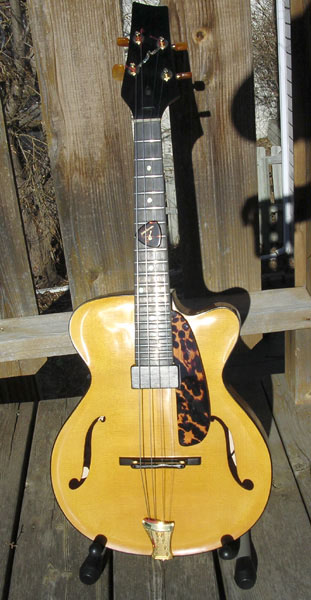 Bill Bussmann "Solocomp JM" 4-string mandola
Posted by Ted at 6:15 AM