« Builders of the 21st Century | Main | The Situation »

May 4, 2011 | Double bonus at Mel Bay Publications
Double bonus! Right now they are giving 20% off over at www.melbay.com, plus free USPS media mail shipping! Use promotional code MBFF20 to cash in on all the goodness!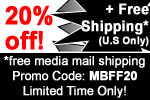 Mel Bay Publishing has been specializing in books for learning guitar, mandolin, banjo, flute, jazz, tinwhistle, dulcimer, guitar lesson, music books, flamenco, banjo, harmonica, recorder, and a variety of untold other instruments since it started publishing the signature Mel Bay guitar method in 1947 and teaching the whole world how to play guitar. If you want to expand your skills or broaden your appreciation for Choro, Celtic, Classical, Bluegrass, or Swing, there's a huge choice of books not only in paper but ebook format. Some of our favorite authors are there, Mike Marshall, John McGann, Joe Carr, Chris Thile, Jethro Burns, and many more are there.
Load up your cyber shopping cart now, sale is available for a limited time.
Shop mandolin: Mel Bay Publications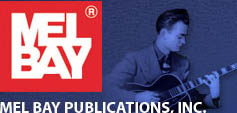 Posted by Ted at May 4, 2011 5:26 AM