« Cherokee; Jason Anick | Main | Double bonus at Mel Bay Publications »

May 2, 2011 | Builders of the 21st Century
It can easily be claimed we are living in a Golden Age of building. The rapid exchange and communication of artisan improvements and new technologies and a global access to the fruits of labor of some talented craftsmen through cyber communication and shipping resources have made some incredible instruments available to and from all corners of the world.
We're excited to bring hands-on reviews to our readership. Over thirty instruments have been through the JazzMando lab for intense scrutiny. It's a rough job, but somebody's got to to it.
We've taken pictures and expressed our thoughts on some great instruments from small and large builders, some you know, but many may have gone under your radar. Take a few moments to get caught up on our builder reviews. You might find something to stir you up a little!
Brian Lock, JBovier, Lawrence Smart, JL Smith, David Cohen, Eastman/Giacomel, Austin Clark, Walt Kuhlman, Jason Harshbarger, Orien MacDonald, Andrew Mowry, New Millennium Acoustic Design, Century Strings, Ben Wilcox, James Condino, Tercio Ribeiro, Bill Bussmann, Pete Langdell, Dale Ludewig, Paul Lestock, Rolfe Gerhardt, Jonathan Mann, Michael Lewis, Keith Carey, Dave Wendler
Visit: Builders of the 21st Century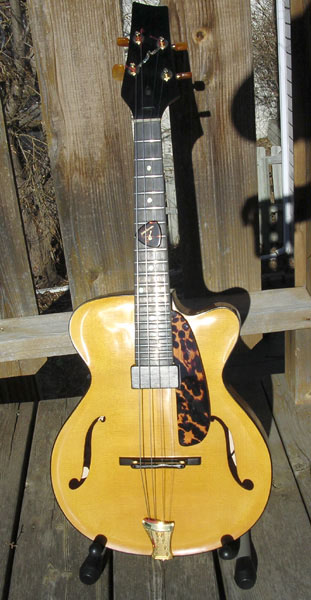 Bill Bussmann "Solocomp JM" 4-string mandola
Posted by Ted at May 2, 2011 6:15 AM