« March 2011 | Main | May 2011 »

April 30, 2011 | Cherokee; Jason Anick
Another audio treat from new JazzMando fave, Jason Anick in a fiery rendition of the classic, "Cherokee." The young John Jorgenson Quintet sideman swing fiddle specialist (and band leader in his own right!) tears up the frets on this informal video clip. Jason masterfully balances an adept knowledge of music theory with an endless pit of licks and tricks. It really is a thrill watching him explore the extremes of the Saga electric mandolin fingerboard.
Pick up his latest CD, "Sleepless," one of the best releases of 2011, or catch him at the 2011 Django in June, June 14-19:
Buy CD: Jason Anick; Sleepless
2011 Django in June information
Video link: Jason Anick; Cherokee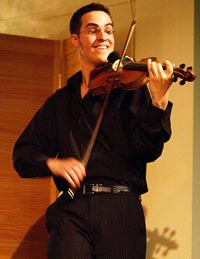 Posted by Ted at 5:28 AM

April 26, 2011 | 10 Questions for Will Patton
We were privileged recently with an opportunity to administrate an interview with JazzMando legend, Will Patton in the Mandolin Cafe "Questions" series. The multi-instrumentalist performer, bandleader, composer, and clinician registers very high on our list of contemporary jazz mandolin influences and justifiably so. In addition to frequent email correspondence, we've been able to meet in person several times in Austin, Texas and Burlington, Vermont, including an enlightening workshop.
On the verge of releasing his fifth CD (we can't wait!), his music is in frequent rotation (even his earlier classics) around the JazzMando studios. His songs are both infectious and contagious, it's simply impossible not to like. Now you get a chance to get a little inspiration and information directly from the man himself.
Enjoy!
Read Interview: 10 Questions for Will Patton
Add your comment (requires MC registration): Forum
Posted by Ted at 5:34 AM

April 24, 2011 | Aaron Weinstein; New York Times review!
Congratulations to JazzMando friend, Aaron Weinstein for a rave New York Times review from his recent "Have Strings, Will Swing" show along wih cabaret pianist Tedd Firth and bassist Tom Hubbard, featuring both his legendary swing violin prowess and his mandolin chops.
From the article, "The up-and-coming jazz violinist Aaron Weinstein has two secret weapons. One is a mandolin that he brings out in the middle of a set to change the mood and on which he plays meticulously sculptured arrangements with a sweet plinkety-plink verve. The other is a deadpan sense of humor that he sneaks into his patter."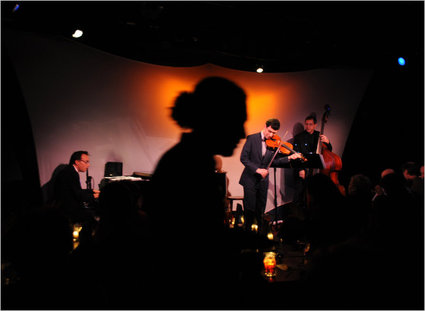 Jennifer S. Altman for The New York Times

Read article: Making Standards Swing, With a Wink for Jack Benny
Our Mandolin Cafe interview: 10 Questions for Aaron Weinstein
Posted by Ted at 8:17 AM

April 22, 2011 | In the loop. Digitech JamMan.
Those of you familiar with a "Loop" effects box already know the compositional potential of being able to layer excerpts of you playing on top of other excerpts. Some musicians are quite adept at creating their own "one man show," as in the case of guitar legend, Phil Keaggy. We've embedded the video below to give you a taste of this piece of equipment's vast potential. This is truly creativity squared!
Video Link: Phil Keaggy "Salvation Army Band"


---



FOR SALE


If you're looking for a deal, we have a brand spanking new Digitech "JamMan" looper still in the box. This was purchased with good intentions to use it (store price tag is still on the product), but after a year hiding on the shelf, it's time to give it a good home. Though the unit has been discontinued, we have a better than eBay price if you'd like to take it off our hands. $195, including domestic shipping, first-come, first-served.

UPDATE: Pedal has been sold.

Posted by Ted at 5:32 AM




April 20, 2011 | Classifieds find: Rigel R-200
We've been perennially consistent about our fondness for the Rigel R-200 mandola, especially now that our own 10-string "Fandola" project, in its previous life a Vintage Creme R-200 is now a mainstay around the JazzMando studio and local stage. See article. A good friend of ours, Travis Finch has recently listed his personal ax in the Mandolin Cafe Classifieds, and if you're looking for a real steal, at only $2800 shipped, this is it. Though the instrument is currently in the UK, the seller is used to dealing with international shipping. We can testify to personal experience.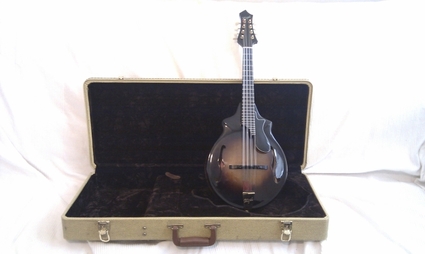 See ad: Rigel R-200
Read JazzMando review: Rigel R-200 Mandola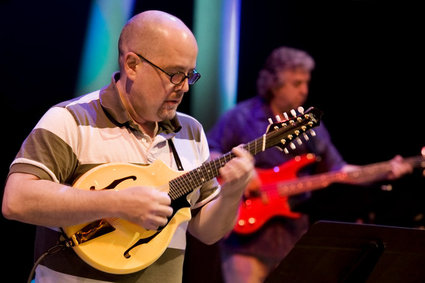 Posted by Ted at 5:57 AM

April 18, 2011 | Steve Mugglin Progression Map
We've explored the concepts of Tonic, Dominant, and Dominant Preparation as the most basic of components of Western European music. These simple labels are key to understanding how music moves, functions, energizes, and rests. We've come across the efforts of Steve Mugglin and his efforts at Mugglinworks.com to map and codify some of these as they apply to songwriting.
The chart is a little intimidating, unless you've take time to unravel the basic 'ii V7 I' progression for yourself. Note he uses the common Roman numeral system, and expands to other chords, mapping out potential movement within these members. (Hints: Trace the movement of the arrows and move backwards. Blue objects are points of rest, green either set up or move toward the green.)
We think this is brilliant.
Talk amongst yourselves...

More from Steve Mugglin
Read MandolinSessions article, Understanding the 'ii V7 I' Progression
Read JazzMando article, Jazz Primer: Harmonic Function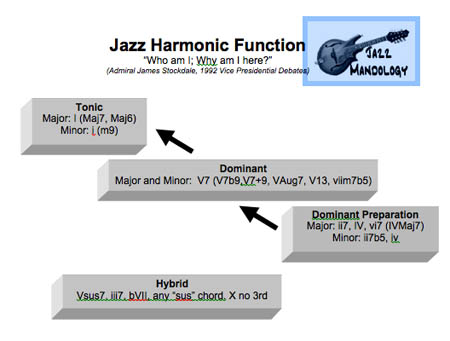 Posted by Ted at 5:50 AM

April 16, 2011 | Shelby Eicher; Moonlight in Vermont
We were introduced to the brilliant jazz fret work of Oklahoma educator and National Hall of Fame fiddler Shelby Eicher a few years ago. The former Roy Clark sideman's hollow-body 4-string mandola/short scale tenor guitar generates some real magic in the fingers of the Western Swingmaster. This rendition of the 1943 Blackburn/Suessdor song (made popular by the frets by the legendary guitarist Johnny Smith in 1952) flows perfectly out of the wood and strings of Eicher's instrument. (Tuned CGDA)
Enjoy!
Video link: Shelby Eicher; Moonlight in Vermont

Download TAB version:

Moonlight in Vermont PDF.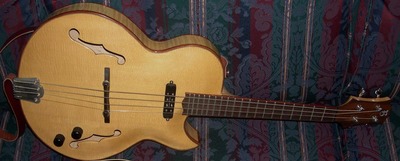 Posted by Ted at 5:46 AM

April 14, 2011 | Emando solutions: Flatwound strings
The morning's delivery of a fresh box of ball-end JazzMando JM10B strings prompts us to remind all about the joys of flatwound strings on an electric mandolin. These are great for sending out the desired fundamentals of the instrument and minimizing the harsher, brittle qualities this instrument often packs. These strings are great for warming up your 8- or 4-string Mandobird or really, any custom builder's emando. There are eight strings to a pack so if you only need four, you've already got a backup set.
The polished custom flatwound Labella stings have a much closer, tighter wrap which resists corrosion and wear from oxidation and player perspiration (similar to the world renown Thomastiks). The steel alloy lends a crisp, subtle "punch" for a sophisticated bell-like definition, but for electrics they offer a balanced, warm fundamental you can build more penetration with your instrument or amp's tone controls. Player comfort from the smooth strings makes these feel as great as they sound!
Despite the ball-end, we don't recommend them for Ovation acoustic electrics simply because the silk wrapping at the ball end aren't effective on the Ovation pinless bridge. (Unfortunately, it crosses into the playing area over the saddle.)
We've been happy with them on our Mann, JBovier, and JL Smith emandos, and lots of customers have raved at how they warm the unusually shrill nature of the electric mandolin.
.010 plain .014 plain .024 wound .035 wound
Price $16.95 each or $29.95 for two, US domestic and Canada shipping included. We'll even throw in a JazzMando pick for you to try!
Purchase information: JM10B flatwound mandolin strings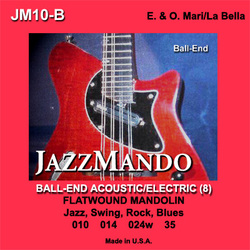 Posted by Ted at 9:29 AM

April 12, 2011 | New Weber Gallatin A body (f hole)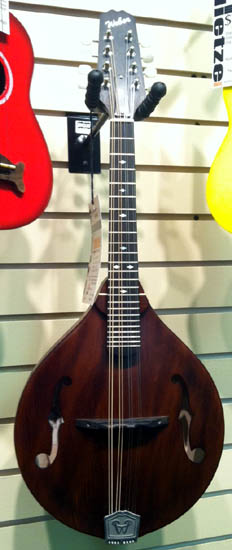 We've not put in a plug yet for new JazzMando sponsor Dietze Music located just a few miles from the JM Headquarters of Lincoln Nebraska. Now is a good time because included in their April Guitar Month promotion is this dandy looking Gallatin A body mandolin. Dealer agreements specifically restrict publishing the actual selling price online, but we'd like to suggest contacting them directly for this month's special, which according to our secret shoppers, sells lower than the retail price of $1599.
The camera really doesn't do the gorgeous faded leather finish justice. It's only been in the store for a month in the downtown Lincoln location, and there is a sister Gallatin A in the Omaha store, not pictured here but every bit as good. The frets are comfortable, sustain meaty and full, and capable of a wide dynamic range.
From the Sound to Earth website: "The wild Gallatin River is born in the north corner of Yellowstone National Park. It spills into the Gallatin Valley and becomes a wonderful braided waterway home for deer, moose, beaver, muskrats, ducks, trout, and of course- fly fishermen."
Pictures taken in the downtown
Lincoln showroom.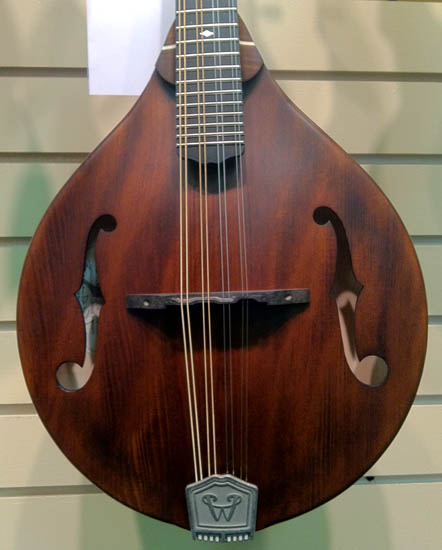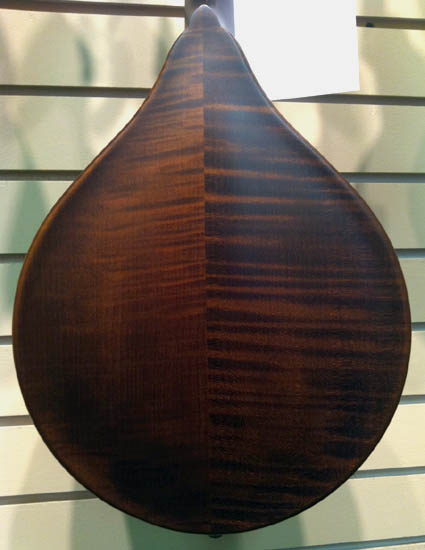 More about it on the Dietze website: New Weber Gallatin A body (f hole)
Visit store website: Dietze Music
Dietze Music has been serving local southeast Nebraska area musicians since 1927.

Posted by Ted at 4:45 AM

April 11, 2011 | Will Patton; Daydream
Vermont jazz mandolin master Will Patton is putting the finishing touches on his long anticipated most recent recording, and has favored us with a delicious taste on the Soundcloud.com website. In the final mastering phase, this track from the project features harmonica virtuoso Will Galison. Terrific combination, mandolin and harmonica!
Listen to a sample track of the Billy Strayhorn classic, "

Daydream"
Read past reviews: 6th St. Runaround, String Theory.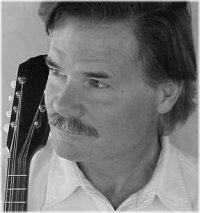 Also, we're currently working on an exclusive interview with the artist for the Mandolin Cafe "10 Questions" Series. Ought to be dynamite!
Posted by Ted at 5:30 AM

April 7, 2011 | April Mandolin Sessions; Static Changes: V7 chord
The April Mandolin Sessions articles from Mel Bay are online, and our latest installment of Jazz Mandology revisits a topic we recently went into depth in our Tips and Tricks column here on the site when we introduced 3-note blocks for a V7 chord.

Sounds kind of dry, all that esoteric theory stuff, but this is one of those simple, easy to ignore concepts that can truly revolutionize your comping. The V7 chord is so critical in music, arguably the most important (even over the tonic), and if you can develop a systematic approach to playing the chord, you can develop a tremendous fluency in and out of ANY key, let alone play the blues like nobody's business.
In this article, we outline a way of grasping them by drilling the inversions as an exercise. Once they become subconscious, very much like scales and modes, they become a permanent part of your comping vocabulary, and empower you to be exponentially more creative.
Everything else is just-fill in.
The magic in this?
1.) There are only four of them! From there, they just repeat up the hypothetically infinite fretboard
2.) They are instantly transposable up the neck
3.) They are instantly transposable across the strings

Check it out: Static Changes: V7 chords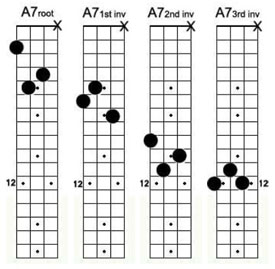 Do us a solid while you're there: Give us a 5-star rating and post a positive comment. Job security is a good thing.
Posted by Ted at 8:38 AM

April 5, 2011 | In the works; Custom Jonathan Mann Baritone 5-string
We can't help but be giddy about another custom toy in the making for the JazzMando studio, a delicious 5-string electric bari-emando EM-5B (tuned GDAEB low to high) from Tennessee emando specialist, Jonathan Mann. It's our second instrument from the in-demand craftsman, and a chance for a new voice. The baritone register offers some dynamic harmonic register opportunities for jazz.
We're anticipating a modest black sunburst finish, pretty much trusting Jon to wow us with his magic again. It's great to revisit his work with his signature neck-through back; we almost feel like we helped the world discover him.
We knew him back even before he became famous...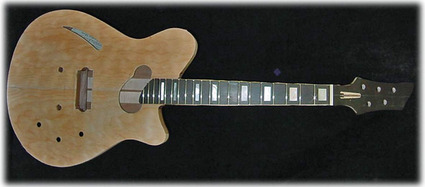 Builder's website: Manndolins
Read past review: Jonathan Mann EM-5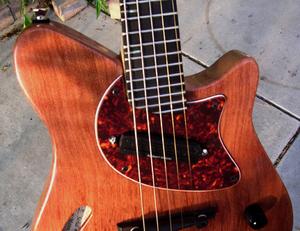 Video Demo Link: Mann EM-5B Octave/Baritone Electric Mandolin

Posted by Ted at 5:28 AM

April 3, 2011 | Satisfaction from Nova Scotia. JM11 strings!
We love passing on feedback from our happy customers, and this one is from one of our newfound Canadian friends. We do ship to Canada at no extra charge, by the way. Canadian Customs can slow the delivery to about 10-14 days, but it appears worth the wait:
I received my mando strings today and have just come in from playing on them for a couple of hours. They are superb (I play traditional folk and celtic.. I love my Grey Eagle and was a little doubtfull as to whether these strings would make much difference. WOW!! Lovely even tone, silky fingering, once they were dialed in they stayed right in tune... quality and class, thankfully I got 2 sets and will be ordering as soon as needed. The pick is great and I'll get a few more as well.
Thanks, Michael from Nova Scotia (a very happy customer)

A time-tested favorite (first introduced in 2005), JM11s are in plentiful supply in the JazzMando Merchandise Center and ready for you to experiment with on your mandolin. If you seek a warmer, richer sound, and don't expect a percussive "slap" out of your mandolin, these may be what you are looking for. Praised for their longevity, the polished custom Flatwound Labellas are designed with a much closer, tighter wrap which resists corrosion and wear from oxidation and player perspiration, similar to the world renown Thomastiks at less than half the price. The steel alloy lends a crisp, subtle "punch" for a sophisticated bell-like articulation. Player comfort from the smooth strings makes these feel as great as they sound! Red chenille winding grips the tuners on the wound G and D strings.
Initially designed for the closed position playing of jazz and classical music, these will also work well for the folk, and blues mandolinist. Understand, they won't offer the killer, zingy open-string projection you seek in a loud acoustic jam setting, but they will give you definition and a warm character for more intimate solo and small ensemble environments.
Order them from the convenient online JazzMando Merchandise Center. Shipped within 24 hours.
Sales:
JM11 Flatwound Mandolin
JM10B Ball-end Flatwound Mandolin (electric)
JD13 Flatwound Mandola
We include a sample JM pick in each order
On a side note, If any were uncertain (and considering the orders attempted, there were a few that didn't get it), the recent announcement of our Jazz Autoharp book was an April Fools joke.
Posted by Ted at 7:44 AM

April 1, 2011 | Introducing 'Getting Into Jazz Autoharp'
EDITOR'S NOTE: BE ADVISED THE FOLLOWING IS A PARODY. IF YOU'LL LOOK AT THE DATE, IT WAS PUBLISHED ON APRIL FOOLS DAY, 2011
As we mentioned last week, we are continually evolving the JazzMando website in our efforts to break new ground in the world of acoustic string music. Our latest direction takes us into new sonic frontiers with a highly under-appreciated instrument, the simple folk autoharp. To bring this musical treasure to new audiences, we are announcing our new book, and the promise of more online lessons and support to bring you along side with us to blaze trails in this wood and steel sonic journey.
Look for new barriers to be broken down as we bring forth unto the world:
THE JAZZ AUTOHARP...

---
NEW: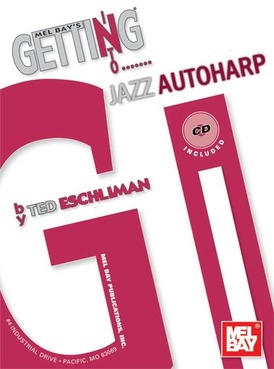 Product Description:
No longer confined to basic folk genres, any autoharpist aspiring to a broader comprehension of music, including swing, blues, pop, klezmer, broadway, and even a rousing edition of the birthday song can expand his/her playing and beyond a working knowledge of arguably esoteric jazz fundamentals. This breakthrough approach in autoharp pedagogy takes on uncomplicated fretboard patterns (OFcP) and drills a physical familiarity into the player's index finger, softening the fear of the outward chord buttons and prepares for the harmonic alterations necessary for effective and intuitive playing of more complex contemporary music.
A brief introduction into modes (both of them), the player is eased into reckless abandon and improvisation with audio accompaniment (High Def cassette tape included), and eventually an initiation into a popular variation of the most fundamental jazz chord progression of all, the 'IV V I' pattern. From the horizontal (holding the autoharp up and down) to the vertical (holding it sideways) and back, the results are a both instinctive and physical grasp of buttons and the potential for improvisational fodder of effective performing. An emphasis on index finger strength, left arm balance, the book's exercises also develop the player's spatial concepts of buttons and chord symbols.

Simplifying the Real Book
Many are confounded by the complexities of the jazz language, the extended chord symbols, all those hypothetical suffixes of (b13)#9 and m7b2. What isn't common knowledge is you can reduce these down to simple major and minor chords with an occasional 7 and most in the audience will never be able to tell. Simply knowing the correct roots you can reinterpret chords at a level a less sophisticated culture can understand.
Not convinced? Just listen to today's rap music.
Chord Subsitutions
Chords are simply a common set of notes stacked on yet another familiar set of notes, so if you know the system, an E minor on easily swaps for a C major7 when the bass is already covering the root. No need to have anything more than 21 chords and you can cover most Jazz standards, especially from the repertoire of legends like Kenny G or the edgier, hipper Self-Indulgent Jazz of George Winston.
Strum Techniques
Fretted instrumentalists struggle needlessly with variations of Down Up Down Up (DUDU), but the autoharpist need only worry about one stroke, the "across" stroke. Book 2 (publish date TBA) will cover the more advanced "Across Back Across Back."
Stock "IV V7" I progressions.
Whole careers were launched on 3-chord progressions, and with some minor variations on the Across, Across, Across (AAA or AAAA)strum technique and a strong primal dance beat, you can communicate a variety of the popular standard "IV V I" like F/G/C.
More complicated jazz literature is easily addressed with the "Tacet Chord" technique.
OFcP One Finger Close Position
Devoid of the need for fretted complications, the savvy autoharpist is free to vary the stock 21 chords one finger at a time. GIJA affords opportunities in the lateral shift index fingering technique (LSIF), also known as the One Finger Closed Position.
Tuning
Crap. Are you kidding? If you had any kind of ear you'd be playing another instrument, so do the right thing and pay a professional with a chromatic tuner to do this for you. Musicians that actually own their own autoharp or alto clarinet are destined to outsource such skills. Tuning?? There are some 36 strings on this thing, and besides, they're pretty good about tuning them at the factory before they leave. (Some say the tuning pins are just for show, anyway.)
Product Number: 30995BCD
Format: Book/Cassette Set
ISBN: 078667599
UPC: 7962ZZK93664
ISBN13: 978078VS9422
Series: Getting Into
Date Published: 4/1/2011
USD: $19.99
GBP: £13.99
Euro: ¤19.99
For more information: Twitter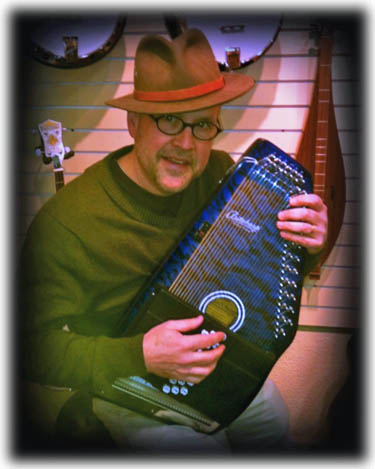 Posted by Ted at 5:15 AM