Rigel R-200 Mandola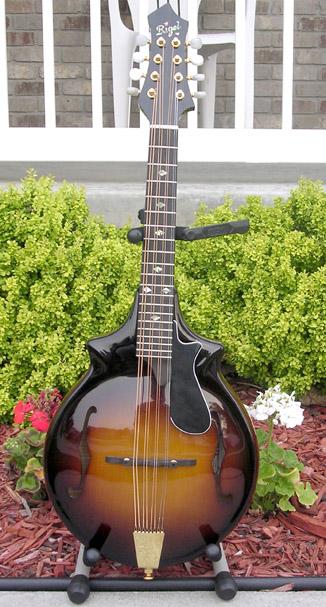 Rigel has not made many of the R-200 Mandolas, but the ones they have are fabulous. The world-famous Rigel neck comfort and fretboard ease-of-play works well for the 'dolist seeking secure and quick access to that sweet spot between the frets, avoiding awkward stretching or fatigue, even for the player cursed with tiny fingers.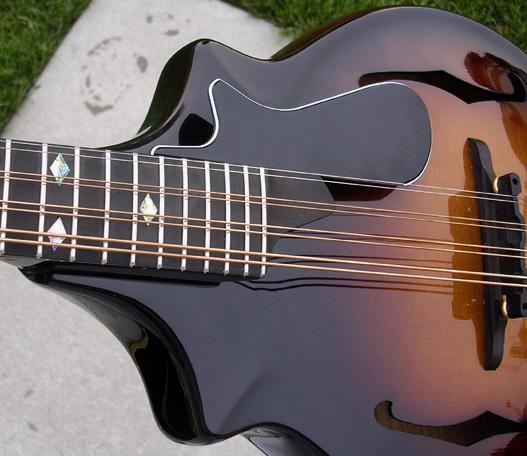 Patterned after the popular vintage symmetrical two-point Lyon & Healy mandolins, the neck and body rests comfortably and yields a delightfully ergonomic balance. Yet in consistent with the "think out of the box" designing strategies of master builder Pete Langdell, the R-200 departs from tradition with an exquisite radiused (rounded) back and sides.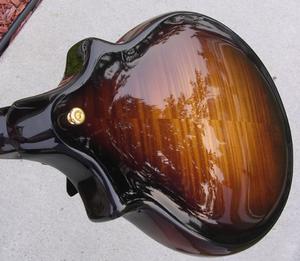 The expertly hand-stained 'burst and catalyzed lacquer finish work in conjunction with the radiused contour to produce a virtually seamless connection of carefully carved back, side, and top. The effect looking down from playing position, the instrument appears to be carved of one solid block of wood, an illusion uniquely signature to the Rigel line of mandolins.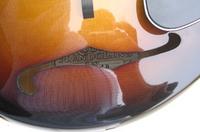 Though Rigel has experimented with oval holes, it's their experience that the F holes offer slightly more focused tone. This kind of projection would be critical for soloing, and works well to define the notes of the lower alto register produced in ensemble playing. (Oval holes, however, are available on a special order basis, no extra charge.)
The demand of thicker strings and slightly longer stretch taxes many mandolinists who venture into the lower frequency depths of 'doling. Especially an old vintage instrument, playing mandola requires much concentration and control, but the world-class Rigel craftsmanship and clever design make playing this instrument effortless.
Invisible to the eye is the built-in piezo pickup. The dedicated acoustic player never needs to know it lurks there inside, but the electric-acoustic player seeking quick and painless plug-in prowess has convenient access to quality electronic amplification via the 1/4" endpin. We recommend using a preamp, especially for a meatier representation of the mandola's lower frequencies and string fundamentals, but other than that, it's "plug and play!"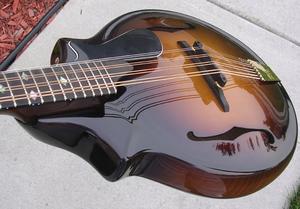 Vermont maple and Adirondack spruce have their own prominent place in quality mandolin acoustics, but it's the selection process and expertise of Rigel's wood purchasers that make their instruments world class. (Plus, these hardwoods are as beautiful as they sound.)
It goes without saying, the R-200 would blend perfectly in an ensemble setting, but these instruments are packed with such acoustic power and potential, they deserve to have a prominent place front and center as a solo instrument. These gems are truly worthy of the stage!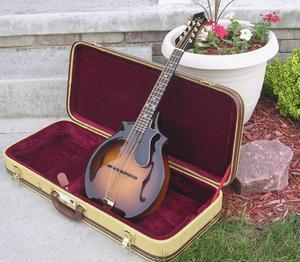 Check out the new Rigel Q-200 'Q-Dola' released May 2006!