« Satisfaction from Nova Scotia. JM11 strings! | Main | April Mandolin Sessions; Static Changes: V7 chord »

April 5, 2011 | In the works; Custom Jonathan Mann Baritone 5-string
We can't help but be giddy about another custom toy in the making for the JazzMando studio, a delicious 5-string electric bari-emando EM-5B (tuned GDAEB low to high) from Tennessee emando specialist, Jonathan Mann. It's our second instrument from the in-demand craftsman, and a chance for a new voice. The baritone register offers some dynamic harmonic register opportunities for jazz.
We're anticipating a modest black sunburst finish, pretty much trusting Jon to wow us with his magic again. It's great to revisit his work with his signature neck-through back; we almost feel like we helped the world discover him.
We knew him back even before he became famous...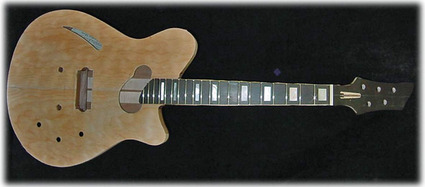 Builder's website: Manndolins
Read past review: Jonathan Mann EM-5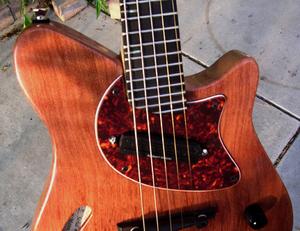 Video Demo Link: Mann EM-5B Octave/Baritone Electric Mandolin

Posted by Ted at April 5, 2011 5:28 AM